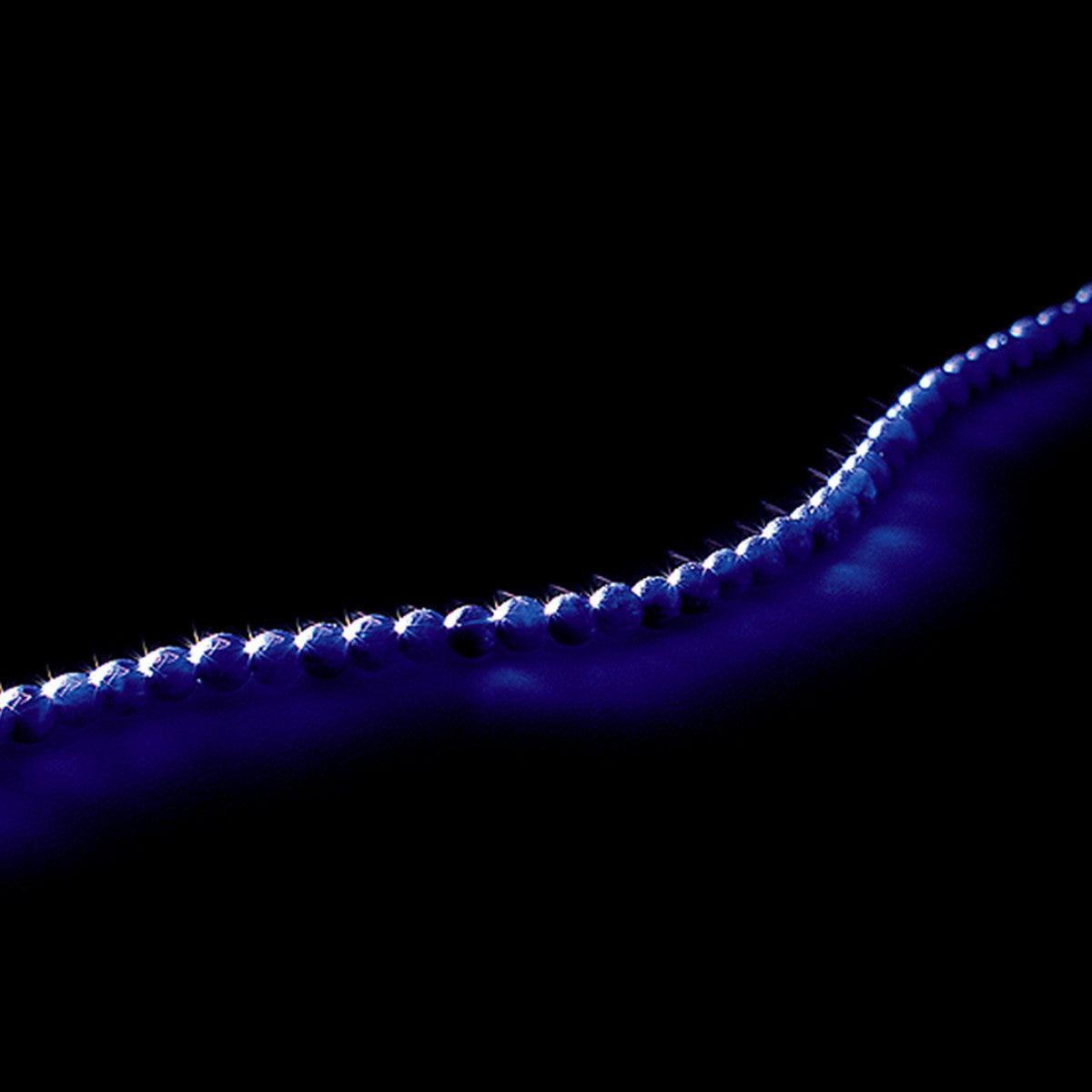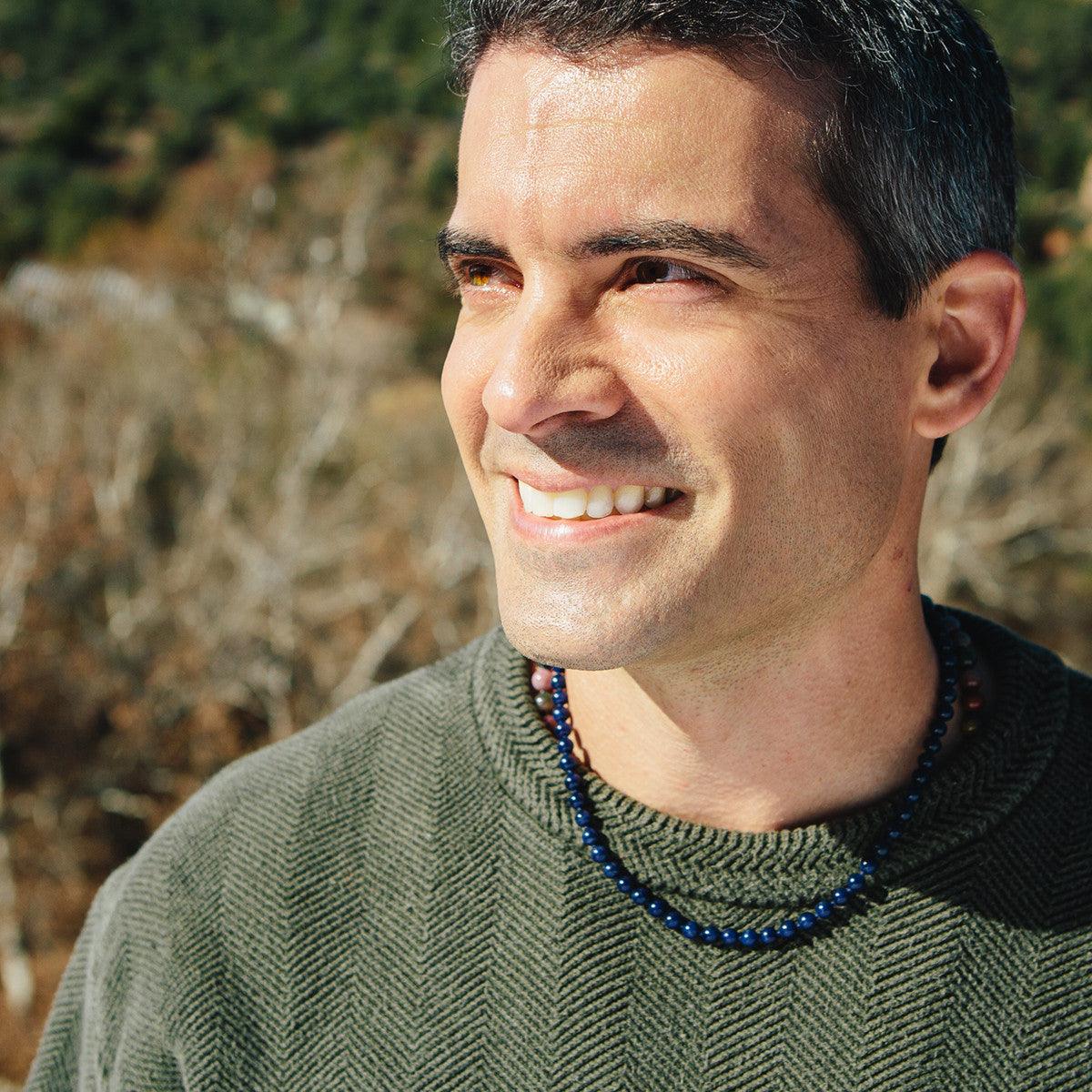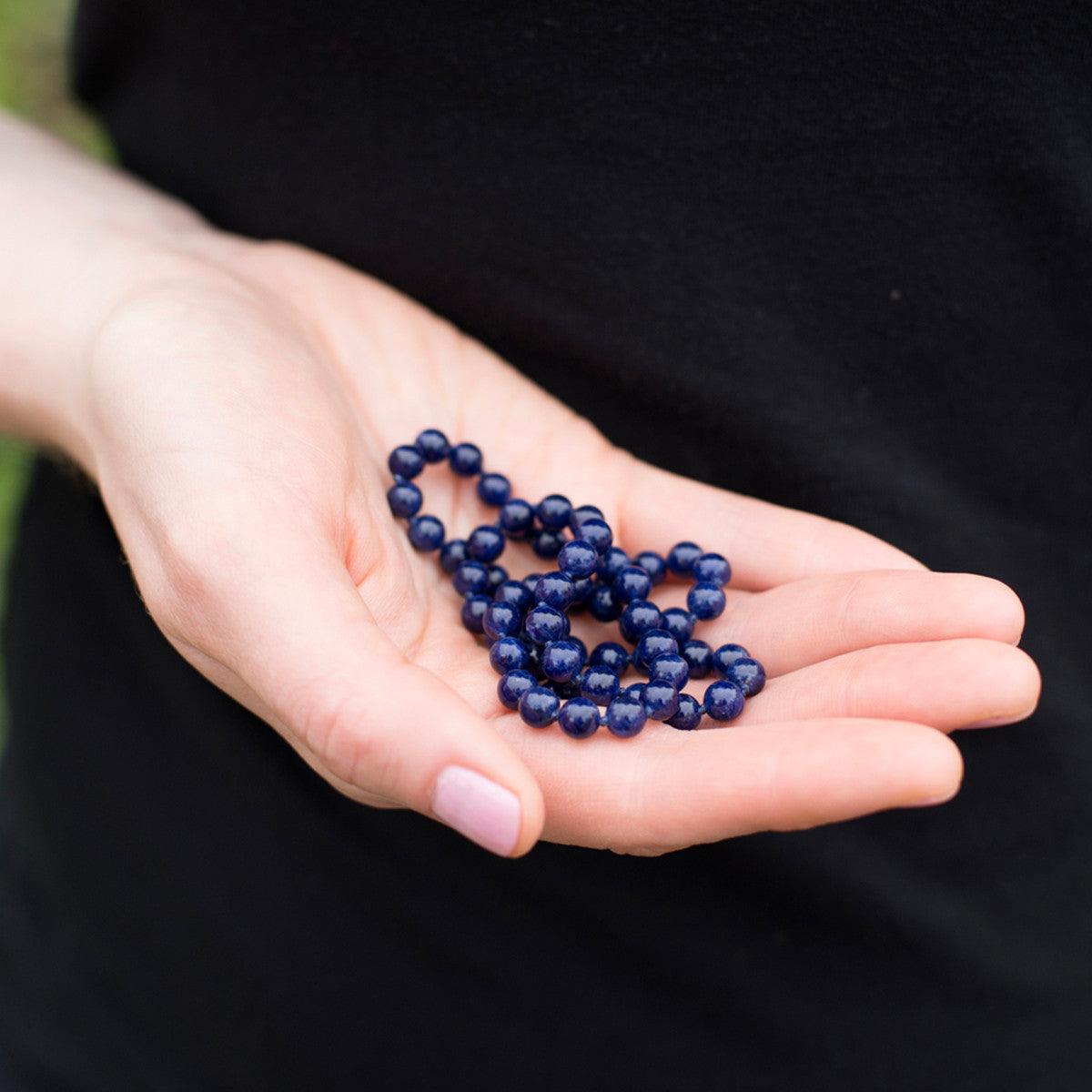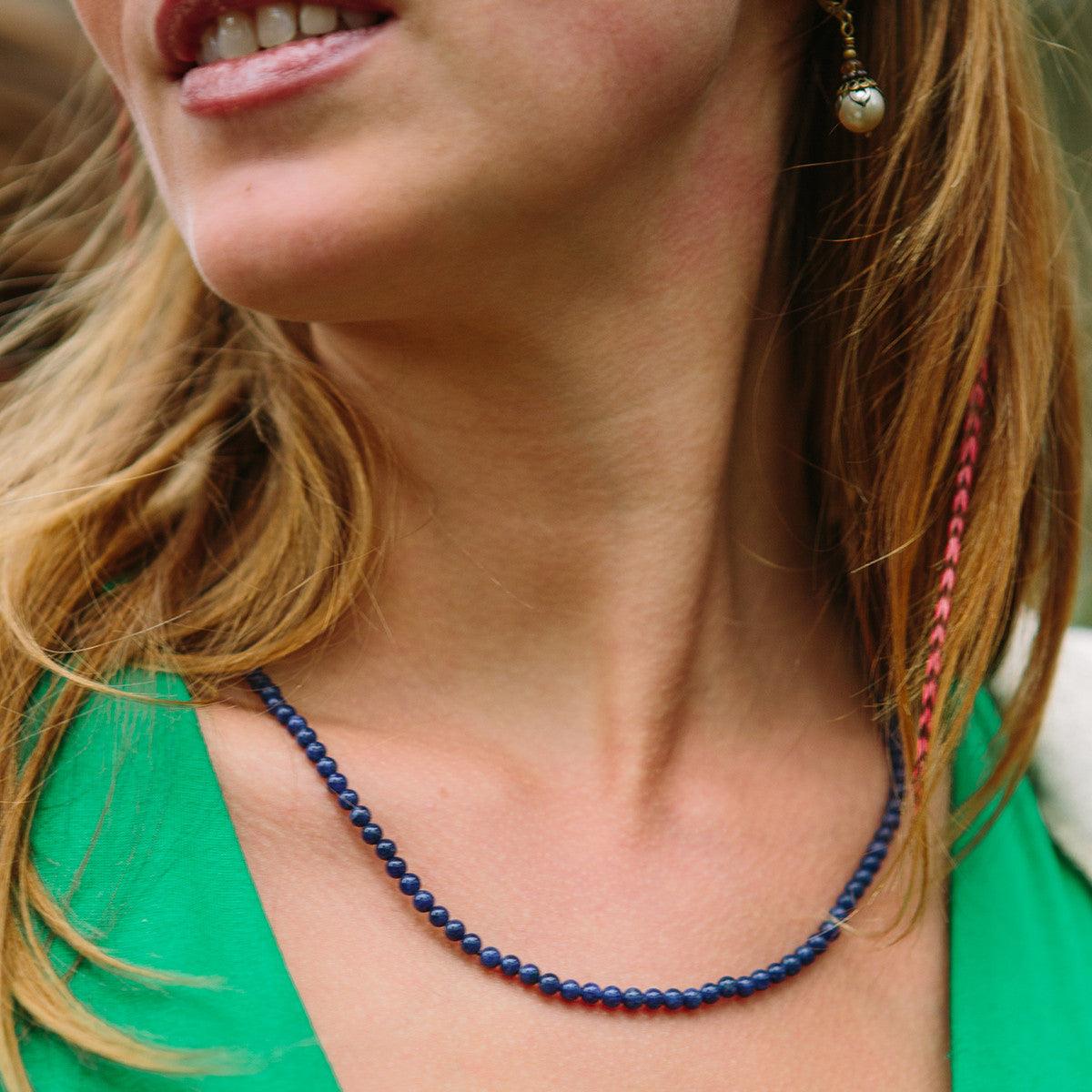 Indigo helps develop the intuition. It carries the indigo ray throughout your being, absorbing the limiting mental energies
that obstruct the intuition and cloud the mind. Through its profound resonance with the intuitive body, Indigo builds bridges between your intuition and your conscious awareness. It teaches you to distinguish between mental concepts and direct perception so that you may better hear the whisperings of Soul.
Indigo can help you—
Develop and clarify your intuition
Learn to trust your inner voice
Support skeletal system health
Be nourished by indigo ray
FREE Standard Shipping on ALL U.S. Orders
Read Indigo Chapter

Excerpted from Wisdom of the Gemstone Guardians, by Michael Katz. Order the book here.

Chapter 12

Indigo: Realizing Your Dreams 

The Guardian of Sapphire led us down the grassy slopes to a playground where many children were playing ball. We could discern no order to their play, for there seemed to be no rules and no objective. Yet each child was playing with all his heart. 

As the late afternoon sun began to set, we started to wonder why we were spending so much time watching these children. The sky darkened, and the children began to answer calls to return home for dinner. When the game finally ended, one boy looked up and ran to Sapphire. He appeared to be about twelve years old and had dark hair and light brown skin. Sapphire patted the boy's shoulder good-naturedly. I sensed a feeling of pride in the gesture, like a father would have for his son. Then the boy turned to Sapphire with a questioning look in his perfectly indigo eyes.

"They've come to learn about your mission," said Sapphire.

I know. I guessed that, said the boy. Shall we tell them now and then go home to eat?

"Yes," said Sapphire. 

Okay, the boy said and then quickly trotted up the hill. We followed him and stopped just outside a village at a spot where the sound of pots, pans, and dinner dishes from nearby homes would not disturb us.

So, what do you want to know? asked the boy, as we all found rocks to sit on.

"Can you tell us how you affect human beings and what your relationship is with Sodalight?" Michael asked.

The Guardian of Sapphire glared at Michael. His look silently but unmistakably reminded Michael that Indigo was a boy and that he should word his questions appropriately. Michael got the message.

I think I understand what you want to know. You seem to have many questions. Let's sort them out and answer them one at a time.

They call me Indigo. At night, I dream I am standing in space. Below me is the Earth. Then a light flows through me and touches rocks within the planet. In my dream the rocks listen to me, and I teach them how to become crystals. 

When I wake up, I don't remember everything I have taught the rocks. I do remember that they listen, they learn, and they move. Yes, their molecules actually move under my direction. 

The other thing I remember is the wonderful light that flows through me. I'm not sure where it comes from. It doesn't come from inside of me. It seems to come from somewhere above and beyond me, from an unknown place I have yet to explore. It flows through my whole body, but especially through my eyes and my heart.

This is what I do when I sleep. Yet sometimes all I have to do is close my eyes and I find myself in this place above the Earth. 

I have heard of Sodalight. Sapphire is teaching me about all the gemstones on the planet. I know I have much to learn. I know that I'm special, because none of the other children gets to listen to Sapphire's talks. But I like to keep our lessons quiet, so people don't think of me as different. I think you understand.

An Inner-World Temple

"Do you meet with any others who teach you about gemstones?" Michael asked.

Yes, there are others. I am taken to a nearby temple that sits on a high mountain. In the temple is a domed room. In the middle of this room rests the most beautiful faceted Indigo gemstone I have ever seen. I feel like I know this gemstone, that it is my friend, and I study it. From this gemstone pours a deep blue color they call indigo. This color flows into the room and beyond into the Earth's atmosphere.

In the temple is a master with white hair, a white beard, and white robes. He is the Guardian of the Temple. The master stands next to me in front of this gemstone and directs my attention to certain aspects of it. He shows me how I should study it. 

During my dreams, I teach the information I learn from these studies to the rocks. I keep the vision of this perfect Indigo gemstone in my mind as I teach, so that the rocks will see this image and know what to grow into.

"Are your dreams only about the Earth planet?" Michael asked.

Yes, for this is my home. 

"How do you get to this temple?" Michael inquired. "The mountains surrounding your village seem too rugged for traveling."

I've never really thought about it. I'm just there! One moment I am here, either looking at the mountains or lying in my bed looking at the ceiling. The next moment I am there. It's not strange and it's not hard. It just happens. Sometimes all I have to do is think about the temple and I'm there.

"Can you share some of the information you learn when you visit this temple--for example, what you teach the rock?" 

I don't remember exactly what I tell the rock. All I know is that it's specific and involves patterns, numbers, sequences, and other things I don't understand yet.

As I study the Indigo gemstone, I learn about things that are hard for me to believe. They're hard to believe only because, in my heart, I know that these things are also about me. I know that somehow I am connected more closely with this gemstone than I think I'd like to be. But they tell me that a lot of freedom comes with responsibility. I guess when I'm old enough, I'll also understand what that means.

"Can you tell us some of the things that seem unbelievable?" Michael asked. 

The boy paused, apparently lost in thought. You're a stranger here. We don't get strangers here very often. I know you'll be leaving soon, for life is hard for people in this valley. Strangers never stay long. Although I've been told to expect visitors sooner or later, none has met me here before. I have been in classes in the temple where everyone gets a turn to lead the class, so I have already spoken in front of people. 

What seems unbelievable, Indigo continued, returning from his thoughts, is that they say I am helping certain rocks in the Earth to become gemstones. They say this will help the Earth and its people. This makes me feel proud. It means that I can touch the whole planet and everyone on it, even though I am stuck in this valley. 

Of course, I'm not really stuck here, because all I need to do is put my attention on the temple, or on any other place, and I am there. I don't know how many of my friends can do this. I haven't asked.

"What do your parents think of your experiences?" asked Michael.

I live with the Guardian of Sapphire. I call him Father. I don't think he's really my father, but he lets me share his dwelling. I think the villagers know that he isn't my father. Still, it's nice to have a father, and he takes good care of me. 

The villagers don't call him Sapphire, but you don't need to know his name. You don't need to know my name either. I am finding that teachings remain more pure when personalities are not involved. 

"How old are you?"

Twelve, going on thirteen.

"Is there anything in particular you would like to do when you grow older?"

In a few years I will be old enough to go with other adults on long journeys outside of this valley. When traveling on foot, it can take many days before one comes to another village. Everyone who has ever returned from these journeys has such wonderful stories to tell. This is what I look forward to doing.

The Indigo Ray

My first duty, as Indigo, is for the planet. I've been shown what can happen when the planet is given more of the indigo ray. It makes the air cleaner and it renews life. It allows the Earth to dream of what it would like to become, then it allows the dream to come true. 

It is only now that there is enough positive influence on the Earth to encourage it to dream of becoming something greater than it is. Then when its dreams come true, the Earth will be something greater. In that way, the indigo ray can be rejuvenating.

I think this is what I, as Indigo, may also do for people. I have this idea that after I teach the rock to become a gemstone, I may teach people to become like gemstones. I may teach them to shine with the light already within them.

The more Indigo crystal there is on the planet, the more that the indigo ray can affect everyone who lives there. People should wear the Indigo crystal in a form suitable for human beings and that can influence the entire aura. In my imagination, I see the Indigo crystal accomplishing this when it is in a round form.

When enough indigo ray enters people's auras, they will see more clearly who they really want to be and what their true dreams actually are. If they continue to wear the Indigo, forces in their lives will work to make these dreams come true.

"Do you mean daydreams or night dreams?" Michael inquired.

Indigo stood up, as if to emphasize his answer. I mean the dreams of the people: their ideals and goals and the ability to take charge of their lives and say, "This is who and what I want to be, and this is what I want to know and how I want to express myself." When people wear the Indigo gemstone, the indigo ray will enter their auras and teach them what these goals can be and which goals they can reach for. I think that this teaching aspect is the most important part of my mission. It seems that I'm getting practice right now.

I am a teacher. I teach the rock. I feel that, in the years to come, I won't only be teaching in my dreams. Soon I will begin working with people directly and teaching them about their potential. Then, by wearing the Indigo gemstone, they will learn how to achieve that potential.

One time I got frustrated because I wanted to know more. I was instantly taken to the temple in the mountains. Somehow I found myself inside of that Indigo gemstone. Suddenly I knew everything about myself, about the inner worlds and the universe, and everything about the indigo ray. I knew about the white light, and the origin of the indigo ray, and where it leads. I wasn't ready yet for the knowledge. The information was so overwhelming that I was sick in bed for two weeks. 

The boy laughed. I'll never do that again! But it did teach me patience. There's so much I have to learn, but, from now on, I'll just learn what they teach me. And they do appear intent on teaching me.

I seem to be good at absorbing information. It becomes part of me. I'm not sure exactly where it is stored, but I do know that it's not all stored in my mind. They're always testing me to make sure my heart is open enough to store the information in a place where it is eternally retrievable. 

You asked me about Sodalight. I have been taught a lot about Sodalight, and I have met its Guardian. I know I've avoided speaking of him. It's just that he's the sort of individual I would like to forget. For some reason, our personalities clash, and he makes me uncomfortable. Sapphire says that it's because we are so alike in many ways.

When I was with the Guardian of Sodalight, I just wanted to rebel. I felt like the typical teenager who wanted to be uncooperative and disagree with everything he said. I've never acted this way toward Sapphire. He is more like a friend than a parent, and we get along well. 

I still don't understand why I acted the way I did toward Sodalight. Afterwards I felt foolish and wanted to apologize. Somehow I think he understood, because my actions didn't seem to surprise him much. In fact, I think he took my actions in stride.

Anyway, one of the things our gemstones have in common is our ability to absorb. The way I absorb is going to change as the Indigo crystals grow less and less like Sodalight. You see, the rock that I teach at night is Sodalight.

Indigo again returned to his own thoughts and said, Maybe that's why we didn't get along very well in person. It's different in the dream state.

Absorbing Inner Disharmony

"Is it true that Sodalight absorbs pollution and any kind of negativity from the Earth's atmosphere?" asked Michael.

Yes. However, when Sodalight is able to form more perfectly into crystals, the crystals will absorb something different. Their primary focus will be to support the purpose and function of the indigo ray.  

Then I, as Indigo, will be used to benefit people physically, emotionally, and mentally. I know I will be used this way in the future. I am not yet ready to do these things now. I've been told that I will grow to be a very strong man, and that the Indigo gemstone will also be strong. In the future Indigo will be called a healing stone, because it will absorb any disharmony in the physical, emotional, and mental areas that is keeping its wearers from achieving their potential and their dreams.

Actually, I think that the vibratory rate of the Indigo gemstone will make a disharmonious condition less stuck. Then more life force will be able to flow through the disharmonious area and spin around it. This will make the disharmony more apparent and therefore allow you to resolve it and be freed from it. Neither Indigo nor the life force will resolve things for you; you've got to do that yourself. But they can surely help.

This is what excites me. I'm looking forward to helping people more directly. Of course, I might never leave this valley. Instead, it might be like it is in my dreams when I teach the Earth--and that strange, powerful, and beautiful force flows through me and touches all the potential gemstones. I'm sure that, in the years to come, the same force will flow through me to touch those who wear the Indigo gemstone.

"What about the Indigo crystal that exists today?" asked Michael. "Is this Indigo different from the Indigo of the future?"

The Indigo available today is not yet transparent enough. The color ray hasn't quite set. The crystal still has more to learn, my friend.

To realize its dreams, the Earth works with the crystalline form of gemstones. If you want to help yourself realize your own dreams, you must work with a crystal that has been rounded into the shape of the Earth or the sun. Then the crystal will become like the sun and radiate its energy into your aura and touch every part of your being. 

I was going to invite you to supper, but I can tell that Sapphire doesn't think it would be a good idea.

"Thank you for sharing information with us," said Michael.

I did my best. I hope you learned what you wanted to learn.

"Yes, and it was shared very well indeed."

Thanks.

"Until we meet again, may the blessings be."

Farewell. May the blessings be, said the boy. Then, without hesitation, he turned and made his way up the hill in the moonlight.

Sapphire watched the boy momentarily and then said, "I hope this information will give you a greater understanding of Indigo. I hope it will awaken you to the forces, perhaps even the unknown ones, that work on your planet."

"It is very helpful," said Michael. "It gives me a new perspective."

"Tomorrow evening you will meet with the Guardian of Carnelian," said Sapphire. Then he pulled his outer cape around himself and covered his head with its hood. "Good night, and may the blessings be."

"May the blessings be," Michael and I replied almost in unison. Sapphire waved to us in a half-salute and followed the boy up the hill.

When they were gone, the group began to discuss where we might meet Carnelian. Then we decided to wait and let Spirit guide us, since we could only guess where in all the universe the meeting place might be. We said our good nights, and one-by-one our forms disappeared from the valley. I, too, returned to my physical body, which was resting peacefully on the sofa. 

© 1997 Michael Katz. All rights reserved.
Regular price
Sale price
$995.00
Unit price
/
per
Sale
Sold out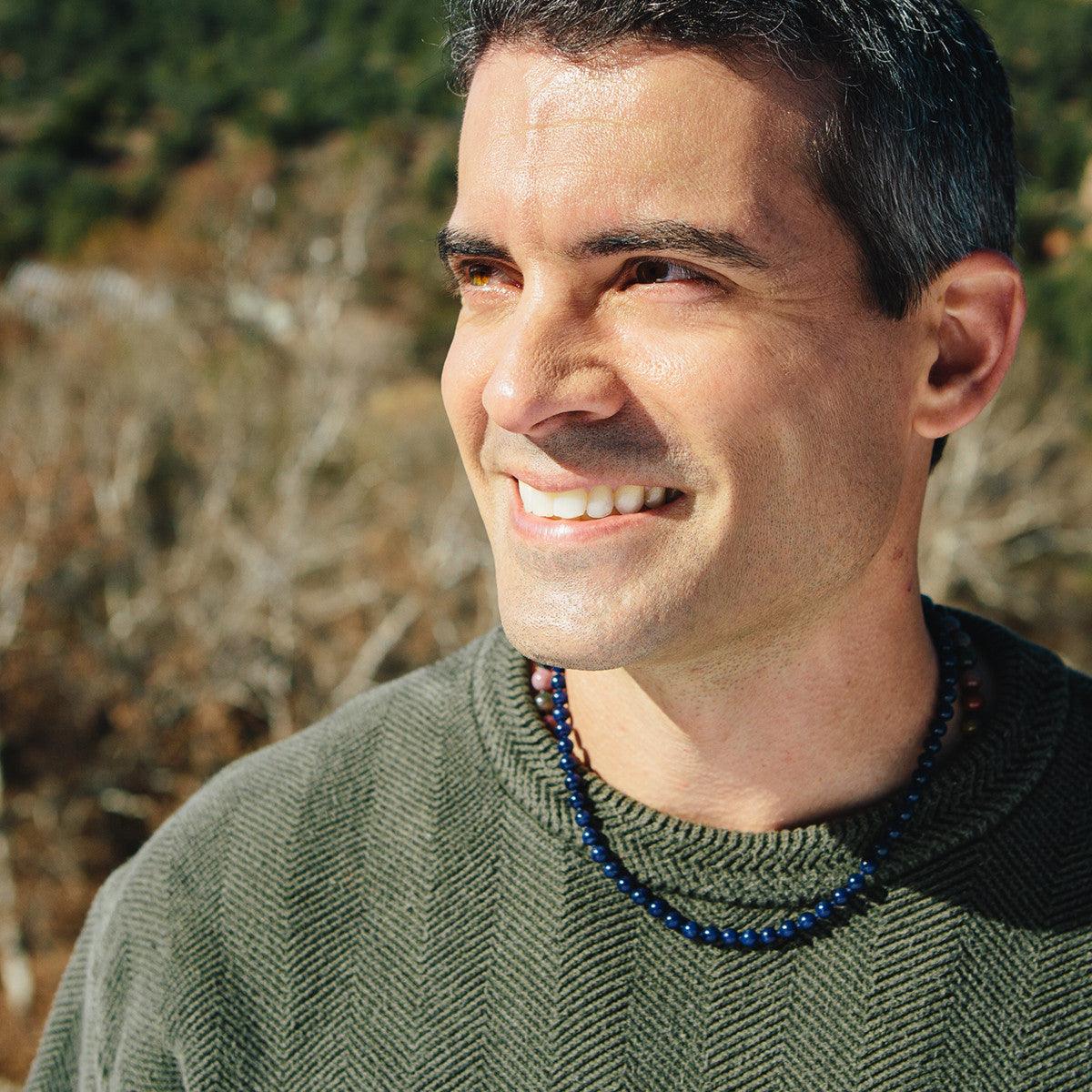 When Indigo Can Help
When you are experiencing— 
Difficulty hearing your true inner voice
Lack of trust in your intuition
Mental cloudiness
When you want to—
Develop and clarify your intuition
Clear your aura and body of negative mental energies, both your own and those of others
Gain clarity about your true nature or life purpose
Foster a broader, more spiritual viewpoint
Improve your recollection of dreams
Support the health of your skeletal system, including the bones, ligaments, joints, and cartilage