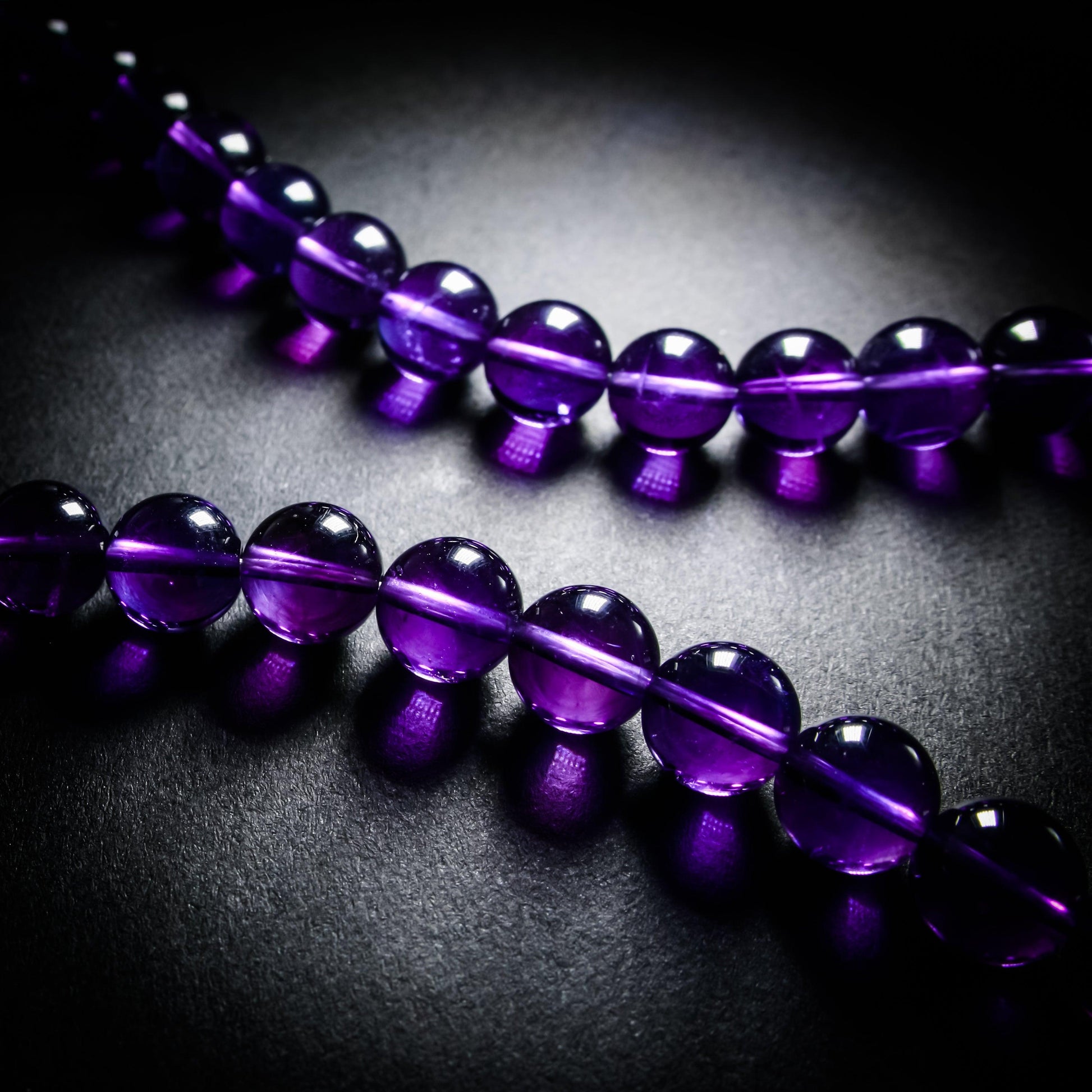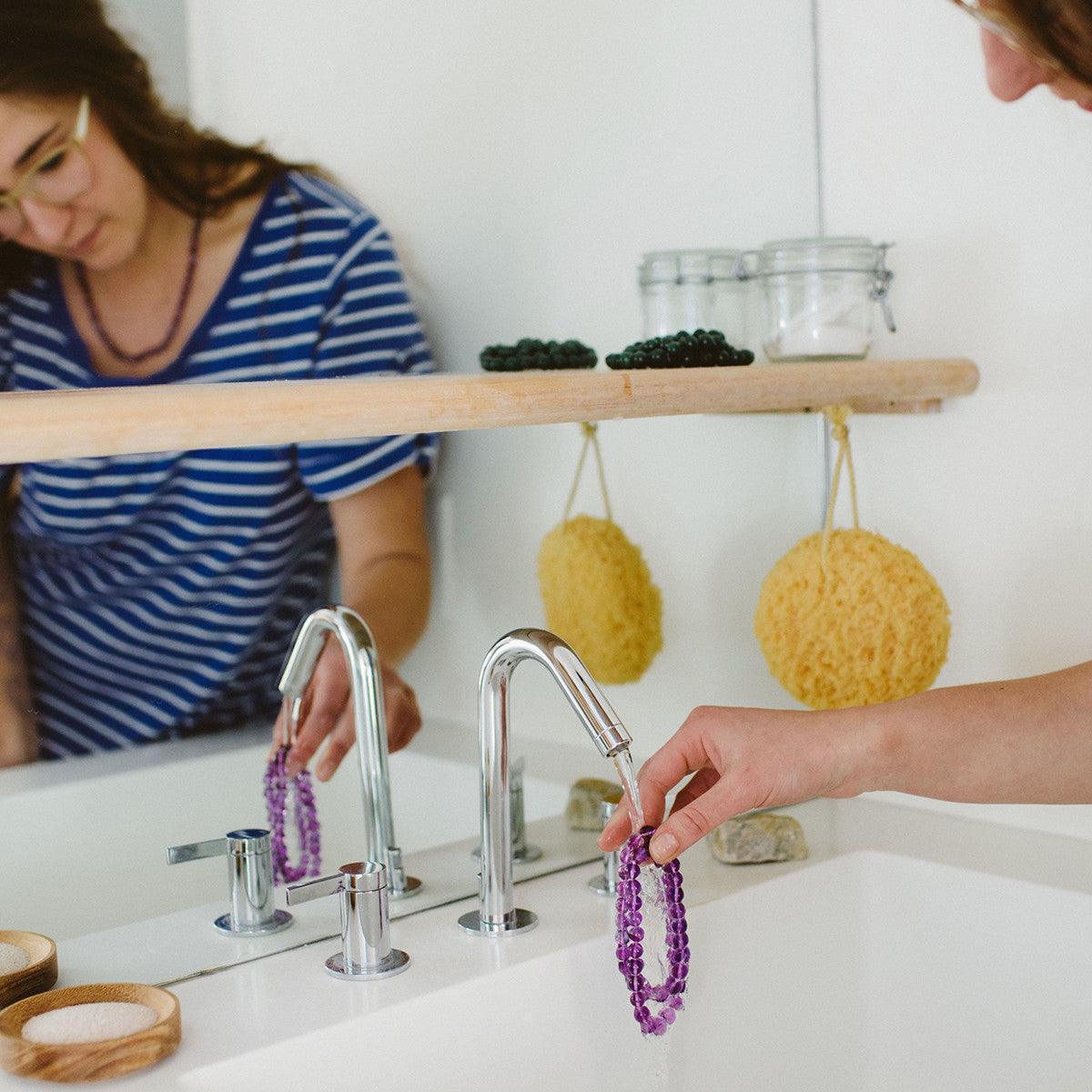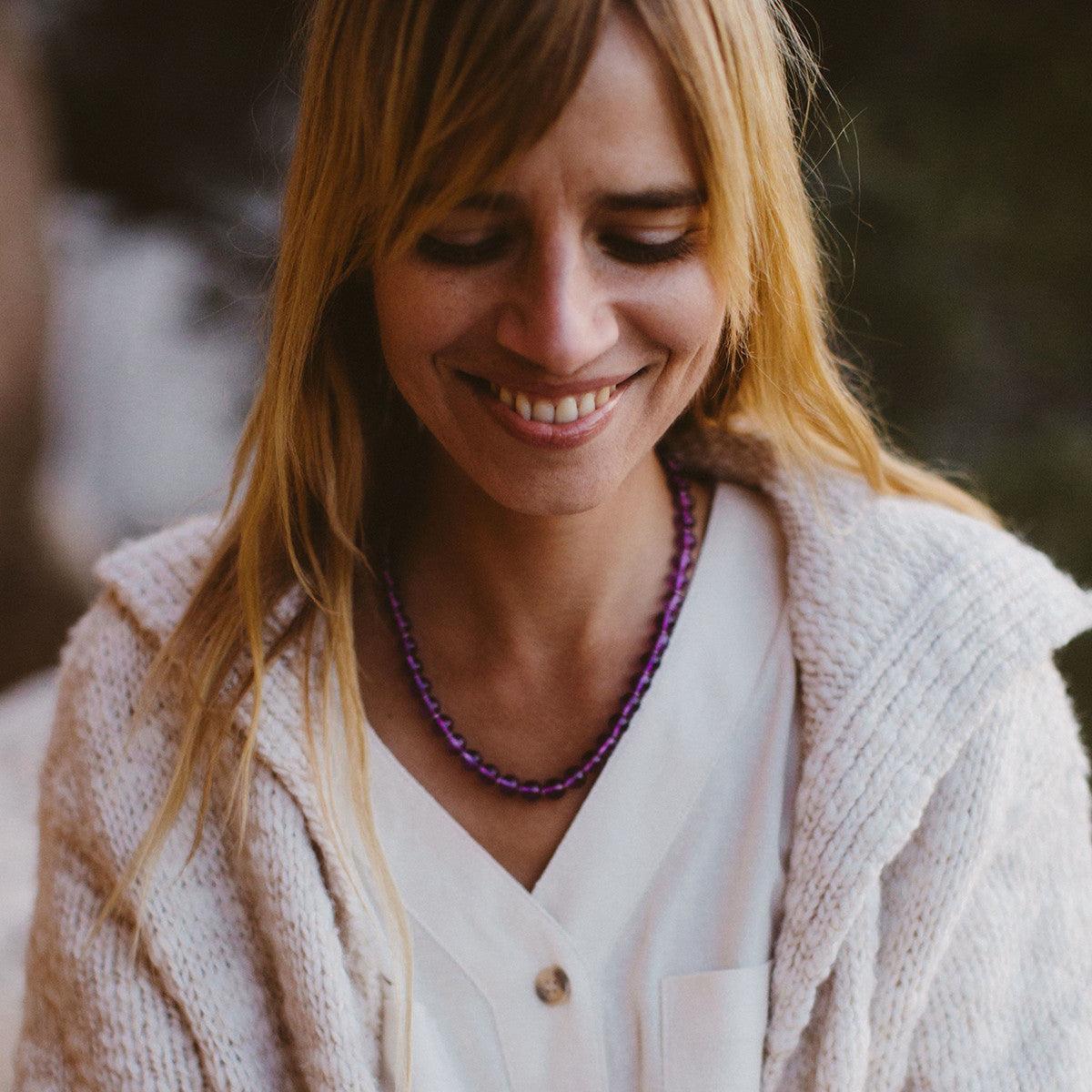 Amethyst helps you attain wisdom by reminding every aspect of your being of its inherent spiritual nature.
A necklace of pure, untreated Amethyst crystal spheres draws your attention beyond the mind to the realm of pure spiritual knowledge and then brings this wisdom back into clear, conscious thought. Amethyst and the purple ray it carries help you let go of all that is old and all that holds you back so that you may fully embrace your spiritual destiny.
Amethyst can help you—
Connect with your wisdom
Release attachments
Support nervous system health
Be nourished by purple ray
FREE Standard Shipping on ALL U.S. Orders
Read Amethyst Chapter

Excerpted from Wisdom of the Gemstone Guardians, by Michael Katz. Order the book here.

Chapter 9

Amethyst: Letting Go of Attachments

As the group sat and discussed when and how Amethyst might appear, the air grew uncomfortably cold. Clouds began to rise up over the cliff from the ocean below, obscuring the sun and engulfing us in a chilling fog. The sound permeating the air also changed. The single note became all notes, from the lowest to the highest, sounding all at once. The new sound was sweet and full of power. 

At first, I felt uneasy about the changing scene, but soon a serene calm began to fill me, rising up from a source deep within my heart. It melted away my apprehension. In its place was the knowledge that everything was for a purpose, and that everything had its place and would occur in its own time. I knew that everything would be all right. 

My perception of time also changed. I felt as though I had already experienced what was to follow. It was rather like being in a theater and getting ready to watch a familiar movie. I sensed the presence of someone approaching from behind me. It was hard to distinguish this presence from the feelings in my heart. I looked around and there stood the Guardian of Amethyst. 

I recognized him from our first meeting with the Gemstone Guardians. He was an old man with white hair and a full white beard which reached almost to his stomach. His robes were of the deepest, finest royal purple. The Guardian supported himself with a tall staff of stark white wood. His eyes were also dark purple, but it was not until he placed his attention on us that a flood of life flowed from them, touching us all with love. 

I did not have to ask permission to enter the Guardian's aura. I knew that Amethyst existed in the core of my being. All I had to do was place my full attention on that part of myself, and the words of Amethyst flowed freely.

I have come to speak to you of the wisdom of Amethyst, for, of myself, there is little to say. Come, let us move from this place to an area that will be more comfortable for us all, the Guardian suggested.

We walked through the cool mist until we came to a park. There the sunshine was warm, and the thick green grass cushioned our steps. Children were playing in the distance. Our small corner of the park, where we sat beneath a huge oak tree, was quiet and peaceful. As soon as we were all seated, Amethyst  looked into the eyes of each of us, gazing deeply into our souls.

I have known each one of you, and, indeed, each of you has known me. It is not necessary that you believe in past lives. Once you transcend your physical body, you will not have to believe--you will know that life does not end with the death of the physical body.

In a different time, in a different place, and in different physical bodies, each of you has worn Amethyst. You knew me when my power was in its prime and when Amethyst was at its greatest. That was in the Age of Atlantis. Now you have returned to learn more of Amethyst. Times are different now. I am no longer a youth, and my effects have changed as I have aged. Now you have the chance to know me once again. 

During the Age of Atlantis, people used Amethyst in crystalline form. The Atlanteans knew how to harness the energy of the Amethyst crystal. At that time, people's consciousness was more physically oriented than it is now. Hence, crystals were more in harmony with the Atlanteans' vibratory rate. 

Today the situation is different. Consciousness is rising planet-wide. People are becoming more spiritual and thus more balanced. Today they are learning to integrate all aspects of life. Now people are more in harmony with the spherical form of the crystal. 

Color Rays and the Planet

At a fundamental level, all life forms are made of and nourished by light. This light is in the form of color rays. The color rays originate in the intuitive plane, where they are born of the pure white light of Spirit, and flow continually through all the inner levels to the physical plane. This flow is essential to our very existence. When it is blocked or constricted within an individual, that person's health and vitality are diminished. 

Part of the mission of every living planet is to provide its life forms with all the elements they need for life and growth. Since color rays are the most essential element for life, a planet must provide vehicles for maintaining a constant supply of color rays to all its inhabitants. These vehicles are the color-ray gemstones. Each of these provides a continual supply of its color ray. Each also ensures that its particular color ray is kept pure as the color ray makes its way to the physical plane. Amethyst is one of these seven vehicles. It carries the purple ray. 

When the Earth was ready to support life, all the color rays were brought to the planet. It was by no coincidence that the purple ray was infused into the Quartz crystal, the most plentiful gemstone on Earth. That the purple ray was housed in Quartz, and therefore would be plentiful, hinted at the destiny of the planet and its people. It suggested that their destiny would be a spiritual one or that at least they had the potential for great spirituality. Of course, what people do with their potential is up to them.

Evolution of Consciousness

People's consciousness has been evolving and expanding ever since their birth on the planet. This growth in consciousness has accelerated in particular over the past few decades, and an even greater awakening is predicted in the next one to two hundred years. 

Because of this growth, people will soon require a much greater flow of the purple ray. Amethyst will not be able to provide this flow. Its crystalline matrix is simply not strong enough to supply the greater amount of purple ray that will soon be required by the people of Earth. Instead, a new gemstone carrier will take the responsibility of providing the purple ray. The new carrier of the purple ray will have a crystalline matrix so strong that it will be able to provide as much purple ray as people require until the end of the planet's life. This new carrier will be able to fulfill the needs of the people no matter how great their spiritual growth.

My successor is available on the Earth today. It has great potential. Still, it must earn the right to carry the purple ray because the responsibility will be enormous. You see, the life of a gemstone is reflected in its Guardian, who is responsible for containing the gemstone's life force. The soul to be given the responsibility of being my successor must go through many spiritual tests to become strong enough to fill this role. 

The readiness of this successor will not be for me to determine. It will be the decision of several Guardians in the hierarchy. When this individual has gained enough spiritual strength and stamina, he or she will be ready to undergo the ceremony of being given the purple ray. Then the new Guardian will become responsible for distributing the purple ray through every one of his or her gemstones wherever they exist. 

I will be the carrier of the purple ray until my successor is mature enough to be given the rod of purple-ray power and to accept it in a responsible manner. 

The difference in the amount of purple ray I have brought to this planet and the amount my successor will bring is very great. Because of this, the Earth has provided the gemstone you call Purple Rainbow Fluorite to help people make the transition between the old carrier and the new.

The recent acceleration in the growth of consciousness is reflected in yet another great change. For many ages people were closed and reluctant to change. People had hardened attitudes and opinions, because life was hard. In many ways people reflected the properties and characteristics of metals. Even the gemstones they wore were mounted in metal. Metal inhibits the power of gemstones; even gemstones that are in harmony with metal become more limited by any contact with it.

For centuries you have, in a sense, been living in an age of metal. As you are evolving toward the need for a greater amount of purple ray, you are also evolving out of what may be termed a "metal consciousness" toward what may be called a "gem consciousness." 

The metal consciousness is characterized by rigidity, reluctance to change, and reluctance to accept new ideas and new things. 

Gem consciousness will reflect the qualities and attributes of gemstones. Thus, people of the gem consciousness will be more radiant and giving, just as gemstones are radiant and giving. They will be able to accept much more of the light and sound of the life force. And they will have greater awareness of all aspects of themselves, since gemstones focus on all aspects of the individual: physical, emotional, mental, intuitive, and spiritual. 

When a change is about to occur, people naturally cling more tightly than ever to that which is about to change. In the past several decades, gold and silver have been worn more than ever before. However, one should not stereotype those who cover themselves with gold as being stuck in metal consciousness. Have compassion, for it is these individuals who are closest to making a change away from the limitations symbolized by gold and other metals. It is these individuals who are clinging most tightly to what they know in their souls they will soon be growing away from. 

There is yet a third great change taking place today. This change supports the other two shifts I have described: the coming of a new purple-ray carrier and the change from metal consciousness to gem consciousness. This third change is reflected in increased communication. 

For a long time, only a limited transfer of information was possible from one town to the next and practically none was possible from one country to the next. Now communication is expanding in every aspect of your lives--not only among cities and countries, but also among the inner bodies of individuals. Soon enough, communication will expand beyond the Earth's boundaries to other planets. 

Amethyst and the Purple Ray

Today many people are strongly attracted to Amethyst. They sense that the purple ray I carry will assist them in their spiritual unfoldment. Indeed, Amethyst can help people let go of the metal consciousness and of their attitudes regarding limited technology and communication. 

It is not my duty, nor do I have the power, to help people make these changes. However, I can help people let go of all that is old, all that holds them back, and all that is their destiny to evolve away from. I can give this help on every level and in every aspect of life.

I can also help people prepare to let go of Amethyst, so they can accept the much greater flow of purple ray offered by the new carrier. Unfortunately, the memory of me and who I was during my prime only causes some people to cling to Amethyst more tightly. Yet, in a way, this attachment may be a good sign. Remember the spiritual principle I have given you: The closer people are to making a great change, the more tightly they hold onto what they know--consciously or unconsciously--they will be evolving away from.

Amethyst can profoundly benefit people in other ways as well. Perhaps the most significant therapy Amethyst can offer is to help people understand and let go of anything that keeps them attached to a condition. For this, I simply need to be worn around the neck. From there I can affect all the inner bodies. This is especially important when working on letting go of attachments.

I have a strong, overall balancing effect. When one's overall balance improves, more spiritual force can stream through the inner bodies into the physical body. This increased flow of life force can nourish every aspect of one's being. 

Once this force has flowed into the physical body, it must return to its source in pure Spirit. As it returns, I encourage my wearer's attention to return with it. In this way, I help my wearer's attention move toward the realm of pure spiritual knowledge. Then I help bring this wisdom back into clear, conscious thought.

Amethyst's purple ray reflects the highest aspect of the mind, which is also known as the intuition. I stir the intuition. This stirring helps the mind become aware of its own intuitive aspect and, ideally, of that which lies just beyond it--soul itself. When the mind becomes aware of its highest aspect, the energy that the mind once fed its own undesirable tendencies is redirected. If the mind remains focused there long enough, these undesirable tendencies will dissolve. 

When Amethyst is worn in a necklace that reaches the heart, my energy connects with the emotional body. I stimulate the area of the emotional body where emotions are born, and I uplift that area's consciousness. This upliftment provides a greater perspective on one's emotions. This broader viewpoint, in turn, reduces or balances emotional extremes.

Whatever emotion we send out eventually returns to us in one form or another. Therefore, as your emotions become more balanced and less extreme, a less intense energy will be returned to you. This is especially beneficial when the emotions you are expressing are negative. It is only in this sense that I can protect you from your own negative emanations. If you are on the receiving end of someone else's negative emotions, you will be more protected from them, simply because your own emotions will be more balanced. This balancing effect on the emotions is cumulative. Therefore, if you are easily imbalanced by others, you should wear Amethyst continually, so that this balance can build and grow. 

Amethyst should never be worn in a necklace that reaches much below the heart chakra. Necklaces of Amethyst that are too long will start to draw energy from the rest of the body to the stomach area, thus diffusing the necklace's focus and creating confusion. 

When the necklace lies close to the throat, the purple ray tends to flow directly to the head and mind of the wearer, bypassing the emotions and increasing the amount of energy flowing in through the throat chakra. This gives energy to the voice. Therefore, those who must address a group but are afraid to speak will greatly benefit from wearing Amethyst around the neck near the throat. It will also benefit those who lack the self-confidence to express themselves or who speak too quietly or with uncertainty.

Therapeutic Quality 

"How does gemstone quality affect a gemstone's mission and effects?" Michael asked. 

The physical quality of a gemstone determines the degree to which a gemstone's true essence can be contained and expressed. Within the mineral kingdom is a wide range of qualities. Indeed, an infinite number of gradations exist between gemstones whose physical nature is so pure that they can express their energy freely, and gemstones that are so choked by inferior color, poor clarity, and contaminants that their energies are trapped, corrupted, or nearly nonexistent.   

Only the highest quality gemstones should be used therapeutically. Therapeutic-quality gems alone can express the life force in a way that is optimal for fulfilling a gemstone's mission. This quality allows such a pure and abundant flow of the gemstone's energy that its benefits will surely be received. 

Where is the line that separates therapeutic quality from that which is unacceptable? To be therapeutic, a gemstone's physical matrix must be virtually free of foreign matter. Yet, that is not the only requirement. As the Guardian of Aventurine pointed out, for every kind of gemstone there is a different set of criteria that makes that gem therapeutic. Therefore, to be therapeutic, a gemstone must exhibit all its own unique parameters for therapeutic quality, and these parameters must be present in proper proportion. Anything less may distort the character of the gemstone's energy and make that gemstone unsuitable for medicinal purposes.  

As Guardians of the Gemstones, we feel that a new standard for gemstone quality must now be set on Earth. It is logical that this be your responsibility, Michael. We intend to help you in this task by training you in the fine points of how to determine therapeutic quality so that you may share this knowledge with others.  

The vast majority of gemstones available today are not therapeutic in quality. People often settle for these gems unknowingly. When someone wears these nontherapeutic gemstones expecting them to be therapeutic, an inner conflict will arise. The person will consciously expect the changes that the gems should initiate, but the person's inner knowingness will realize that the gems can't deliver. This can have many effects. The wearer may unconsciously begin to reject or repel the gemstones, or he may lose faith in the effectiveness of gemstone therapy. In any case, the person will become discouraged, because the gemstones will not be producing the positive changes that therapeutic-quality gemstones can initiate.

This is why it is so important for people to become aware of both the importance of using only the finest quality gemstones for medicinal purposes and of the difference between therapeutic and lesser quality gemstones. Then, as always, it is up to the individual to decide which road to take. 

People have looked to Amethyst for wisdom for thousands of years. I say this: Look nowhere for wisdom but within yourself, for within the core of your being is the source and fountainhead of the greatest wisdom that can ever be known. Gemstones are merely tools. Many can help you look within to the truth that lies in the core of your being. They can also help you recognize and accept the truths you learn there.

It is time for you to rest. Tomorrow you will meet the one who serves as the bridge between myself and my successor. He is known as the Guardian of Purple Rainbow Fluorite.

Amethyst stood up and looked again into the eyes and souls of each of his listeners. Then he walked down the path that meandered through the park.

© 1997 Michael Katz. All rights reserved.
Regular price
Sale price
$2,555.00
Unit price
/
per
Sale
Sold out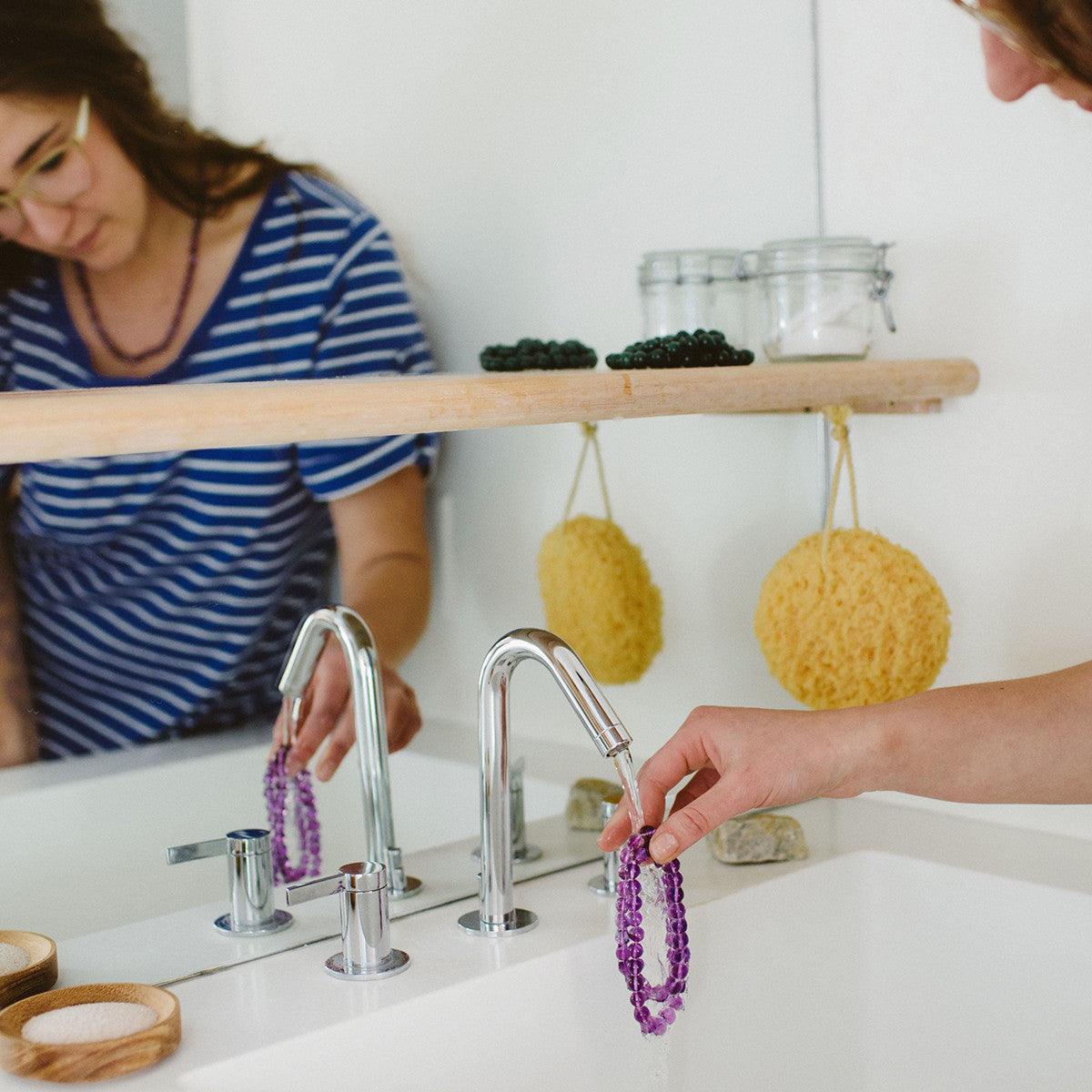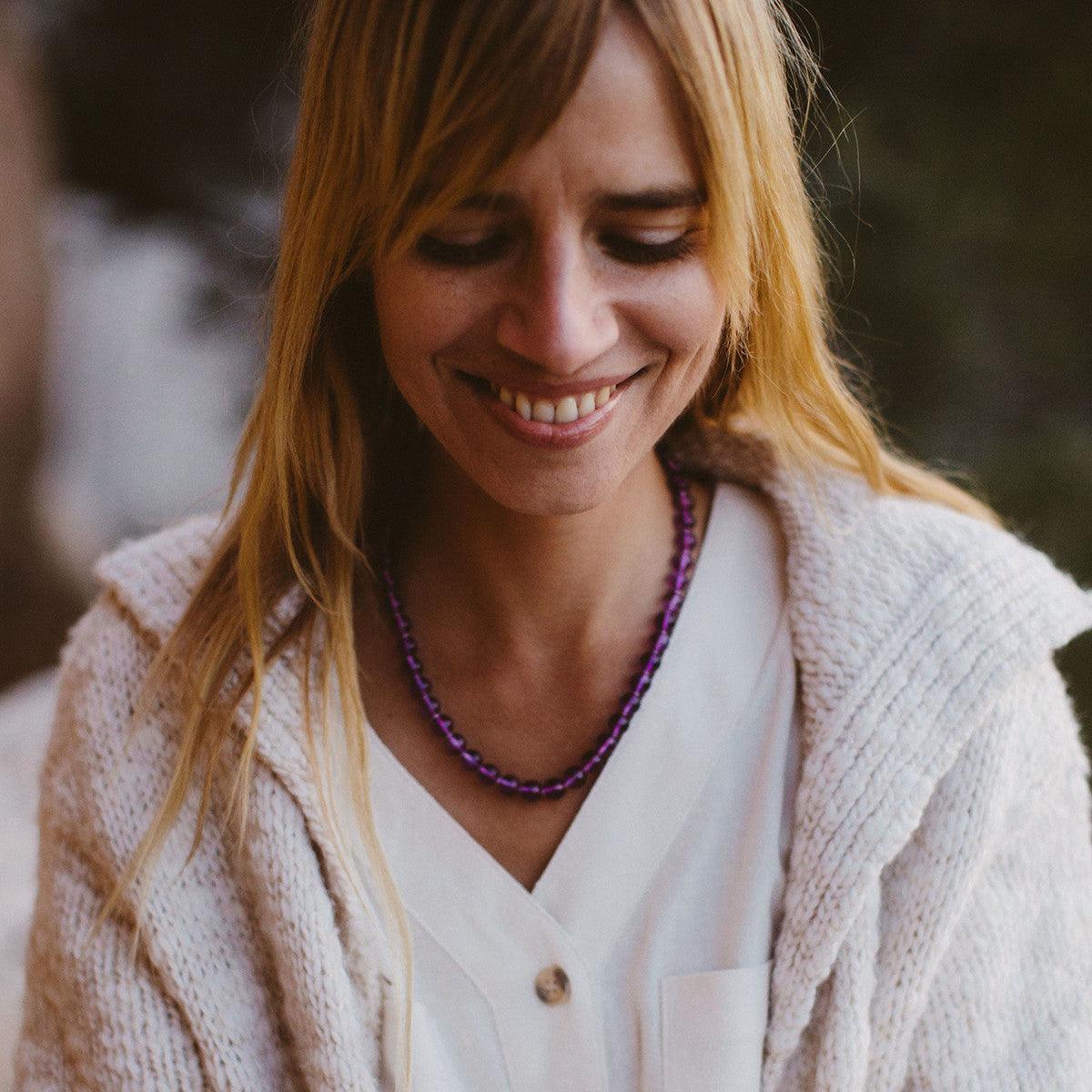 When Amethyst Can Help
When you are experiencing— 
A disconnection from your inner source of wisdom
An inability to let go of a situation that is holding you back
Being easily thrown off balance emotionally by interactions with others
Frequent emotional extremes
When you want to—
Become more attuned to your inner source of wisdom
Release yourself from certain attachments
Let go of a past situation
Develop your intuition or sense of inner knowing
Improve your ability to focus
Express yourself with more confidence
Speak or sing with greater ease
Support the health of your nervous system