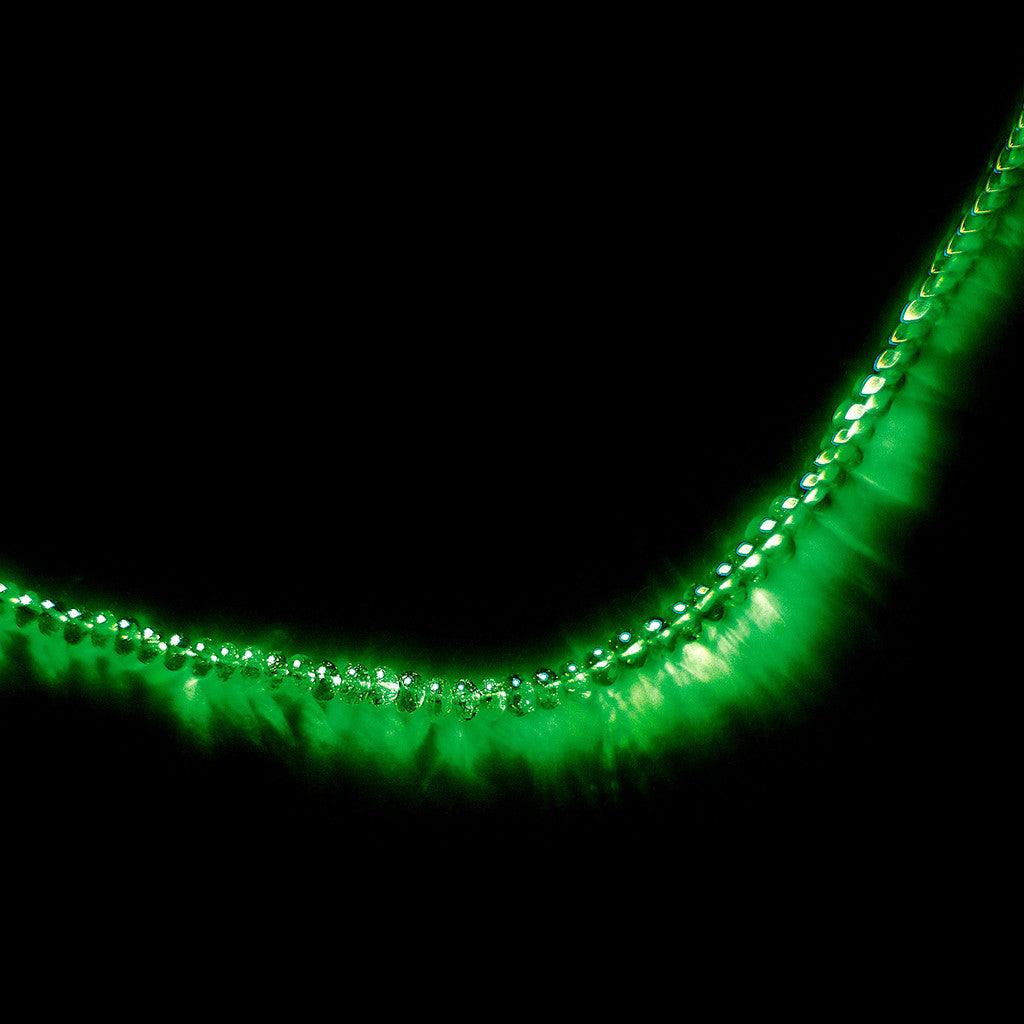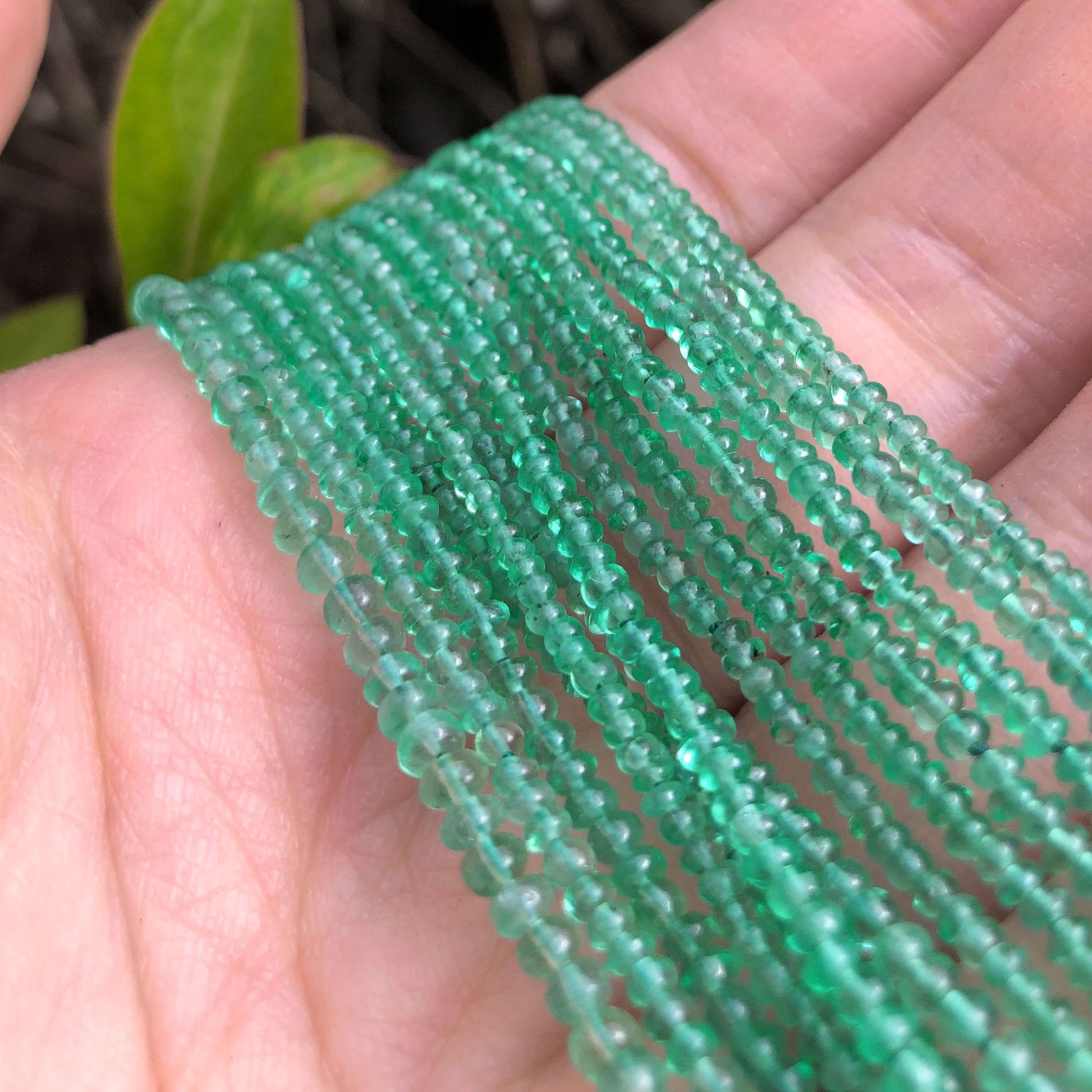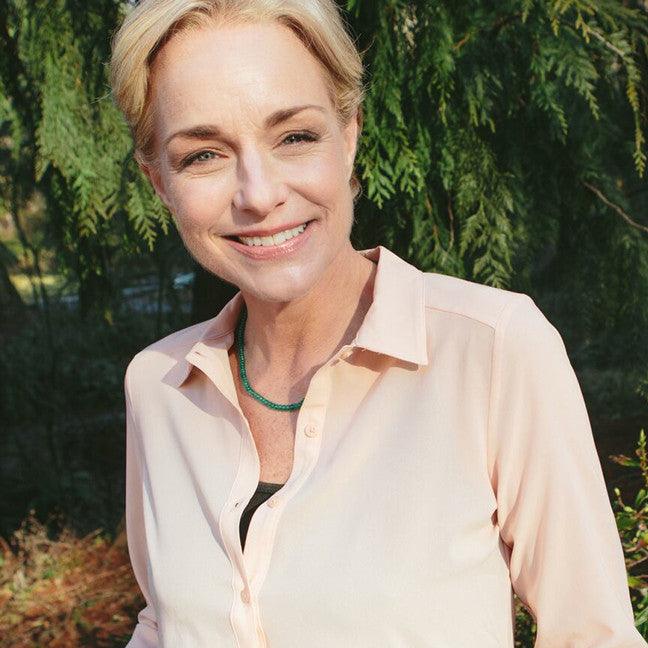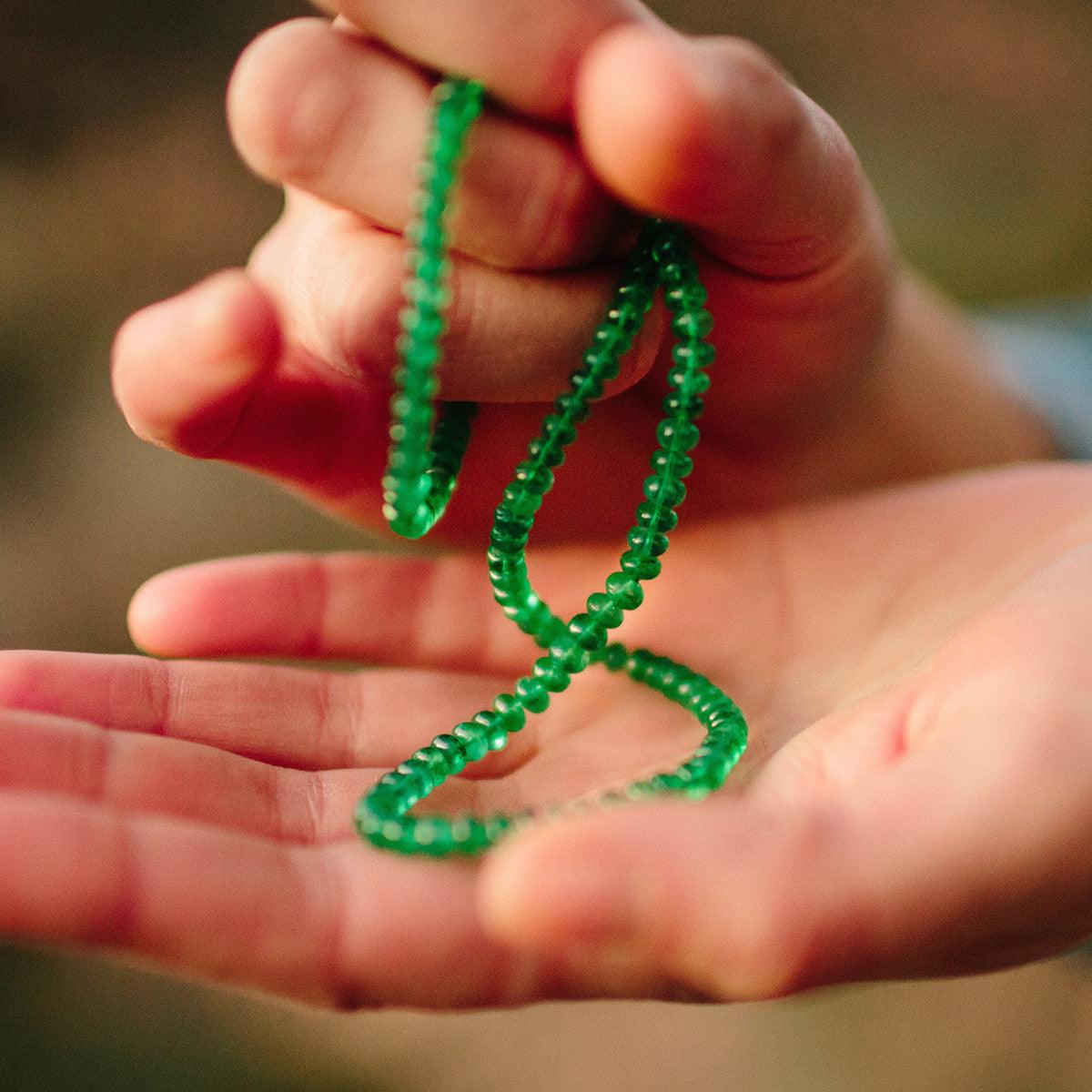 Emerald brings life, nourishment, and healing to the physical body. It floods the physical body with the green ray's life-giving energy and gradually neutralizes the disharmonies that cause disease.
If enough Emerald is worn, it also works on healing the mental and emotional causes of physical illness. By strengthening your physical body's weakest link, Emerald uplifts, strengthens, and vitalizes your body as a whole, making it easier for you to open to higher states of consciousness.
Emerald can help you—
Support organ health
Vitalize your physical body
Resolve emotional and mental causes of physical distress
Be nourished by green ray
FREE Standard Shipping on ALL U.S. Orders
When Emerald Can Help

When you are experiencing— 

An unwanted physical condition, especially one involving an organ
Chronic fatigue or low energy

When you want to—

Bring vitality, nourishment, and improved health to your physical body
Resolve the emotional and mental causes of physical distress
Support the health of your organs
Maintain a high level of physical functioning
Take preventive measures to support your physical health

Benefits of Emerald

Emerald brings life, nourishment, and healing to your physical body. It helps resolve many types of physical disharmony with the life-giving green ray it carries. Emerald is the gemstone bearer of the green ray, an essential element for the life of all plants, animals, and human beings. The green ray in Emerald raises the vibrations of the physical body and provides it with healing vitality. Emerald's healing effects come from a combination of the green ray it carries and the energy of beryl, the family of crystals to which Emerald belongs. For simplicity's sake, we shall refer to this combination as "Emerald energy."

How Emerald Works

A necklace of rounded Emerald crystals focuses its healing effects on the area of greatest disharmony in your body, which is often the source of disease or pain. When you first wear Emerald, its energy floods your aura and locates areas of physical disharmony. Then, like the eagle that has spotted its prey, it swoops down on these areas. Emerald energy enters your body through your skin in a process similar to osmosis. There, it neutralizes and disintegrates the disharmony that manifests as disease and discomfort. Finally, it helps your body release this disharmony.

The origins of physical illness are almost always more than physical. Conflicts and discord in the emotions and mind often lead to physical problems. Inner disharmonies block the flow of life force to the physical body and feed it with disharmonious energy. Emerald not only addresses the physical manifestation of illness; it also helps resolve these inner causes of physical distress.

Emerald increases the flow of life energy throughout your entire being. It does this by energetically lubricating certain components in your subtle bodies. These components, which resemble needle-like fibers, direct life energy through your subtle bodies to your physical body. They perform various other functions, as well: in your emotional body, they direct the emotional energies that eventually manifest as emotions; in your causal body, they manifest as pattern lines; and in your mental body, they represent mechanisms that your mind uses to make its decisions and perform other functions.

As Emerald energy fills your subtle bodies, it provides these important fibers with something like a tune-up: it loosens, cleanses, and lubricates them. As a result, the fibers are freed from obstructions and become more flexible and efficient in their functioning. This allows more life energy to move through these fibers to all aspects of your being.

Although Emerald's effects on the emotional and mental bodies are secondary to its effects on the physical body, when you wear Emerald, you can take comfort in knowing you are using a powerful tool—not only to heal your physical body but to resolve the very causes of your physical condition. Emerald also prepares your emotions and mind for the new state of consciousness that will arise when your physical condition has been resolved.

Emerald and Organs

Each of the seven color rays of the life force is particularly healing and nourishing to certain aspects of the physical body. The green ray nourishes and supports the brain and the organs in the torso. Consequently, wearing Emerald can help strengthen these parts of the body and help resolve certain conditions associated with them.

Emerald's Order of Work

Emerald works in stages. When the energy of an Emerald necklace has saturated your aura and resolved a certain degree of disharmony in your physical body, it begins to neutralize the negative emotional energies that are feeding your physical condition. Then, when it has resolved a certain degree of disharmony in your physical and emotional bodies, the Emerald energy penetrates your mental body and begins to work on the mental issues contributing to your condition.

Because disharmony and the green ray are energetic opposites, the green ray radiated by Emerald gets neutralized in the process of disintegrating disharmony. If the disharmony is strong, the green ray is used up rather quickly. Therefore, if you wish to address not only your physical condition but also its emotional and mental causes, you must wear enough Emerald to maintain a constant saturation of your aura with green ray.

Co-Workers in Healing: Emerald and Dark Green Aventurine

Anyone with any kind of physical disease, especially one involving an organ, can benefit greatly from wearing the strongest combination of physical-healing gemstones yet known: Dark Green Aventurine in one necklace and Emerald in another.

The Emerald and Dark Green Aventurine can be used together to combat the disharmonious energies of the disease process in the organ. The effect of Emerald energy on an organ's disharmony is one of shock. When introduced to the pure green ray and the energy of Emerald, the disharmonious energies become so shocked that they energetically pull in and become somewhat more compact and isolated. The Aventurine works from the inside of the organ to expel the disharmony and to spread healthy, harmonious energy throughout the organ's cells. The Emerald stands at the "doorway" of each cell, directing green ray at the exiting disharmony and disintegrating it. This is the power of the green ray. 

Emerald Shape

A rondel is a sphere that is somewhat flattened on two opposite sides. Therapeutic Emerald is best shaped into rondels rather than spheres. Emerald spheres tend to have a somewhat harsh, searing effect on the aura and body. The rondel shape helps the body regulate the absorption of Emerald energy in the aura, while providing benefits similar to those of gemstone spheres.

The rounded yet irregular form known as rounded chips should be avoided in the case of Emerald. Emerald chips have an irritating effect on the human aura.

How to Use + Therapies

Wear It Around Your Neck

One of the most powerful and convenient ways to use an Emerald necklace is to wear it around your neck. There the gems will silently work for you as you go about your day. At night while you are sleeping, you can wear the necklace or keep it within three feet of your body to maintain your connection with the gems. 

Special Therapies 

You can also use Emerald for more focused treatments. The simplest treatment is to place it on a specific area of your body to focus its healing energies there. For example, you can curl up the necklace and place it on an ailing, injured, or painful area to accelerate the area's recovery. Here are five other focused treatments you can perform with this gem:

Headache Therapy

Placing an Emerald necklace on a painful area of the head brings healing Emerald energy and green-ray nourishment to the area, helps neutralize disharmony, and eases pain. View instructions.

Infusion for Localized Conditions

Emerald energy and the green ray are infused into a distressed or diseased area of the body to uplift the area's health and to neutralize the disharmonious energies that have collected there. View instructions.

Infusion for Systemic Conditions

An Emerald necklace is formed into a small circle and placed on special points on the abdomen. This infusion therapy promotes a deep energetic cleansing of the physical body. At the same time, it gives the body extra energy to help heal a systemic ailment, overcome the flare-up of a chronic systemic condition, or fend off an oncoming acute illness. View instructions.

Liver Treatment for Alcohol Damage

This Emerald and Quartz therapy brings healing energy to a liver damaged by alcohol. The Quartz amplifies the Emerald's effects and focuses the Emerald energy on the mental and emotional aspects underlying the condition. View instructions.

Whole Body Tune-Up

The Emerald Whole Body Tune-up promotes a deep energetic cleansing of the physical body and provides the body with an overall tonic. During the tune-up, Emerald and green-ray energy are infused into the abdomen and the seven major chakras, in combination with exercise. View instructions.

Amount to Wear

The most effective way to maintain Emerald saturation in your aura is to wear a significant amount of therapeutic-quality Emerald. The higher the quality, the more powerful and effective the Emerald will be, and the fewer carats you will need to wear. Indeed, with each jump in quality, Emerald's therapeutic potency multiplies by many times. For example, only 20 to 25 carats of 5 Quality Emerald will be much more potent than even 70 carats of 3 Quality.

For a relatively healthy person who wishes to use Emerald for minor disharmonies or preventive purposes, a smaller amount of Emerald will probably be adequate. In this case, a necklace of five or six carats of Emerald harmoniously combined with other uplifting gemstones will likely be enough to saturate the aura. However, it will take much longer to do so than if a larger amount of Emerald is worn, and it won't have enough strength to neutralize large amounts of disharmony or to reach deeply into the emotional or mental bodies.

When you have a serious physical condition or you are experiencing acute symptoms, inner disharmonies are more difficult to abolish. These negative energies resist the entrance of Emerald and other healing energies into your aura. Using higher quality or a larger amount of Emerald, such as that present in a solid necklace, can overcome this resistance more easily. If the disease is serious or life threatening, using a very high-quality necklace may be necessary.

To maintain a therapeutic level of Emerald energy in your aura, it is important to keep the Emerald necklace either around your neck or within three feet of your body at all times.

Time Guidelines

Again, once you have taken care of your physical disharmonies with Emerald, you must also resolve their inner causes; otherwise, these inner disharmonies will continue to manifest in your physical body. Perhaps they will manifest in a different location or as a different condition, but they will manifest. Therefore, to fully resolve the inner disharmonies, you should continue wearing enough Emerald to saturate your aura for some time after your physical condition has appeared to heal. People whose physical bodies are overburdened with disharmony should—probably for the rest of their lives—wear enough Emerald to saturate the aura continually and provide enough Emerald energy to work on the underlying, inner causes of their physical conditions.

Cleanse Emerald Regularly

To maintain their effectiveness, therapeutic gemstones need regular care. As the gems help us release energetic impurities, some of these energies cling to the gems' surface and inhibit their ability to work at their peak capacity. A simple energetic cleansing will clear these energies and restore the gems to their naturally vibrant state. You can use any of following methods to cleanse your Emerald necklace. Learn more about these methods.

Plant Rejuvenation: 2 – 3 times a week, wrap the necklace around the base of a healthy houseplant or lay the necklace in its branches.

Salt Bed: 2 – 3 times a week, lay the gems in a half-inch of salt for at least an hour or overnight. Place a thin natural-fiber cloth between the salt and the gems.

Water Rinse: Rinse the gems 2 – 3 times a week.

Sunbath: Every 1 - 2 weeks, lay the gems in sunlight for a maximum of 20 minutes at a time.

Caution: Avoid clay cleansing, which will dull polish.

When Your Necklace First Arrives

When you put on a new necklace or one you haven't worn for a while, bring it into your aura with consciousness and a clear intent. We call this "practicing presence." By opening yourself to the gems' energies and consciously cooperating with the process of change, you can greatly enhance the gemstones' benefits.

Learn more about how to use your new gems here.

What Makes Our Emerald Special?

Recently the market has been flooded with low-quality Emerald that has been treated to enhance its appearance. Our Emerald is 100% free of any treatment—no dye, no heat, nothing that could diminish its therapeutic power. Its rich, radiant, pure green color makes it an ideal vehicle for the green color ray.

Therapeutic Quality Emerald

Color, brightness, and clarity are of equal importance in therapeutic quality Emerald. Therapeutic Emerald is a rich, radiant, pure bright green with good clarity. When the necklace is examined as a whole, it should be free of black flecks or have only a minimal number of them. One should avoid any Emerald that is cloudy or dull in appearance or noticeably yellow-green in color. This is not therapeutic Emerald.

All of Gemisphere's Emerald is completely free from epoxy and other toxic treatments, which are commonly used to improve the gems' appearance but render them non-therapeutic. 

Our Emerald Necklaces

Note About Our 6 Quality Emerald: Emerald of this quality is exceptionally rare and potent and is usually reserved for cutting into high-end faceted gemstones. It is our understanding that Gemisphere is the world's only source for this quality Emerald in bead form. Our therapeutic Emerald necklaces are made with Emerald rondels that have been cut from high quality crystals usually reserved for making faceted gems. To ensure our Emerald's superior therapeutic value, we obtain the gemstones in rough form and then have them cut to our unique specifications. Consequently, we offer the highest quality therapeutic Emerald necklaces available anywhere.

We also examine each Emerald rondel under a microscope to determine its therapeutic quality category and to eliminate any beads containing toxic contaminants. Consistency is an important factor in creating an Emerald necklace with a potent and harmonious energetic signature. Therefore, to make each necklace, we carefully match rondels for color, clarity, shape, and size. Thus, each Emerald necklace is unique, and all are individually priced based on their total carat weight and quality.

For most gemstones, the therapeutic quality categories defined as Quality 1, 2, 3, 4,  etc., suffice to describe the quality of the gems in a particular necklace. However, for a handful of gemstones, gradients of quality exist within each therapeutic quality category. Emerald is one of these gemstones. This means that a particular Emerald necklace may be somewhat higher or lower in quality than the other necklaces in the same category. These variations are reflected in the price per carat of each necklace.
Read Emerald Chapter

Excerpted from Wisdom of the Gemstone Guardians, by Michael Katz. Order the book here.

Chapter 5

Emerald: Healing the Physical Body

As I closed my eyes, I wondered what the Guardian of Emerald would look like. The sound I was hearing grew particularly loud, making it especially easy to follow. It led me to a small dark amphitheater where three others, including Michael, were already awaiting the arrival of the Guardian. 

We stood in the center of this amphitheater, bathing in the glow of what appeared to be seven floodlights. Each of these lights showered one of the colors of the rainbow on us. The colors moved, as if dancing to the rhythm of music. My heart danced with them as I watched, awe-struck by their beauty.

Suddenly the green ray grew larger, and the other six rays receded to quiet flickers in the background. Within the column of green light, an Emerald crystal began to materialize. When it had fully formed, the crystal stood about six feet high and three feet wide. Like a magnet, the Emerald began to draw to itself all the green ray showering from above. The green ray moved faster and faster until it was pouring into the Emerald at a high velocity. 

The transformation continued as the crystal took the shape of a tall figure wearing an emerald-green cape. The man who now stood before me had short black hair and a closely cropped black beard. He appeared to be in his thirties. As he opened his eyes, green rays of light shot from them, piercing the darkness that surrounded us. Then his eyes became a more familiar dark brown. 

I looked up and noticed that the ceiling of the amphitheater had disappeared, revealing a midnight sky brilliant with stars. The seats in the amphitheater also vanished, and we found ourselves standing in the middle of a vast grassy field. 

I approached the Guardian of Emerald. We looked deeply into each other's eyes, and again his eyes became green. The color overwhelmed me. Feeling somewhat intoxicated, I turned and stepped backward into his aura. 

Mother Crystals

I am glad all of you were able to make this inner-world journey to meet me halfway between your world and mine. Let us begin. 

When a planet becomes ready to support life, it is the duty of the Guardians of the Physical Universe to direct the implantation of the seven gemstones bearing the color rays. Emerald is one of these gemstones. As the Earth evolved and developed a capacity for life, it began to prepare matrices to encase that life. When the Guardians of the Physical Universe noticed this and saw that Spirit wanted life on the planet, they fulfilled their duty to direct the implantation of these gemstones. 

You will soon learn of the other six color-ray gemstones. Not all these gemstones were present when I was planted on Earth. This is because, at that time, some of the color rays were carried by gems other than the ones that carry them now.

I was not planted in an existing gemstone, the way Lavender was planted in Quartz. Before I explain how I was planted, let me say this: Some wheat seeds are planted to produce flour for eating; other wheat seeds are grown specifically to bear higher quality seeds for replanting. Emerald crystals have similar classifications.

A few coveted and highly protected Emerald crystals have a life energy so intense that only one race of people in the physical universe can handle the responsibility for them. These Emerald crystals are like the wheat seeds that are grown to produce more seeds.

The Earth is a living planet. It contains supra-physical channels that fulfill a function similar to that of your blood vessels. Some people call the places where these channels reach the surface the "power points" of the Earth. When the Earth was ready, representatives from this race of people planted a cluster of these special Emerald crystals in a channel beneath a power point. This special cluster became the "mother crystal" of all the Earth's future Emeralds. The mother crystal gave the Earth a "blueprint" for making crystalline matrices to contain the Emerald's energy.

Once this mother crystal was planted, the Earth distributed the crystal's vibratory rate to other places in the planet. These birthplaces for future Emerald crystals were chosen by the Guardian of the Earth for the good of the planet. 

The base of the mother crystal is somewhat circular. The cluster itself is about one-and-a-half- to two-feet wide and one-foot high. These dimensions are only approximate and, ultimately, the actual shape and size of the mother crystal doesn't matter; it's just good for you to understand that it isn't a mile wide.

The race of people I referred to is responsible for planting mother crystals throughout the universe. These include more than just Emerald crystals. These beings have a technology and spiritual awareness far beyond anything even your science-fiction writers have yet conceived. Although they use spaceships, they are not bound by the limitations of the physical universe. They move from one end of the universe to the other in little time. This race works directly with the hierarchy of Guardians in this physical universe and in nonphysical universes as well.

When Spirit directs the attention of a Physical Universe Guardian to a planet ready to support life, the Guardian then notifies this race of people. When they are presented with a planet ready to support life--and thus ready to be implanted with at least the seven color-ray gemstones--they begin to research the planet. 

These beings are like scientists. They scan the planet for its energy channels and power points; then they chart them. Because the planet is preparing to support life, all types of data about the planet must be gathered and stored. Of the millions of planets in the physical universe, many are preparing for life at the same time. Consequently, this race of people is kept very busy.

After the mother crystals are planted, certain members of this race continue to record data. One spaceship of these people, whose lifetimes span much greater lengths of time than yours, stays with this planet for hundreds of your Earth's years. Among the things they monitor are how the planet receives the gemstones, whether the planet is forming crystalline matrices as well as it can, whether the proper connections are being made between the mother crystal and its offspring, and how the planet is responding to the new light rays now available to it.

By the way, you should know that when I refer to a light ray, I also mean the sound that accompanies the light. Gemstones carry light and sound. It is just tedious to say "light and sound" repeatedly. The word "light" is more easily understood by most people, since it is a more obvious quality of gemstones.

Mother crystals still exist on the Earth. When your people have attained a certain level of technology and earned the responsibility, you may be able to locate mother crystals and dig them up. However, you will not be given this technology until you are responsible enough to take care of these crystals and know what to do with them. No mother crystals have yet been uncovered on the Earth planet.

"Do all gemstones have mother crystals?" asked Michael.

No. Lavender, for example, does not have a mother crystal; its vibratory rate was planted in Quartz.

As a planet constructs crystalline matrices to house the vibratory rate of a mother crystal's offspring, mutations can form. This is one reason this race of beings monitors the planet for several hundred years or sometimes thousands of years. They also regularly return to observe each planet they have implanted with gemstones. Yes, some of these beings do visit the Earth once in a while. They do not walk the planet, because they are very different from the Earth's inhabitants and would be too noticeable. From their spacecraft, they scan the planet to monitor, for example, changes in life forms and power points, and, as always, they record this data. 

If a planet begins to develop mutations in a certain matrix, these people have ways to make sure the matrix does not continue to change. Of course, certain mutant crystals are not bad or undesirable; the Earth often creates them to help balance specific energies within the planet. 

Gemstone Warfare 

During the Age of Atlantis, my powers were researched, and certain qualities of the vibratory rate of my crystal were discovered. You have heard of chemical warfare. There is also such a thing as gemstone warfare. I hesitate to speak of this. However, there are some things you must know even though they aren't pleasant.

Most of the black inclusions one finds in Emeralds today are the result of foul play. When this foul play occurred, the black inclusions were not visible. Otherwise, it would have been obvious to the gemstone's recipient that the Emerald had been tampered with. This Emerald brought disease of the mind, emotions, and body. The Atlanteans responsible for this foul play were assisted by individuals from beyond your planet. Not all extraterrestrials have the best intentions. 

At the destruction of Atlantis, the Emerald on your planet needed serious attention, and many were called upon to assist. We devised a way to transform the destructive vibratory rate that had been placed within all the Emerald crystals on the planet. We transformed it into what appear to be black flecks.

Today these black inclusions are no longer harmful, and there is nothing one could do to change them back into harmful energy. They are now a living part of the Emerald. Their vibratory rate continues to reproduce and grow within the Emerald crystals, somewhat like mutant genes. Although the flecks are now benign, they will always serve as a reminder that when powerful tools are misused, they can become highly destructive. 

Gemstones are powerful tools--more powerful than you may realize. Yet, when used with good intentions, an open and loving heart, and a clear and understanding mind, gemstone tools can yield astounding benefits.

Color Rays 

To gain a better understanding of my purpose, it will be helpful for you to have some knowledge of what color rays are, where they come from, and why they are so important to life. To explain the origin of color rays, I will use a simple image. 

Imagine that in an area of the intuitive plane, at the top of a towering mountain, lies an important crystal. Before the pure white light of Spirit can touch the worlds below, it must first flow through this crystal. As it does, the white light is separated into seven color rays: red, orange, yellow, green, blue, indigo, and purple. This process is similar to the way sunlight shining through a crystal hung in a window separates into the colors of the rainbow. 

Each color ray has a specific purpose, and all seven color rays are essential for life and health. A deficiency in any one of these color rays in an individual moves that person away from optimal health and an optimal expression of life.

Every planet has a unique ratio of color rays. This ratio is essential for the life of that planet's inhabitants and the state of consciousness they are destined to achieve. The Earth, for example, has less of the red, yellow, and indigo rays than it has of the other rays. 

It is difficult to work directly with color rays in their pure form because they are not physical. The gemstones that bear these color rays are physical and therefore can be used as tools to enhance the flow of nonphysical color rays. 

In the past seventy years, people's consciousness has been rising rapidly. As people grow and expand in consciousness, they need increasing amounts of color rays. Individuals can fulfill this increased need for the green ray by wearing Emerald--and the more they wear it, the more effective Emerald can be.

Emerald and the Green Ray

Emerald is found throughout the physical universe on every planet where life is evolving. Only planets that are just rocks in space and that support no life or only primitive forms of it have no Emerald. 

My purpose for the Earth human who wears Emerald is the same purpose I fulfill for everyone in the universe who wears it: I provide the green ray. This ray is essential for the life of all plants, animals, and human beings. 

Emerald has been the bearer of the green ray since the beginning of time. Since I am not bound by time as Earth humans understand it, Emerald is still in its prime. It will continue to be the bearer of the green ray for as long as your imagination can stretch into the future.

Emerald works on raising the vibratory rate of the physical body. When this upliftment occurs, the wearer's attention can more easily expand to include the other states of consciousness that lie beyond the physical. 

In order to uplift an individual, Emerald resolves the weakest link in the chain. The weakest link is always the lowest vibratory rate in the body, and it is often the source of disease. Emerald's green ray disintegrates the disharmony that manifests as disease and discomfort. 

It is not the green ray alone that does this. Rather, it is the green ray in combination with the vibratory rate of Emerald itself. For the sake of simplicity, I will refer to the combination of the green ray and Emerald vibratory rate simply as "Emerald energy." 

Emerald energy also prepares the emotions and mind for the new state of consciousness that will arise when it has resolved the physical disharmony. Although my effects on the emotions and mind are secondary to my effects on the physical body, those who wear me can take comfort in knowing they are using a powerful tool to help heal the very cause of their physical conditions.

Neutralizing Disharmony

It is not only physical-body disharmonies that manifest as physical illness. Disharmonies in the emotional and mental bodies usually lead to physical problems as well. Inner-body disharmonies block the flow of life force to the physical body and feed the body with disharmonious energy. Therefore, once you take care of the physical disharmonies, you must also resolve the inner ones; otherwise, these inner disharmonies will continue to manifest in the physical body. Perhaps they will manifest in a different location or as a different condition, but they will manifest. 

Between the physical body and the emotional aura lies a layer of supra-physical energy. This layer of energy is sometimes called the "supra-physical aura." The supra-physical aura appears to surround the physical body; the emotional aura appears to surround the supra-physical aura; the causal aura appears to surround the emotional aura; and so on.  

When Emerald is worn, its energy first floods the supra-physical aura and locates areas of physical disharmony. Then, like the eagle who has spotted its prey, it swoops down on these areas. The Emerald energy focuses on the disharmonious areas and enters them through the skin in a process similar to osmosis. It continues to do so as long as there is Emerald energy in the supra-physical aura.  

After the Emerald energy has saturated the supra-physical aura, it begins to saturate the emotional aura. There it works on any emotional disharmonies that may be feeding the physical condition. It takes more time and, in most cases, more Emerald to saturate the emotional aura than it does the supra-physical aura; and it takes even more time and, in certain cases, more Emerald to saturate the causal and mental auras. In these auras, Emerald focuses on resolving the causal and mental causes of the physical problem. 

This is one reason why people whose physical bodies are overburdened with disharmony should--probably for the rest of their lives--wear enough Emerald to continually saturate the supra-physical aura and to provide the other inner auras with enough Emerald energy to work on the underlying, inner causes of their physical conditions. This is also why people who wear Emerald and Aventurine necklaces together should keep wearing at least enough Emerald to saturate the inner auras for some time after it appears that the physical condition has healed. This will help resolve the condition's corresponding inner disharmonies so they cannot manifest again in the physical body. 

Now, you might wonder why, when an aura becomes saturated with Emerald energy, it does not stay saturated. One reason is that disharmony and the green ray are opposites, and in the process of neutralizing and disintegrating dishar mony, the green ray gets used up. Indeed, if the disharmony is strong, the green ray is used up rather quickly. 

The size, quality, and quantity of Emerald worn determines its ability to saturate the auras and initiate healing changes. In other words, the higher the quality and the larger the overall mass and sphere size, the more effective the Emerald will be.

… If you want to focus primarily on the physical body, use Emerald by itself or with Aventurine. If your primary focus includes the inner bodies as well as the physical body, use Quartz with the Emerald. 

Do not underestimate the healing power of the gemstones that carry the color rays. Like some other color-ray bearers, Emerald is rare and precious, and therefore expensive. As a general rule, the more precious and the higher in quality a gemstone is, the more power it has and the stronger its effects are. Because of this power, less of the gemstone is needed on the planet. Therefore, it is naturally more rare.

If all you had were a solid necklace of Emerald and a solid necklace of Aventurine, your gemstone "tool box" for physical-body healing would be almost complete. I do not wish to negate the importance of other gemstones and their significance for speeding up the resolution of certain isolated conditions. However, if you are working on healing a physical condition, Emerald and Aventurine are indispensable.

There is still much to learn about Emerald. My nature is to assist in the upliftment of human beings. I do this by helping them resolve their greatest physical disharmonies. Once these disharmonies are resolved, attention can be placed on other aspects of growth, and spiritual evolution can accelerate. Emerald is ready to help. Now it is up to you.

Recognizing that the discourse had ended, Michael and the others thanked the Guardian of Emerald, who responded by nodding his head. As I turned to thank him, I found that I was no longer in his aura but was facing him. Again he looked into my eyes. Then he took my hands and gently laid in them a necklace of exquisite Emerald spheres. 

The starry sky disappeared, and we found ourselves standing once again inside the amphitheater. The Guardian's body soon vanished, and the green-ray beacon resumed its previous form.  Then the other six colored floodlights reappeared in their former positions.

We looked at one another, silently assimilating the experience we had just shared. Then, one by one, each of us walked away in separate directions.

© 1997 Michael Katz. All rights reserved.
Regular price
Sale price
$9,275.00
Unit price
/
per
Sale
Sold out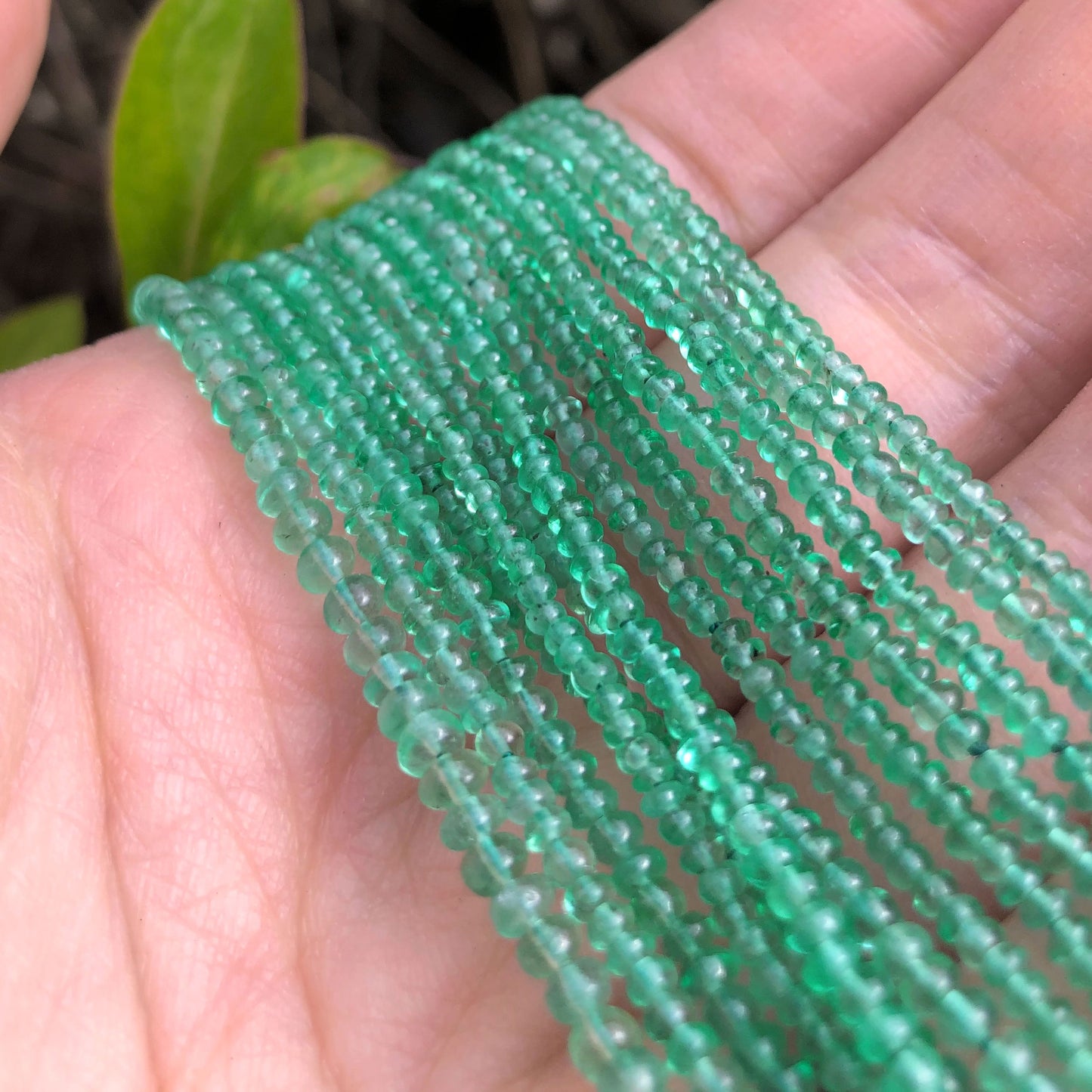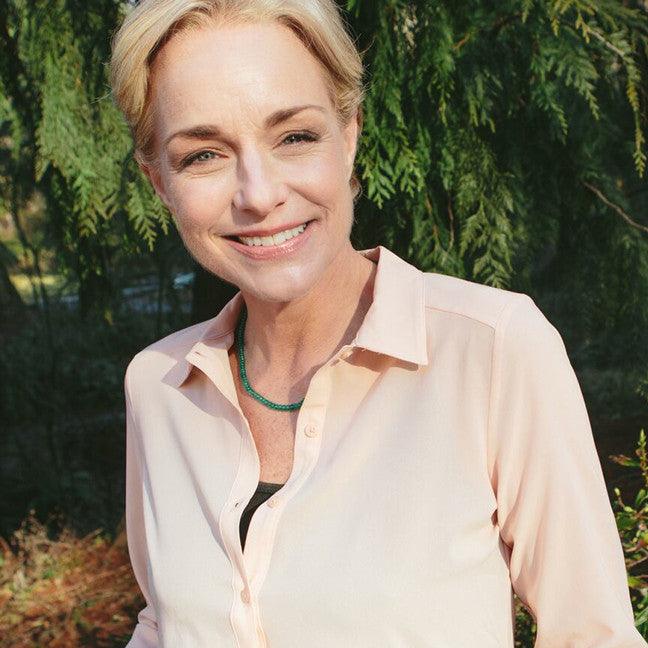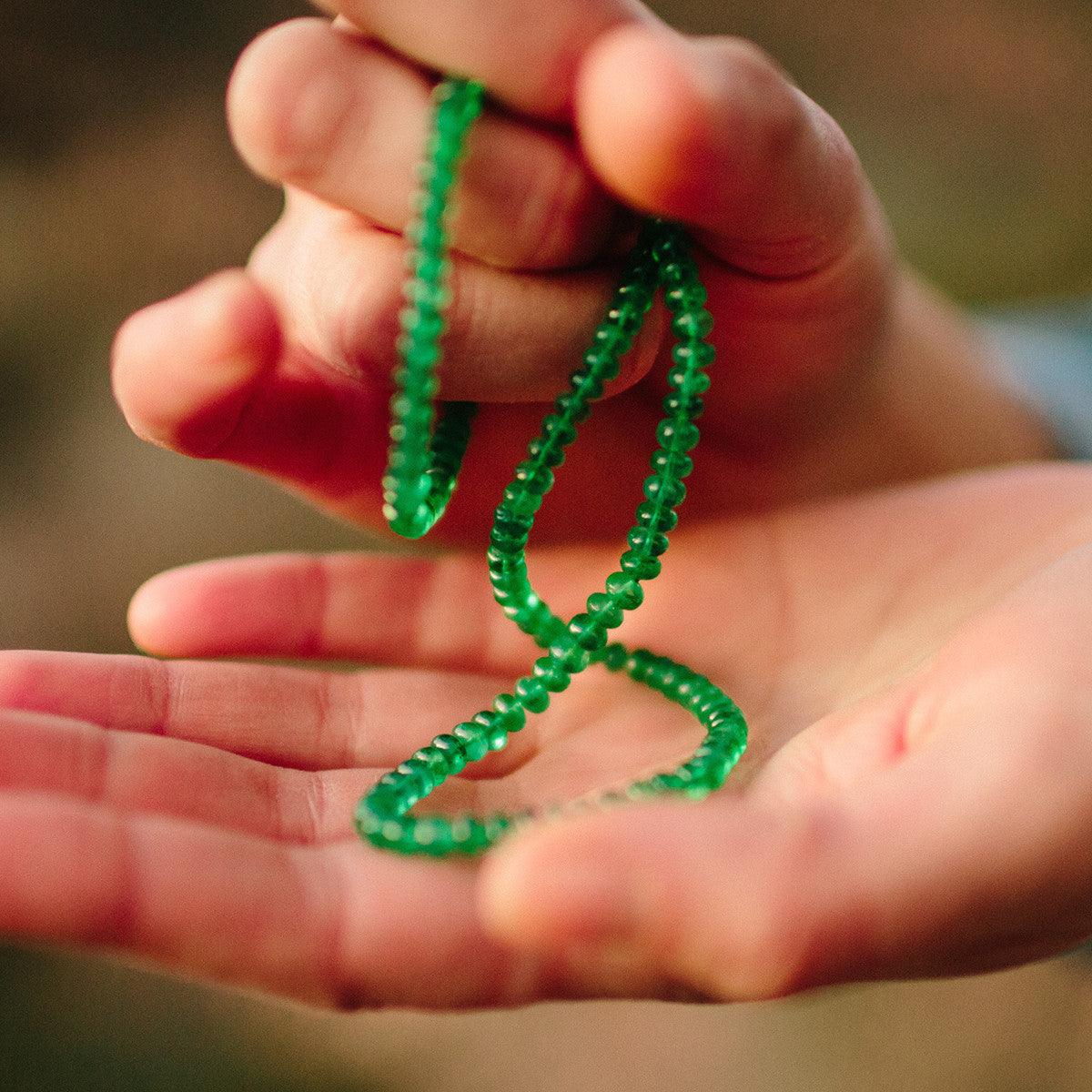 When Emerald Can Help
When you are experiencing— 
An unwanted physical condition, especially one involving an organ
Chronic fatigue or low energy
When you want to—
Bring vitality, nourishment, and improved health to your physical body
Resolve the emotional and mental causes of physical distress
Support the health of your organs
Maintain a high level of physical functioning
Take preventive measures to support your physical health