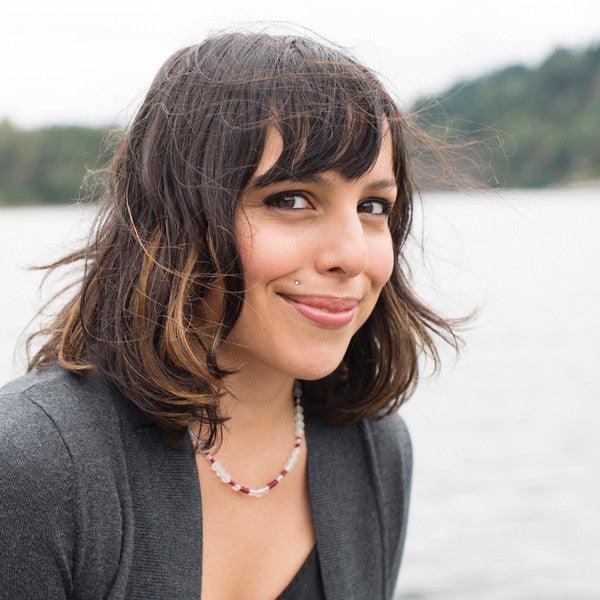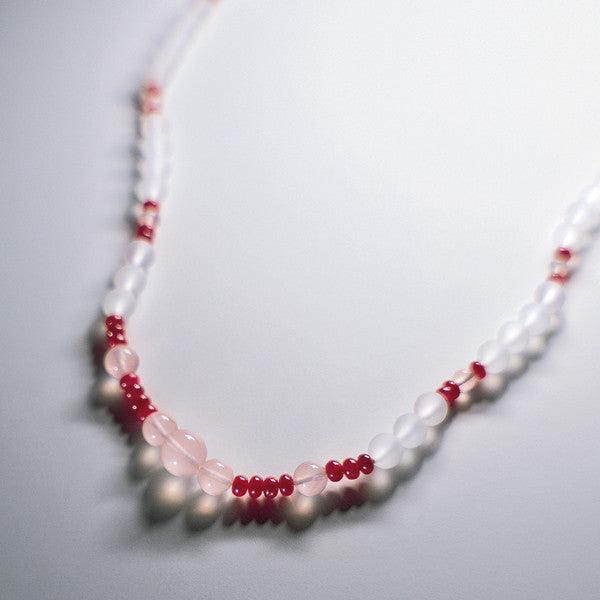 Ruby Dream is the perfect vehicle for fulfilling the mission of
Ruby
.
This combination of Ruby, Quartz, and Roselle offers all the therapeutic benefits of Ruby and the red ray while safeguarding the natural balance of color rays within you. In addition, Ruby Dream helps deepen your understanding of divine love and allows you to resolve love-related karma more swiftly and easily.
FREE Standard Shipping on ALL U.S. Orders
Read Ruby Dream Chapter

Excerpted from Wisdom of the Gemstone Guardians, by Michael Katz. Order the book here.

Chapter 7

Ruby: Healing the Emotional Body

We sat in Michael's living room and prepared to meet the Guardian of Ruby. Already her presence was strong, as feelings of love and joy charged the room. All the molecules in the air seemed to be turning themselves inside out, changing into particles of greater and greater energy, and this energy was love. 

I closed my eyes to become more attuned to these feelings of love I knew must be related to Ruby. Indeed they were, for within moments I was standing before the Guardian of Ruby in the same pink mist where we had met the Guardian of Roselle. 

Red energy swirled around the Guardian's body, forming what appeared to be a floor-length gown. Her hair was dark, almost purple-red. A red ray either shone from her eyes or was reflected by them--I could not be sure which. Gloves covered her arms. The only skin I could see was that of her face and neck, and it was unusually white.

She extended one hand to Michael and one to me, and together we walked through the pink rain and mist to the Guardian of Roselle. When the two Guardians met, each held her palms together and bowed slightly to the other. Then Roselle turned to us and said, "I see you have already met the Guardian of Ruby. Follow her. Perhaps you and I will meet again somewhere in time. For now, farewell!" 

Ruby led us to the edge of a cliff where about fifteen listeners were gathered, awaiting her discourse. The wind was strong, yet curiously it did not ruffle our hair or clothing. Peering over the edge of the cliff, I saw clouds below and, hundreds of feet beneath them, the ocean. Despite the distance of the water, the roar of waves crashing against rocks could be distinctly heard. 

All attention was focused on Ruby. She seated herself close to the cliff's edge, and the listeners gathered in a semi-circle around her. She started to speak, and I remembered my duty. Feeling conspicuous, I stood and approached her. She seemed to understand my intent and drew me toward her. Then I fell into her consciousness . . . .

When each of you first felt my presence, you experienced what Ruby does naturally. Ruby placed anywhere in the atmosphere will begin to change the molecules around it. It turns them inside out, in a sense, to reveal the love that created them. And what is this love? It is the divine love that created all molecules and atoms. You can call it the love of God.

Planetary Power Points

The chemical matrix of my crystals, known as corundum, formed when the Earth formed. At the birth of the planet, corundum was colorless and existed in pockets in many places around the planet. These pockets had a certain geographical relationship with the Earth's power points as they existed at the birth of the planet. 

If you study the major deposits of corundum and the power points of the Earth, you will discover this relationship. This is because corundum of any color strongly desires to be positioned at a certain distance from the power points--not too near and not too far. It will even cause shifts in the planet in order to achieve this distance.

Power points have shifted several times since the birth of the planet. Each time the power points shift, the minerals and crystals that need to be certain distances from the power points are drawn to these positions like magnets. This attraction compels the plates of the Earth's crust to move, so that the crystals can realign and relocate themselves at the ideal distances from the power points. 

I am saying that corundum has the power to force the Earth's patterns to change. Do you think that a human being's patterns are hard to change? My friends, there is nothing harder to change than the physical matter of a planet. And if corundum can do this, it can easily change a human being's patterns. It is just a matter of applying it properly. 

Ruby and the Red Ray

Red corundum, or Ruby, came into being when the vibratory rate of the red ray combined with the crystalline matrix of clear corundum. It was not until the Age of Atlantis that the people of Earth needed the strong vibratory rate of corundum behind the red ray. Prior to that, there was another carrier of the red ray. During the Atlantean Age, the reign of this previous carrier had begun to decline rapidly. This carrier had taken the responsibility of bearing the red ray for the Earth, but it faltered when it could not handle the long-term responsibility. Its crystalline matrix was too weak to handle the vibratory rate of the pure red ray over a long period of time, and this weakness caused an imbalance. This imbalance corrupted the gemstone and its Guardian, and the two became a negative influence on the people of Atlantis.

Because of this corruption, a new carrier of the red ray had to be quickly acquired. So, the Guardian of Earth, the Guardian of the Universe, and whoever else was required to make such decisions focused the red ray like a laser toward specific deposits of clear corundum. 

The transfer from the old carrier to the new occurred almost instantaneously--by Earth standards, in about two hundred years. This was all the time needed for the corundum to change from clear to pink to a true red. So, if you wonder whether pink Ruby is an immature form of red Ruby, the answer is yes. On most other living planets, the red ray is planted in corundum at the same time the other six color ray carriers are planted. I do not know why the Earth was different in this respect.

When I was given the responsibility of bearing the red color ray for the Earth, the previous carrier resisted. It would not let go of the responsibility. Therefore, to protect and maintain my mission, I had to create a mask of power. This was necessary to keep my predecessor from influencing my work. Unfortunately, people soon noticed this mask of power and then misused it for themselves. I was meant to be a gemstone that taught the force of love. It was never my intent to carry the force of power. 

You see, as long as I was wearing this mask, I was unable to fulfill my mission as the force of love, which is the positive aspect of the red ray. Today there are other gemstones and earthstones that carry the element of power. The energy they bring to the Earth satisfies the need for power possessed by individuals in a certain state of consciousness. 

My predecessor's energy has greatly waned and does not fit the expanding consciousness of most people today. Because my predecessor's energy has weakened, my power mask is no longer necessary. It seems as though a cycle has ended and I can begin my reign all over again. This time I can do it right. Now the consciousness of human beings is ready for Ruby.

Because I have experienced the apparent conflict between power and love and have resolved it within myself, I can assist others who are also experiencing this struggle. I can give them the strength to move beyond this conflict.

The color red may always be a symbol of power, yet it is also a symbol of love. My predecessor allowed the red ray to enter the body principally through the root chakra. I bring the red ray in through the heart. Often the heart is so thankful for my presence and for the love I bring with me that it freely opens its door to me. 

I could continue discussing my past in greater detail, but it is my importance for the present that you really should understand.

Contrary to some people's concepts about the meaning and symbolism of different colors, every color ray is a spiritual ray. Each color ray is simply a different vibratory rate or expression of their common source in God. When color rays enter the body, they provide a bridge from the inner worlds to the physical world. In this way, they bring spiritual nourishment and upliftment. 

Each individual is in greater harmony with one particular color ray than with any of the other color rays. This color may be called the individual's "main" color ray. When you wear the gemstone bearing your main color ray, you will have an easier time expanding your consciousness, becoming uplifted, and moving closer to the infinite source of all life. In other words, wearing your main ray gemstone can serve as a powerful tool on the road to greater spiritual growth. 

As the carrier of the pure red ray of the life force, Ruby is not just the red ray or just the vibratory rate of corundum. It is a unique combination of the two. Thus, the way Ruby expresses the red ray is different from any another source of red ray, red color, or red light.  

Emotional Mastery

If one's body tenses at the discussion of emotions, this is a sure sign of a red ray deficiency. One may say, "I'm willing to learn about emotions," but the eyes will say, "I'm afraid. I'm not ready. I don't want to know." With this in mind, if you feel tension during this discussion, try to be aware of any other emotions you may be experiencing.

Emotional mastery implies emotional balance, understanding, and the ability to regulate how much emotion you want to exhibit in a certain situation. Yet this is not the kind of mastery that Ruby teaches; this is only the effect of the mastery.

The emotional mastery Ruby teaches is total awareness of the emotional body. The emotional body exists in an emotional world, just like your physical body exists in a physical world. The emotional world is very different from the physical world, yet in some ways they are similar. In the emotional world there are trees, mountains, oceans, deserts, jungles, birds, flowers, cities, and houses. There are also good people, bad people, and problems, just like there are in the physical world. 

The emotional world is a more beautiful place than the physical world. There is more light, and colors are more vibrant. The sound current of the life force can be more easily heard, and energy or vibratory rates are more easily seen. Understandably, the founders of some religions who have glimpsed this world have called it heaven. 

The greater awareness and knowledge one has of this inner world, the more its tools, laws, and principles can be used in the physical world. If you are using Ruby, you will not need to consciously "travel" or project yourself in any way into this world in order to master it.

I shall use an analogy to help you understand the potential of emotional mastery, for I see that this concept may be difficult to understand. 

Let's say that the physical world is like high school and that the emotional world is like college. Let's also assume that you are a high-school student who enjoys chemistry. One day you start to wear Ruby in its spherical form. Soon thereafter, whenever you walk home from school, an inner urge guides you to the nearby university. There you begin to sit in on a first-year college chemistry class. As a result, you start to realize that your high-school chemistry is much more basic than you had thought.

Every day you still have to attend your high-school chemistry class. But the more college chemistry you learn, the easier your high-school chemistry assignments become. Your high-school chemistry becomes easier because you are seeing it from a broader point of view. You also begin to understand the reason you are in high school--to prepare for college. 

If you are still in high school, college-level information will make your high-school work easier. Similarly, if you are still in the physical world, knowledge of the emotional world will make your life much easier. It will give you greater perspective on your Earthly life.

In this analogy, Ruby opened your awareness and understanding, thereby enabling you to accept college-level information. Without Ruby, you wouldn't have been ready for such information until you had completed high school. Ruby sped up the process. It allows "college-level" information to be understood by "high-school" students. 

You may be interested to know that, just as Ruby brings the emotional level to physical awareness, blue corundum--also known as Blue Sapphire--brings the mental level to physical awareness.

Divine Love

To better understand Ruby, you also need to understand the kind of love Ruby teaches its wearers. It is not human love, for human love implies needs and expectations. My love implies freedom. My love is a noble and powerful love. It turns your attention to that which is greater than yourself.

Human beings need love. They need human love. Yet human love alone does not sustain them, because it does not provide their emotional bodies or their interpersonal relationships with enough nourishment. People also need divine love. Human love says, "I need your warmth. I need you to hold me and kiss me. I need you to tell me where you're going, so I'll know where you are and won't worry about you." Divine love says, "I love you regardless of what you do. I love you regardless of who you are. I love you even if you go someplace and forget to tell me where you're going, and I'll love you when you return. I love the Soul that is inside your physical body. I love that which gives you life. I love the part of you that is God." 

Divine love gives individuals the freedom to be who they really are and who they really want to be. This freedom nourishes them and their relationships. It gives them space to grow. Ideally, individuals in a relationship should be able to share both human and divine love.

Unfortunately, most people today do not understand the difference between human love and divine love. Even those who understand the concept often have no real idea of how to open their hearts and express divine love. The necessity of divine love may make sense mentally, but when it's time to express divine love emotionally, few people know where to begin.

Ruby teaches this. Ruby will open your heart and give you a taste of what divine love is. Then it will teach you how to be a vehicle through which divine love can enter your life. This love will then touch others around you, even if they're not wearing Ruby themselves. They will learn from your living example.

Ruby's love is powerful. Divine love is powerful. An example may help explain what I mean. A husband may tell his wife from a human-love point of view, "Please stop smoking, because it's bad for your health, my health, and the kids' health." To return the human love, the wife will want to stop smoking and try to do so. However, because it's hard to let go of a habit, she may encounter one obstacle after another. Even though she wants to stop and realizes mentally that it's not good for her children's health, the struggle to quit may be too great. 

If the husband has divine love flowing from his heart and asks his wife to stop smoking, his words may be exactly the same. However, behind the words he will be saying, "Please stop smoking. Yet, I will love you even if you continue to smoke, and I will love you if you stop." If the husband is truly a vehicle for divine love and the wife sincerely wants to quit, the divine love flowing through her husband will give her the power to do so--for love is power. 

Connecting Heart, Mind, and Body

Ruby has its greatest effects on the emotional level. The red ray exists on the intuitive, mental, causal, emotional, and physical levels. However, it seems to collect on the emotional level, where it forms a direct link, or bridge, to the physical level. This is part of the reason that Ruby can lead your awareness from the physical to the emotional level.  

The accumulation of red ray on the emotional level gives the area an overall appearance of pink. The color pink causes a stirring of the emotions. This stirring is important for maintaining emotional health, just as your blood circulation is important for maintaining your physical health. The emotional body contains little needle-like tubes, two- to four-inches long, which are similar to your blood vessels. It is along these tubes that emotional energy flows. 

When Ruby is worn, it gently encourages many of these tubes to point in the direction of the heart. This allows the red ray, the feeling of love, and an awareness of the emotional level to flow through the heart chakra and filter into the physical body. 

Ruby also gives the mind the power to orchestrate a greater relationship between the physical and emotional bodies. It empowers the mind to create the opportunities that will enable you to become more in tune with your emotions. This is useful, because the mind is primarily responsible for bringing things into your life or for removing them. For example, it is usually your mental processes that lead you to decide to change jobs, move to a different location, or perhaps take college-level classes when you are still in high school. 

When you begin to wear Ruby, your mind will see that your heart is opening. It will see that you are preparing to accept greater knowledge of your emotional world. When you are ready, the Ruby might, for example, encourage your mind to decide to attend a certain lecture. Perhaps this lecture will present techniques for becoming aware of your emotions, or it may present a healing method that the mind thinks is necessary to clarify the connection between your emotional and physical aspects.

As Ruby gives its love and you accept and become accustomed to it, your heart will open more. The more your heart opens and the more love enters you, the more love the Ruby will give.

Dissolving Emotional Congestion 

Emotional disharmony is often caused by congestion in the emotional body. Because this congestion blocks the flow of life force to the physical body and feeds the body with disharmonious energy, it can cause physical problems as well. When one wears Ruby, the heart begins to open and feelings start to flow, be felt, and expressed. This causes emotional congestion to loosen and dissolve. When this happens, more life force can flow both into and through the emotional body, bringing with it greater harmony and balance. 

When emotional congestion is dissolved, any conditions it has caused in the physical body will cease to be fed. For example, if one has congestion in the area of the emotional body that corresponds to the stomach, it may cause chronic stomach distress. When the emotional-body congestion is resolved, the stomach will no longer be fed with disharmonious energy, and a true healing of the stomach's distress will be able to take place. 

Now, the congestion in the emotional body will not be the only factor contributing to the physical condition. At least two other aspects must be resolved if a physical condition is to be healed. Associated with the emotional-body congestion will be emotional patterns, and associated with the physical condition will be physical patterns. Both these kinds of patterns form when certain actions, reactions, or feelings are repeated over a long period of time. Like emotional congestion, the emotional patterns will continue to feed disharmonious energy to the physical patterns until the entire condition is resolved.

Ruby first works on relieving the congestion. This brings more fluidity to the emotional body and loosens the patterns associated with the congestion, thus diminishing their influence. At the same time, the individual will need to work on changing the physical patterns involved. 

One of the most effective ways to change physical patterns is to change one's diet and exercise routine. These are things over which you have conscious control. By changing them, you can easily influence your other physical patterns. The more radically you change your diet and exercise routine, the more swiftly your other physical-body patterns can change. However, if you rely solely on changes in your diet and exercise routine to change physical patterns, you will probably make some progress and then reach a plateau. After some time, you'll probably start to fall back toward your original patterns. 

Again, this is because physical disease is always either reflected or initiated in the emotional body. Therefore, in order to resolve most physical conditions, you must change your emotional patterns as well as your physical habits; otherwise, your physical condition will never fully resolve. 

"Are you saying that people who focus only on diet, lifestyle, and exercise and who don't wear Ruby won't resolve the cause of their physical conditions, no matter how radically they change?" Michael asked.

In many cases, yes. Of course, there are exceptions. For example, attitude is an important factor. If you are one of the rare individuals whose desire to change originates in your heart, from Soul within, then you will have the power of divine love behind your change. Such love can dissolve your emotional congestion, melt your patterns, and assist you in your changes on all levels. In that case, you will not need the assistance of Ruby.

However, Ruby can be a great tool if you truly want to change and are willing to make the effort. Yet, even if someone is not willing to open up or has no awareness of Ruby's effects, Ruby will still give powerful love. 

Love is the force and power behind an individual's strength, willingness, and ability to make changes. Remember, Ruby opens people to the infinite source of divine love. This helps them make the changes they wish to make and grow into the individuals they wish to be, for my love also implies freedom. 

A Current of Love

To receive the greatest benefit from any gemstone necklace or therapy, it is always best to open your heart to the gemstones you will be working with. Whenever you bring a gemstone into your aura, do so with gratitude. This simple yet important act will create an opening through which the gemstone's energy can more fully enter your being and begin to make its healing changes.  

It is wise to meet gemstones on the fertile ground of love. Gemstones are great blessings. They are gifts of love. Love is the current that runs through them. Connect with this current as you put on your necklace.

The next Gemstone Guardian you meet will be the Guardian of Rhodochrosite. Rhodochrosite also works on emotional patterns by breaking them up, cleaning them out, and making new, more harmonious ones. 

"Thank you for sharing your wisdom. May the blessings be," said Michael.

As I turned away from Ruby, I suddenly felt as though I didn't know her anymore, whereas only a moment earlier I had understood everything about her. Ruby paid no further attention either to me or to the listeners. She seemed preoccupied as she turned her head to gaze beyond the cliff out over the sea. Something over the water had caught her attention.

© 1997 Michael Katz. All rights reserved.
Regular price
Sale price
$2,395.00
Unit price
/
per
Sale
Sold out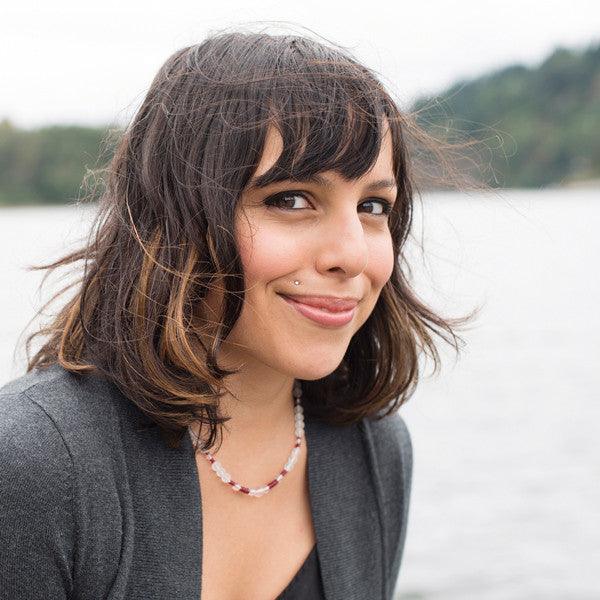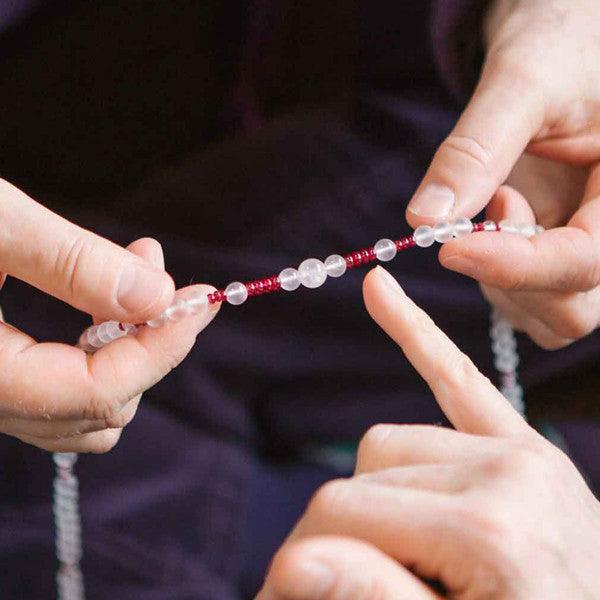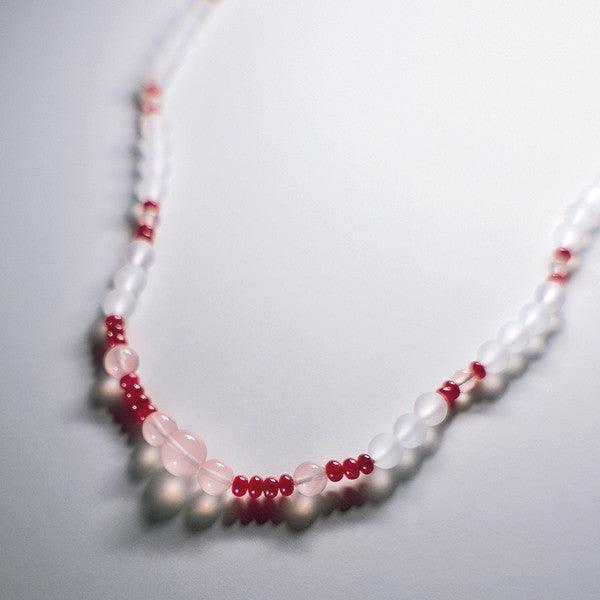 When Ruby Dream Can Help
When you are experiencing— 
Apathy or disconnection from others
Wounds of the heart
Emotional exhaustion or congestion
Mild depression
A physical condition that is being fed or exacerbated by emotional issues
Tight or closed heart chakra
When you want to—
Become more emotionally alive, aware, and balanced
Open and develop your heart
Experience and express more divine love
Support the health of your muscular system, including your muscles, tendons, and fascia