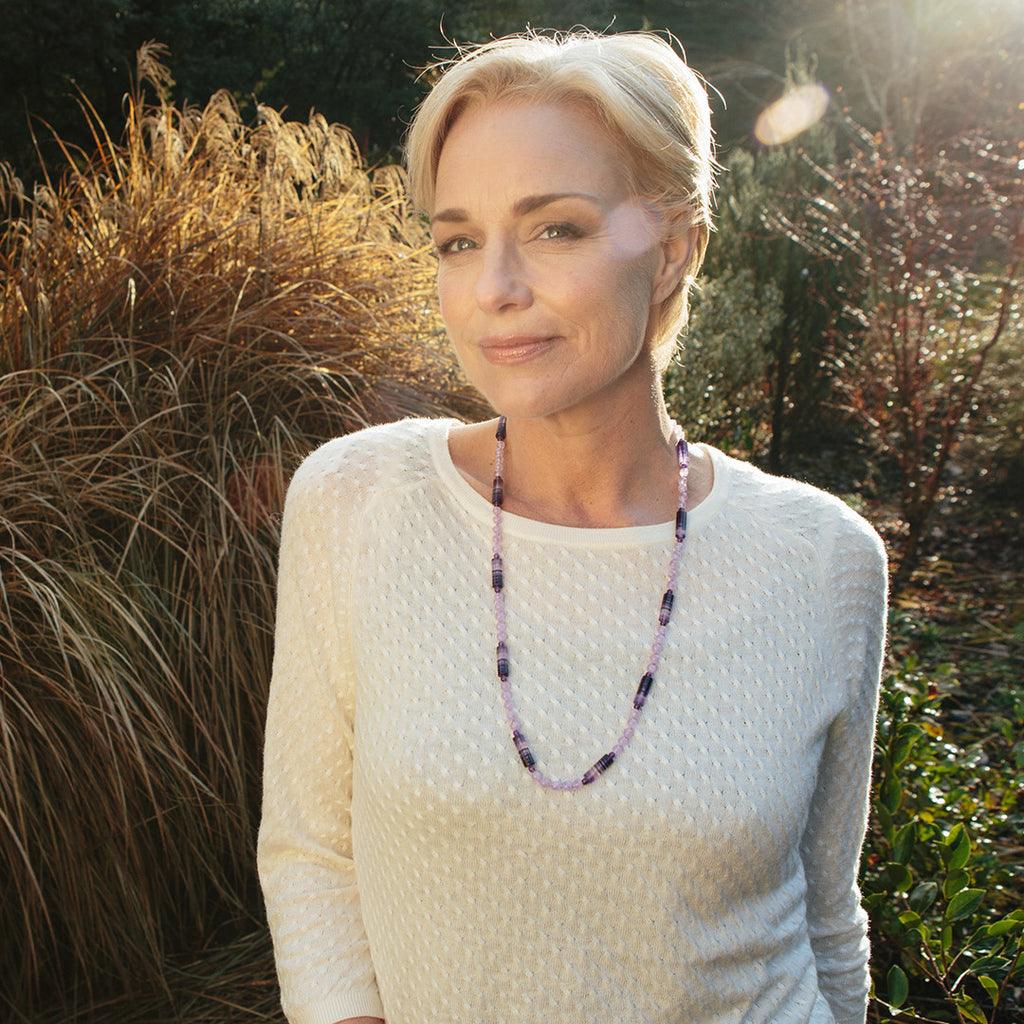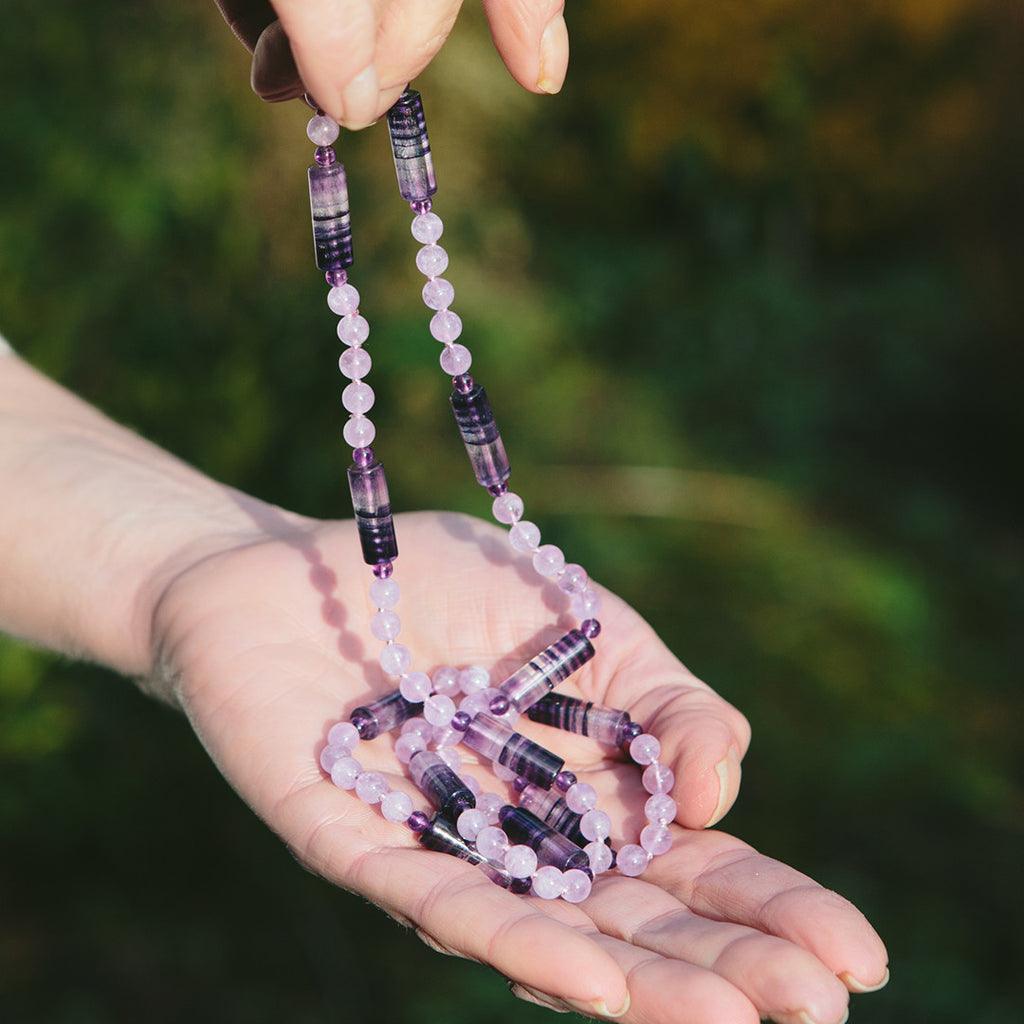 Breanna cultivates higher consciousness by dissolving the bonds of limited awareness.
As Breanna's energy moves throughout your being, it breaks up blockages in the flow of the purple ray, which are often associated with conditions of the nervous system. Breanna awakens, nourishes, and stabilizes your brow chakra. By wearing Breanna, you will become more aware of the fluidity of the physical universe and of your ability to master all situations.
Breanna necklaces contain Purple Rainbow Fluorite cylinders and Lavender and Amethyst spheres.
Breanna can help you—
Develop higher consciousness
Awaken your brow chakra
Support nervous system health
Be nourished by purple ray
FREE Standard Shipping on ALL U.S. Orders
When Breanna Can Help

When you are experiencing— 

A tendency to fall back into limiting emotional patterns, even after making a healthy change
Difficulty making progress in your spiritual development

When you want to—

Develop higher states of consciousness
Experience a greater sense of mastery over your life circumstances
Develop the emotional stability and strength required to make positive changes
Support the health of your nervous system

Benefits of Breanna

Breanna cultivates higher consciousness by dissolving the bonds of limited awareness. As Breanna's energy moves through your being, it breaks up blockages in the flow of the purple ray, which are often associated with conditions of the nervous system. Breanna also awakens, nourishes, and stabilizes your brow chakra. This necklace contains Purple Rainbow Fluorite cylinders and Amethyst and Lavender spheres.

Today almost everyone can use help in making the transition to a higher state of consciousness. The cylindrical Purple Rainbow Fluorite crystals in Breanna can help you make this transition. It breaks up and releases blockages to the flow of purple ray throughout your being.

The purple ray nourishes the parts of our physiology that are involved with the transfer of information. In the physical body, this function is carried out by the nervous system and brain. When the flow of purple ray to the physical or inner aspects is blocked, the nervous system can become disrupted. Because Breanna dissolves blockages that prevent the purple color ray from nourishing the body, someone with a nervous-system or brain disorder or injury will find Breanna a particularly helpful tool.

Breanna awakens your brow chakra and draws strength, stability, and nourishment from your lower chakras to your brow. When your awakened brow chakra unveils a truth about your emotional or spiritual state, this new stability helps you accept the truth and take whatever follow-up steps are required. After a positive behavioral change has been made, it's often easy to fall back into old emotional patterns. If the memory of the old, unwanted pattern is still charged, it can pull you back into the old pattern. By awakening your brow and increasing your awareness, Breanna helps remove the charge from an unwanted emotional pattern so that your changes can become permanent.

When you wear Breanna, you become more conscious of the fluidity of the universe and of all the situations presented by life. This awareness can give you an awesome power over your life's circumstances. As you learn how to change the situations you don't want or need, you can begin to accept and encourage the situations you do enjoy and need. This ability is available to each of us and can be supported by wearing Breanna.

One of the most important influences in Breanna is the number twelve. Breanna contains twelve Purple Rainbow Fluorite cylinders and twelve sets of Lavender and Amethyst. Twelve symbolizes and awakens you to your highest Self. This inner Self exists beyond matter, energy, space, and time. Breanna helps dissolve the bonds imposed by these limitations and, through the number twelve, continually reminds you of your own limitless nature.

Breanna vs. Purple Eagle

Breanna is one of two Gemisphere necklaces containing Purple Rainbow Fluorite cylinders; the other is Purple Eagle. Because of the support Purple Eagle provides to your physical body, it is preferable to wear Purple Eagle instead of Breanna when your most limiting condition involves physical disharmony or disease.

How to Use + Therapies

Wear It Around Your Neck

One of the most powerful and convenient ways to use a Breanna necklace is to wear it around your neck. There the gems will silently work for you as you go about your day. At night while you are sleeping, you can wear the necklace or keep it within three feet of your body to maintain your connection with the gems. 

Time Guidelines

Breanna can be worn continuously. However, it is always wise to be sensitive to your body's responses. If you start to feel a headache or significant discomfort, take the necklace off for a while. Then allow your body time to adjust to the changes initiated by the gems by wearing them for only an hour or two a day. Gradually increase this time until you can comfortably wear the gems for as long and often as you wish.

Cleanse Breanna Regularly

To maintain their effectiveness, therapeutic gemstones need regular care. As the gems help us release energetic impurities, some of these energies cling to the gems' surface and inhibit their ability to work at their peak capacity. A simple energetic cleansing will clear these energies and restore the gems to their naturally vibrant state. You can use any of following methods to cleanse your Breanna necklace. Learn more about these methods.

Plant Rejuvenation: 2 – 3 times a week, wrap the necklace around the base of a healthy houseplant or lay the necklace in its branches.

Salt Bed: 2 – 3 times a week, lay the gems in a half-inch of salt for at least an hour or overnight. Place a thin natural-fiber cloth between the salt and the gems.

Sunbath: Every 1 - 2 weeks, lay the gems in sunlight for a maximum of 10 minutes at a time.

Special Notes:

Avoid rinsing and clay cleansing, which will dull Purple Rainbow Fluorite's polish.

Store the necklace separately to protect the Purple Rainbow Fluorite, which is a particularly soft and fragile gem.

When Your Necklace First Arrives

When you put on a new necklace or one you haven't worn for a while, bring it into your aura with consciousness and a clear intent. We call this "practicing presence." By opening yourself to the gems' energies and consciously cooperating with the process of change, you can greatly enhance the gemstones' benefits.

Learn more about how to use your new gems here.

What Makes Our Breanna Special?

Breanna's design incorporates the number 12, embodied in the numbers of its gemstone sequences. Twelve symbolizes and awakens you to your highest Self. By continually reminding you of your limitless nature, Breanna helps you break free from limitations. 

Therapeutic Quality Breanna

Breanna necklaces contain therapeutic quality Purple Rainbow Fluorite, Lavender, and Amethyst.

Purple Rainbow Fluorite

Therapeutic Purple Rainbow Fluorite displays bands of dark purple and indigo within a base of colorless or light- to medium-purple Fluorite. When examining a Purple Rainbow Fluorite sphere or cylinder for therapeutic value, from one direction it should appear completely dark purple; when turned 90 degrees, it should display the dark purple bands. Spheres should be cut so that the bands lie perpendicular to the drill hole. Therapeutic Purple Rainbow Fluorite has no hint of green.

Purple Rainbow Fluorite can be divided into six grades of quality. As the Fluorite's quality moves away from the highest level, all elements in the sphere or cylinder get progressively fuzzier, and fewer bands appear.

Quality 6

In Quality 6 Fluorite, the purple bands are crisp and well-defined in a colorless or nearly colorless Fluorite base, and each sphere contains at least five or six bands.

Quality 5

In Quality 5 Fluorite, the dark purple bands are slightly less distinct, and the base is nearly colorless.

Quality 4

In Quality 4, the bands appear to be bleeding slightly into the base, and the base has a little more color than Quality 5.

Quality 3

In Quality 3, the bands are fuzzier than Quality 4 but still recognizable.

Quality 2 and Quality 1 (Nontherapeutic)

In Qualities 2 and 1, the bands appear to have bled somewhat into the surrounding Fluorite, with no clear separation between them and the Fluorite base. These two grades have little therapeutic value. Although qualities lower than 2 and 1 are the most plentiful, they are not therapeutic.

Potency Rises Exponentially

The therapeutic effectiveness of Purple Rainbow Fluorite increases exponentially from one level of quality to the next higher level. For example, Quality 4 is ten times more potent than Quality 3; Quality 5 is 100 times more potent than Quality 3; and Quality 6 is 1,000 times more potent than Quality 3.

Creating Necklace "Families"

 When making a necklace with Purple Rainbow Fluorite, the most important consideration after quality is that the Fluorites are energetically compatible with each other. Selecting gems that are similar in vibration and appearance enhances the overall harmony, and therefore effectiveness, of a necklace. Collections of compatible Fluorites are called "families."

Lavender

The Lavender gemstone is a derivative of colorless Quartz. Yet, unlike Quartz, the finest therapeutic Lavender is not optical in quality. Rather, it contains three elements, all of which are present in the same sphere: lavender color, translucency, and patches of cloudy white or light lavender color. Each therapeutic Lavender sphere exhibits a unique combination of the three essential elements. They work together to fulfill Lavender's mission and produce its effects.

Lavender Color

The lavender color defines the Lavender gemstone's mission. The energy of the color lavender has an affinity with the higher levels of our mental, emotional, and even physical bodies. When each of these bodies is stimulated with the energy of lavender, the body awakens to its relationship with the next highest body, inspiring alignment and cooperation among them all.

Translucency

The translucency in the gemstone clears the path for Lavender's energy to do its work. Without translucency, Lavender's work slows down drastically. Although non-translucent Lavender can generate the necessary changes, its path through the physical and subtle bodies is greatly hindered.

Cloudy Patches

The patches of cloudy white or light lavender color act as regulatory components by encouraging alignment to unfold in a balanced way. Without these patches, Lavender promotes alignment without attending to the need for change to occur in a balanced, gradual fashion. The cloudy aspect also helps the physical body to regain its balance more swiftly after taking a step toward greater alignment.

Optical-quality Lavender, which is completely translucent and contains no cloudy white or light lavender patches, will bring about alignment at the greatest possible speed. In the hands of an experienced gem therapist who knows how and when to use such a strong force, it is an invaluable tool. However, to prevent the physical body from reacting negatively to such a forced alignment, optical Lavender should be worn only for very short periods.

The finest quality Lavender is free of contaminants. Black flecks, a brown or green tinge, or any foreign matter that muddies the lavender color lowers the quality of Lavender's energy and diminishes its therapeutic effects. The energy of such Lavender cannot reach into the higher vibratory levels of the wearer's being. While small splashes or pockets of purple coloring enhance Lavender's effects, large or numerous dark purple splashes or any coloring that makes the sphere look like Amethyst are contaminants. Such spheres do not support Lavender's mission. The finest therapeutic quality Lavender is extremely rare.

Amethyst

Amethyst color occurs naturally in a wide range from light to dark purple. Therapeutic Amethyst falls somewhere in the middle of this range and resembles the vibrant purple seen in a rainbow. As Amethyst moves away from this optimal color and becomes darker or lighter, its therapeutic value diminishes. The lightest purple is not the gemstone known as Lavender but only a washed-out Amethyst.

Clarity also plays a key role in Amethyst quality. Flaws and inclusions, or foreign matter, detract from its ability to radiate its healing energy. A tiny amount of flaws in a sphere is acceptable. However, when evaluating Amethyst, be aware that flaws disrupt or block the sphere's ability to radiate its energy in direct proportion to the flaws' size. The exceptions are minor flaws that have a prismatic effect. When a sphere with these flaws is moved in natural light, the Amethyst displays a rainbow or partial rainbow of colors. This property is an asset. All other flaws and inclusions—especially cloudiness, dark flecks, internal fractures, or pieces of the rock matrix in which the Amethyst grew—inhibit the Amethyst's energy and should be avoided. Poor drill holes or any damage to the sphere's surface, such as scratches, gouges, or chipped areas, also render Amethyst non-therapeutic.

To judge Amethyst quality accurately requires experience and the opportunity to compare many Amethyst specimens of different grades and colors. Amethyst of ideal color with no inclusions is extremely rare.
Read Purple Rainbow Fluorite Chapter

Excerpted from Wisdom of the Gemstone Guardians, by Michael Katz. Order the book here.

Chapter 10

Purple Rainbow Fluorite: Expanding Consciousness

The sun was just melting into the horizon when I placed my attention on Purple Rainbow Fluorite. I had expected to meet the Guardian in the park where Amethyst had delivered his discourse, but it was not to be. Instead, I was guided to a place several hundred feet above a vast ocean. Below, I could see nothing but water in every direction. Above, the stars were just beginning to sparkle in the darkening sky. Michael's radiant inner form appeared next to me, and we waited for the Guardian of Purple Rainbow Fluorite to join us.

Within moments we spied a robust male figure coming toward us. Brilliant streaks of white and purple light spiraled around his body. Within the white light flashed every color of the rainbow. The bright light stung my eyes, forcing me to look away, but it was impossible to ignore the wall of sound now pressing on my ears. 

We have met before. You know me as the Guardian of Purple Rainbow Fluorite. 

His voice was deep and soft. I opened my eyes and saw that now the streaks of light flashed and swirled around me. Somehow I must have entered his aura, but so subtly and quickly that I hadn't noticed. 

When the Earth formed, a certain destiny was mapped out for it. Of course, this destiny is flexible, but it provides a guideline for how the life force is to be directed on this planet. The making of such plans is very important. 

Destiny had preordained a certain window of time during which Purple Rainbow Fluorite would be planted into some of the Fluorite already existing on the planet. The exact time of the implantation would depend on the progress of the people's evolution. When the right time came, the Fluorite was infused with the vibratory rate of the purple ray. The way this occurred was similar to the way Lavender was introduced to clear Quartz.

I will be available only for a short time in Earth's history. When other races on other planets are ready for the transitions that Earth humans are now ready for, I will become available to them.

For the sake of comparison, let us say that if Amethyst's reign lasted ten years, my work will be required for six weeks. Amethyst's successor will provide all the purple ray needed by the Earth for the remainder of the planet's life. When this successor begins its reign, I will become less and less available. 

Initiating Change

My effect on the Earth human is to assist in a fundamental change. It is a change in the way the physical body accepts the life force, particularly the purple and indigo rays. I prepare the physical body to accept a greater and more powerful flow of both these rays.

I have a two-fold mission. One aspect of my mission is to enable the physical body to accept more indigo ray. The second aspect is to help people let go of old patterns and to create newer patterns with fewer limitations. This, in turn, helps people gain greater freedom on all levels. 

This second aspect of my mission directly concerns the purple ray and the transition from Amethyst to its successor. My purpose is to disrupt the old beaten path once taken by the purple ray. This will enable the new carrier of the purple ray to make its own path without having to follow the same grooves taken by the present carrier, Amethyst. 

Imagine a large hill of sand in which the purple ray flowing through Amethyst has carved deep grooves. The new carrier will not be able to follow these same grooves because it will possess much greater powers and abilities. I come as a whirlwind to scatter the sand and fill in Amethyst's grooves so that its successor can form its own path more easily.

To help you better understand my purpose, we must discuss change--especially certain changes that are occurring in regard to the color rays.

People resist change. As much as they want a change, in hope that it will bring something better, they often fear that the change will make life more difficult and uncomfortable. When people are faced with change--whether they want it very much or not at all--they itch and squirm. Even if it is for their own growth and benefit, people often find excuses, consciously or unconsciously, to avoid the change. This is human nature and it is why I am here. 

I will make the change between Amethyst and its successor more gentle, less noticeable, and less recognizable as a change. A change made subtly will not be recognized as a change and therefore will not be resisted.  

That is my purpose on the grand scale. On an individual scale, Purple Rainbow Fluorite produces profound changes in the body. 

In a healthy body, energy naturally flows in through the throat chakra and out through the brow chakra. Purple Rainbow Fluorite strengthens this flow. It also raises the vibratory rate of the throat chakra, so that it will accept energies with higher vibratory rates. 

As a result, the vibratory rate of the energies leaving the brow chakra will also be higher. This means that experiences related to the brow chakra, or third eye, will be heightened. Thus, my wearer will have access to a greater arena of understanding, knowledge, and wisdom. This will lead to greater spiritual experiences, either during dreams, meditations, contemplative spiritual exercises, or daily life. This is a fundamental effect of Purple Rainbow Fluorite and a very important one. 

In the past, the indigo ray entered the physical body through the throat chakra. It entered this way for many reasons. One is that the indigo ray is extremely weak on the Earth planet; therefore, it could enter the body more easily through a chakra that has a naturally occurring inflow, rather than outflow, of energy.

When I am worn, the physical body becomes able to accept a greater flow of indigo ray. I am now entering my prime on the Earth planet. At the same time, people are becoming ready to accept more indigo ray and are ready or preparing to accept the indigo ray through the brow chakra. 

Individuals who accept the indigo ray through the throat chakra are currently oriented more toward the physical and the Earth. Those who accept the indigo ray through the brow chakra have a more holistic, spiritual orientation with less emphasis on the physical alone. Those in whom the indigo ray enters both the throat and brow chakras are undergoing a transition.

I would like to clarify something I mentioned earlier. I said that energy naturally flows out of the brow chakra. If that is the case, how can a color ray enter the brow? The answer is: Although, in general, energy tends to flow either into or out of a particular chakra, in healthy bodies, the chakras breathe. They let certain energies in and certain energies out. Many of the energies a chakra "exhales" are excess or those which have been used by the body and are no longer needed. It is similar to the process of physical breathing: When you exhale, you expel both oxygen and carbon dioxide--in other words, some air that is still useful and some from which all or most of its life force has been extracted.

Once the chakra exhales these energies, there is room for fresher energy to come in. On the "inhale," the chakra accepts energies that are harmonious with it and that will give it life and nourishment. By the way, the energies that nourish and strengthen the chakras and enable them to function efficiently are the color rays.

Spiritual Opening

I do not carry the indigo ray. My vibratory rate simply prepares the physical body to accept a greater amount and higher vibratory rate of indigo ray. I also prepare the body to accept the indigo ray's influence, which is to move the individual from a physical, materialistic viewpoint to a more spiritual, and thus holistic, viewpoint and way of life.

I carry the purple ray to some degree. I prepare my wearers to accept a greater amount of purple ray, which in turn will bring them greater wisdom, divinity, and spiritual inspiration.

If you study the effects of Purple Rainbow Fluorite, you will glimpse the capacities of the new carrier of the purple ray. For one thing, Purple Rainbow Fluorite opens your awareness to the worlds within you. Because the purple ray has the highest frequency of all the color rays, it is closest to the white light emanating directly from the divine source of all life. Thus, on the purple ray, you can soar beyond these inner realms to even higher states of awareness. Because it is so powerful, the new carrier of the purple ray will be rare in the first few centuries it is available. Therefore, even small amounts of it may be expensive. Later, as people can accept more of its effects without compromising their own balance, more of it will become available. People will be ready for it. At the same time, people will have a greater appreciation of the powers of all gemstones, particularly those of this new purple-ray bearer.

"Why do the Gemstone Guardians speak so much of spirituality and spiritual growth?" asked Michael.

You ask a good question. If Rainbow Fluorite can do nothing but prompt you to ask questions such as this, my mission is working perfectly.

To answer your question: People are evolving. The next step in your evolution will be on the spiritual level rather than on the physical. This step must be taken because you have reached physical "walls" or limitations. You have the capacity to continue to grow physically; however, people's lack of understanding is making this physical evolution difficult. The food people eat and the air they breathe contain little nourishment and life energy. As a result, people's bodies are, in a sense, degenerating. Still, it is your destiny to evolve. So if at this time you cannot evolve physically, you must do so spiritually.

This is why gemstones are so important. Gemstones can assist people in their spiritual evolution. Spiritual development can enhance physical evolution by helping to bring about stronger, healthier physical bodies. By using gemstones, people will awaken to the limitations that they, as a race, have placed on themselves and on their own physical evolution.

"What is your purpose for the planet?" Michael asked.

The planet is a living entity. Just like human beings, the planet has an aura. It is experiencing a transition concerning the indigo and purple rays, just as you are.

From my point of view, there is no distinction among the physical forms that Soul inhabits, be they planets or human beings. You are all going through the same transitions; it is just your physical forms that differ. I see beyond the physical forms. I see the energies, the auras, and the changes you are experiencing. I see how I can help you through these changes.

In crystalline form I am necessary for the planet, because the crystalline form is more harmonious with a planet's state of consciousness. If you want Purple Rainbow Fluorite to affect you in the ways I have mentioned, you must shape my crystal so that the energy can touch all areas of the aura evenly. Rounded forms do this; the crystalline form cannot. The energy of the crystalline form can only flow in the directions dictated by the faces of its crystals. 

The Source of Color Rays

"Some of the Gemstone Guardians have referred to a crystal on an inner-world mountain where the white light splits into the seven color rays. Can you describe how the light splits?" asked Michael.

It is easy for most people to comprehend that there is an area in the world of God where the pure white light and sound dwell. It is also easy to imagine a single stream of light flowing through a hole in the floor of this world and entering a mountain-top crystal below, where it splits into the seven color rays.

People are comfortable with this image, because they are familiar with the idea of hanging a crystal in a window to let the sunlight separate into the colors of the rainbow and dance on their floors and walls. Therefore, it is easy to comprehend how this great cosmic light is separated into seven rays of color and sound. It is also easy to imagine these rays flooding the worlds below and creating everything in them: the mind, memory, emotional and physical worlds, levels, or bodies, or whatever you wish to call them.

Now I would like to give you a somewhat different explanation. Before reading it, you may find it helpful to spend a few minutes centering yourself and opening your awareness to the concepts I will be describing. If you have some Purple Rainbow Fluorite, you may hold it to your brow chakra to assist in this process. Close your eyes and take a few slow, deep breaths. Let your thoughts and concerns fall away, and allow your mind to become quiet and receptive. Then travel in your imagination as far away from the physical plane and its natural laws as you can. Allow your awareness to expand beyond the limitations of time and form. Linger in this vastness for a few moments, maintaining your awareness of it as you open your eyes and continue reading. 

Here you experience a state of consciousness where you can know for yourself that time and space are illusions. In this state of awareness, you will see that there is no space. There is no division between the source of the white light and the "lower" worlds, which need the light to be divided into seven color rays in order to maintain life. All exists where time and space are illusory--right here and right now. And all that exists is life force and different vibratory rates--for within this spacelessness are only different states of consciousness. 

Within this spacelessness, too, exists every individual Soul. Herein lies a step in understanding how the physical and inner worlds are created. You see, it is a large collection of individuals' vibratory rates that creates a world. It's not the other way around. The worlds are created to meet the needs of the vibratory rates of the people who live there. This is why the physical world can change as people are uplifted. 

How does the white light split? Now I shall speak of a macrocosm and a microcosm. 

The Individuality of Soul

Just as this spacelessness encompasses all Souls, within each individual Soul exists this entire, spaceless infinity. In other words, within each individual are an infinite number of vibratory rates. Yet, as you know, no two beings are the same. Each Soul has a different perception, understanding, and experience of life. What makes you different from anybody else, from any other Soul, is the particular pattern taken by the vibratory rates within you. 

To exist as a distinct individual, each Soul needs different and varying amounts of the pure white light and sound. In other words, to keep you alive, your different vibratory rates must be fed. Not all Souls can accept the pure white light and sound in its entirety. Most Souls accept and are nourished by one particular light ray more easily than any other light ray. This ray varies among individuals. 

Thus, within the white light, each Soul naturally and effortlessly accepts that part of the light that will give it life. It's as if you are given a fruit salad, and you only pick out the grapes, because you know that grapes are what you like and what you need for sustenance, whereas another individual may only pick out the apples. It happens naturally and without effort.

The white light is willing to be divided and to give, because God is willing for you and all your vibratory rates to be alive. No doubt, you've heard this before: you exist because God loves you. God allows Its white light and sound to be accepted by all individuals as they need it.

As each individual evolves and comes to realize the limitations of the parts, it is intended that his or her attention will turn toward the whole, toward the state of consciousness where the white light and sound is complete and can be accepted in its wholeness. In other words, the individual will realize that all the fruits in the salad are nutritious.

"From your point of view, why would the other Gemstone Guardians use the analogy of the crystal on the mountain. Is it just to provide a step in understanding?" asked Michael.

Yes, the image is a simple one, and so it can be easily understood. When people are learning new information, they usually need to take one step at a time. Do you want to look at it another way? A step beyond that step? 

"Yes," replied Michael.

Then look at it this way. You realize that there is no floor to the "world" of God, nor is there just one little hole through which the white light and sound pour into the lower worlds. In its pure form, the white light and sound exist in infinite spaces; it is everywhere. Yet there must be something that differentiates the white light and sound from the lower worlds. It is not a floor, but rather an aspect of the life force that acts like a transformer. It differentiates that spaceless infinity (where the vibratory rates of individual Souls can accept the light and sound in its wholeness) from the lower worlds (where Souls have vibratory rates that need the white light and sound to be divided into color rays). This transformer is crystal-like in nature. You can call it a layer of crystal, if it will help you understand.

Does that explanation help? 

"Yes, it provided a different angle," said Michael. 

What I have described exists beyond the mind, and therefore words are inadequate to convey it. So don't be concerned if you don't fully understand this explanation. Purple Rainbow Fluorite will cause you to think more deeply about life. It will cause you to question that which perhaps you have held sacred for lifetimes. It will also bring you to the point where you are ready for greater truth. 

Also remember that, if there are a billion different Souls, there are a billion different viewpoints and a billion different ways of looking at truth.

All I offer is the opportunity for you to become something far greater than you are now. Perhaps you will look at Purple Rainbow Fluorite as a challenge or as the gift for which you have been waiting for years.

Purple Rainbow Fluorite may still be available in the distant future, but it will not be enlivened by its Guardian's concentrated focus for very long. When Purple Rainbow Fluorite is no longer needed and the indigo ray and the new carrier of the purple ray are well established, my attention will leave this planet. 

At that time, the Earth will no longer need my effects. My crystalline form may still exist, but my focus will be gone and the crystals' energy will be greatly diminished. It will no longer be effective because its effects will no longer be necessary. This process is similar to the way a fifth grader has little need for a first grader's schoolbooks; they just aren't needed anymore. 

I will leave when I am no longer needed, perhaps in another three or four hundred years. My reign on Earth will be short, but that is fine. I have undertaken my mission on so many different planets throughout time. When my focus has left the Earth, it will move on to another planet.

Purple Rainbow Fluorite is for those brave and adventurous individuals who possess the strength and stamina to make changes. It is for those who are aware of the importance of changes, for I strongly initiate change. 

As you progress through your changes, do not hesitate to ask questions. Do not hesitate to feel the emotions that may also be changing. The more you resist on any level, the more difficult it will be for the changes to occur. Flexibility on all levels will allow for smooth sailing.

Just remember to question and to find your own answers as much as you can. The answers anyone else gives you will be limited by their state of consciousness. Find your answers in that infinite source of wisdom within you. Then you will know that the answer you receive will be true, for you will also learn to recognize truth.

The Guardian of Sapphire will meet you in a less spaceless space than this. It is difficult for me to feel comfortable in any one place because I am too busy changing. If my surroundings are void, then there are no manifestations of any kind, illusory or not, to resist my changes. This area of emptiness above the ocean may have seemed an unusual meeting place at first, but perhaps now you understand how appropriate it is for me and for the purpose of Purple Rainbow Fluorite.

"I thank you for sharing of yourself. May the blessings be," said Michael.

An unspoken flood of gratitude poured from this Guardian. As I felt these potent and formless words of thanks, I wondered if, indeed, formlessness has more power than that which is formed, since forms by their very nature are limited.

I slipped out of his aura on this flow of gratitude as easily, gently, and swiftly as I had entered it. Then the Guardian and the swirling, formless mass of purple and white energy receded into the distance.

With nothing else on which to place my attention but the void around me, I realized how alone I felt there, despite Michael's presence. It was time to return to the consciousness of my physical body and to enjoy the comfort of familiar surroundings.

© 1997 Michael Katz. All rights reserved.
Regular price
Sale price
$695.00
Unit price
/
per
Sale
Sold out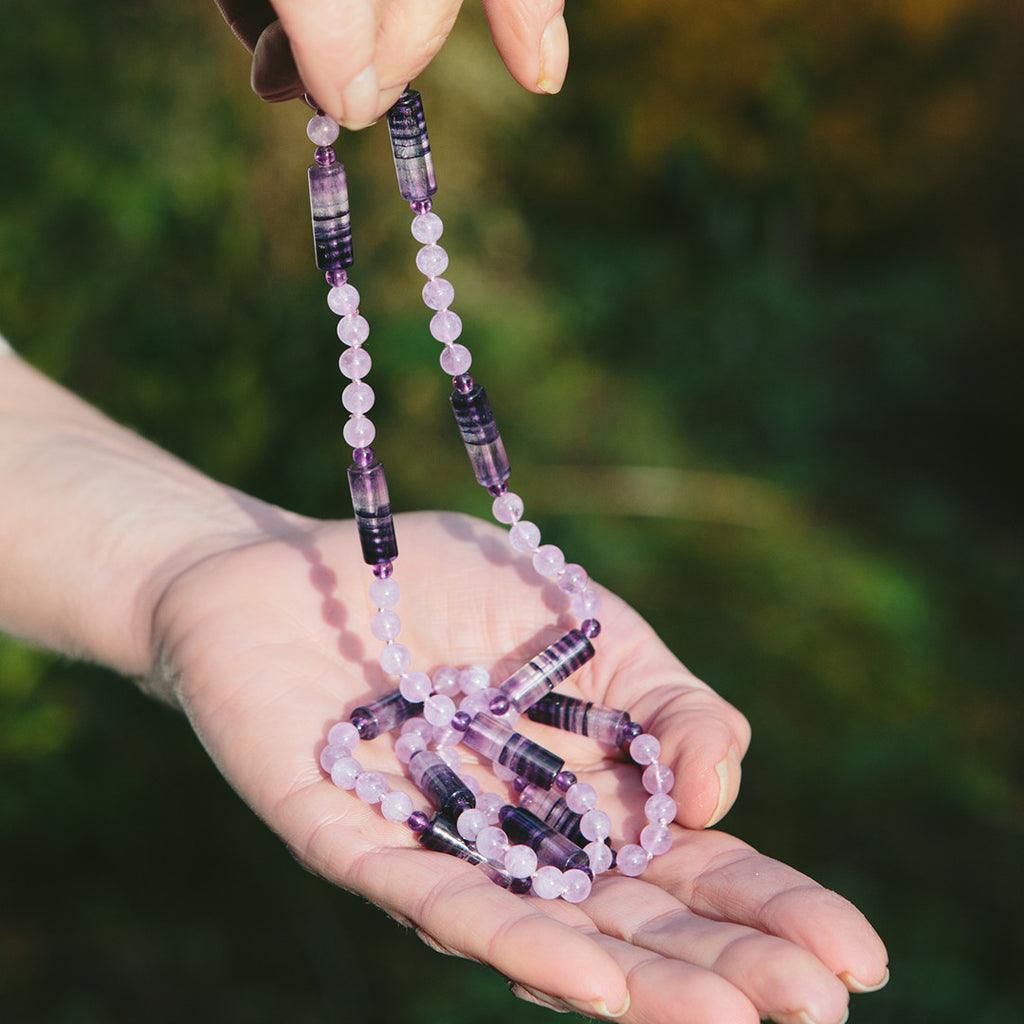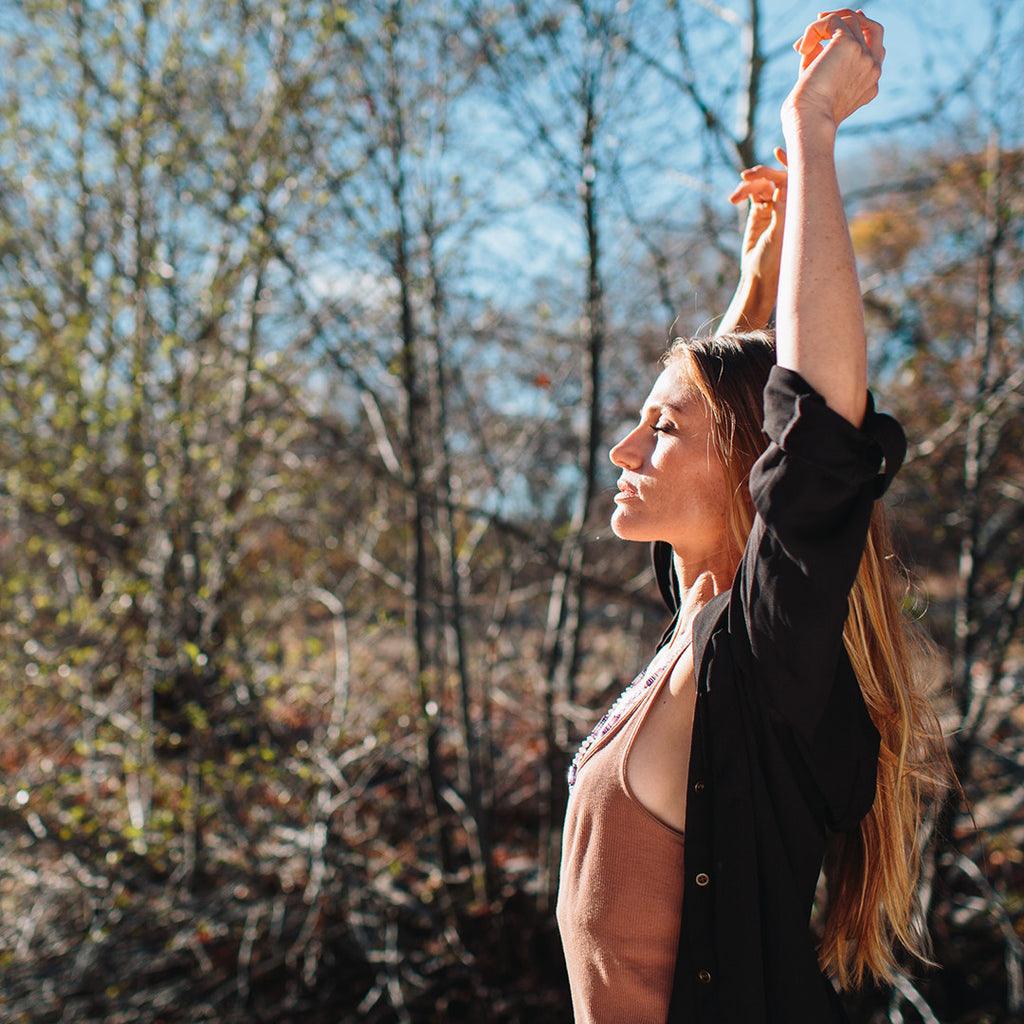 When Breanna Can Help
When you are experiencing— 
A tendency to fall back into limiting emotional patterns, even after making a healthy change
Difficulty making progress in your spiritual development
When you want to—
Develop higher states of consciousness
Experience a greater sense of mastery over your life circumstances
Develop the emotional stability and strength required to make positive changes
Support the health of your nervous system