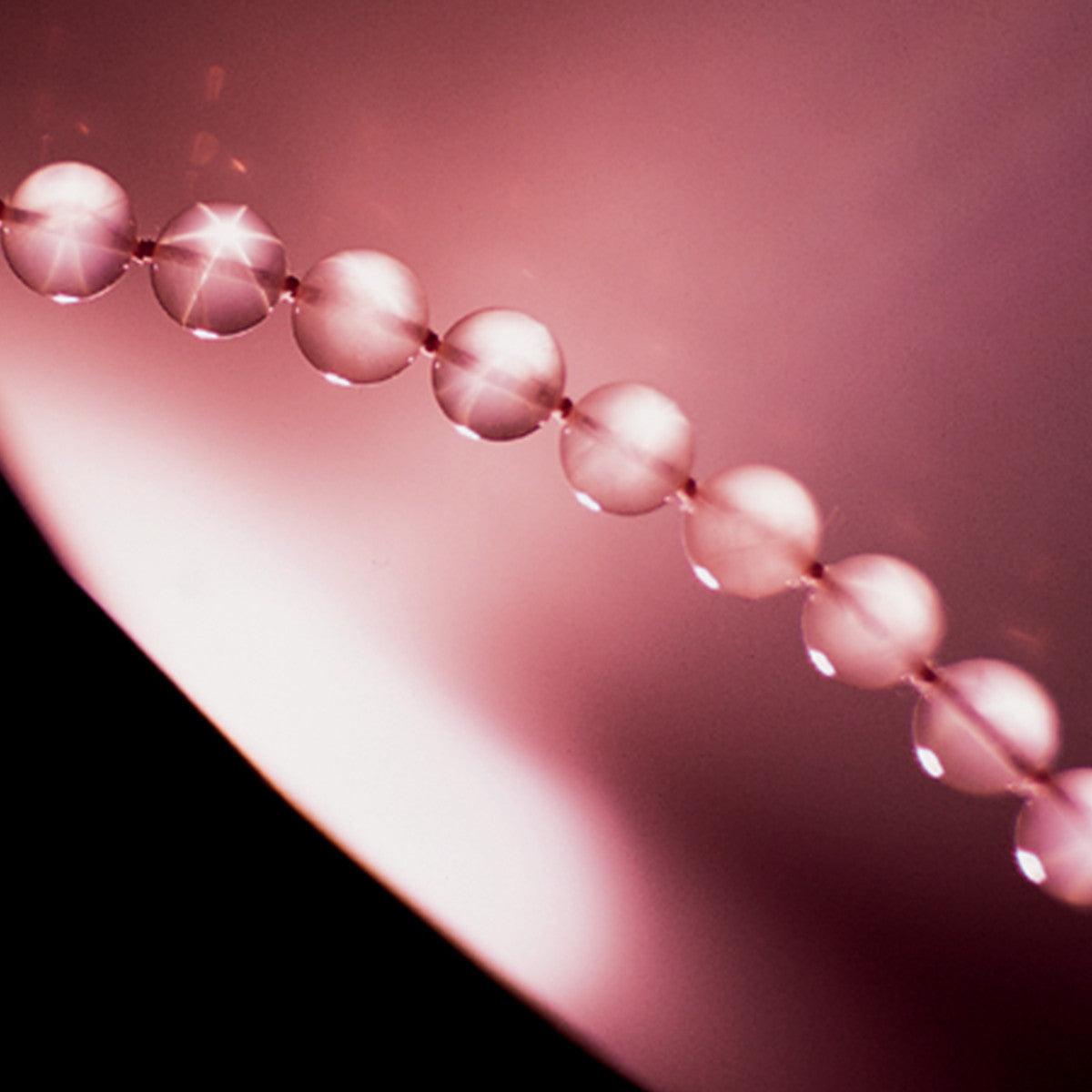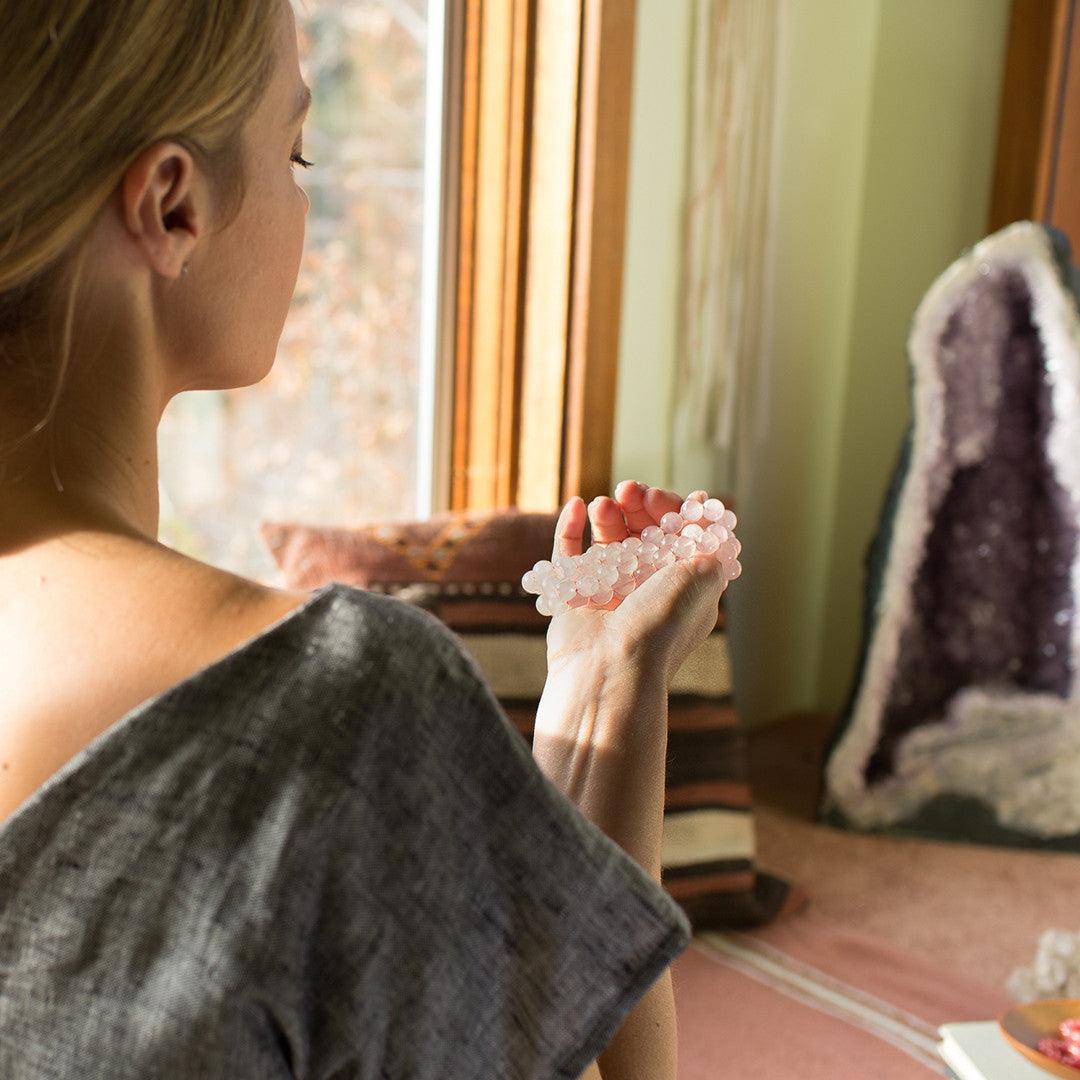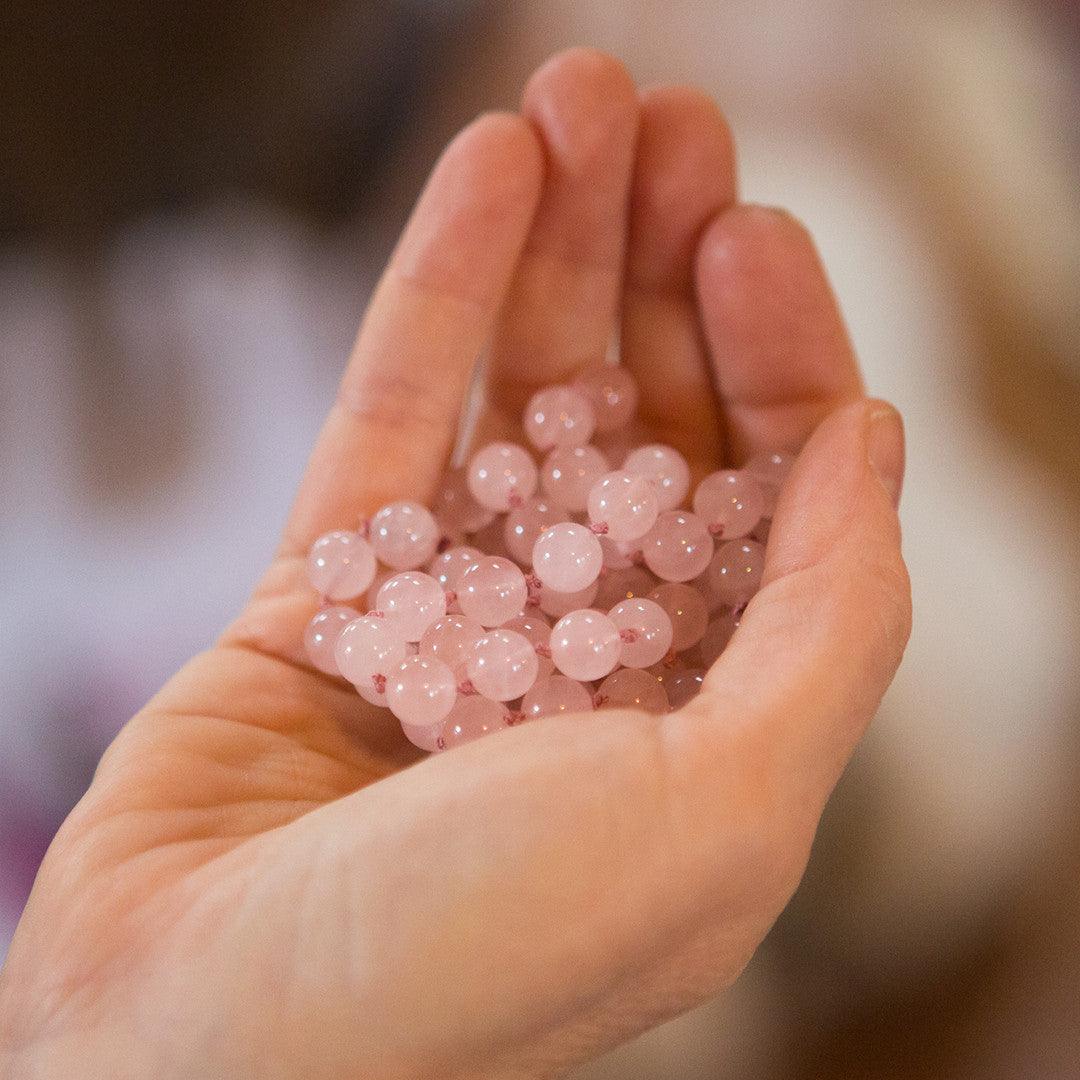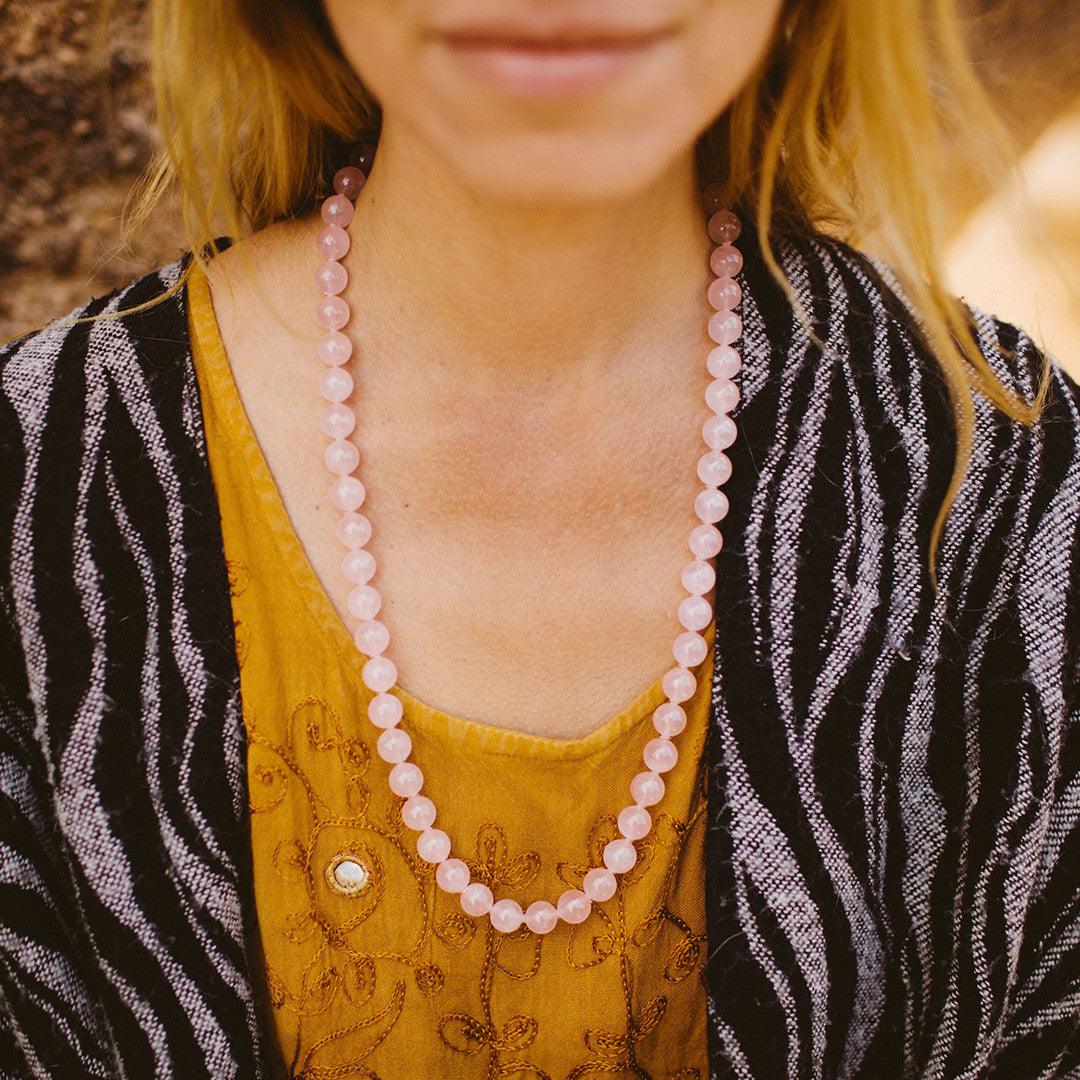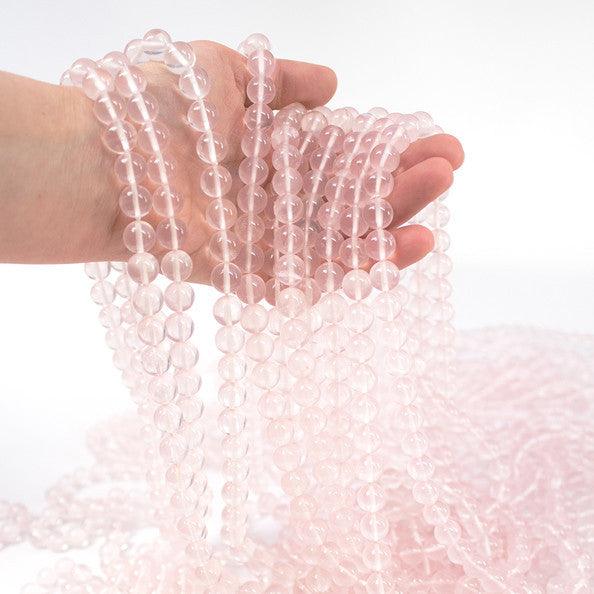 Roselle initiates a deep purification of the emotional body, thereby helping release the emotional limitations that hinder.
personal growth and happiness. Roselle's energy enters the wave-like flows in the emotional body. There, it dislodges suppressed and unacknowledged feelings, gently transforming them into flowing energy that can be released through healthy emotional expression. This purification removes the emotional causes of physical illness and helps you grow more in touch with your true emotional nature.
Roselle can help you—
Resolve and release suppressed emotions 
Let go of emotional burdens 
Understand any hidden feelings
Express your true feelings
FREE Standard Shipping on ALL U.S. Orders
When Roselle (Rose Quartz) Can Help

When you are experiencing— 

Difficulty expressing your emotions
Feeling emotionally flat, closed, or shut down
Feeling emotionally burdened
A physical condition that is being exacerbated by an emotional issue

When you want to—

Release, express, and resolve suppressed emotions
Acknowledge and understand any suppressed or hidden feelings
Promote the healthy expression of your emotions
Become more in touch with your feelings
Let go of emotional burdens or heaviness

Benefits of Roselle (Rose Quartz)

Roselle, the spherical form of Rose Quartz crystals, initiates deep emotional purification by helping you release the emotional limitations that hinder personal growth and happiness. The energy of a Roselle necklace helps you express, release, and resolve suppressed emotions.

Repressed or unacknowledged feelings impede emotional and physical health. These unexpressed emotions place pressure on your physical body and can eventually manifest as disease. Like locked doors within your being, suppressed emotions obstruct your experience of greater self-awareness and self-understanding.

Roselle helps you unlock these doors and then gently stimulates your heart to open so that you can express the feelings hidden there. Roselle does not heal emotions, but rather helps you resolve and let go of them. It will help reveal long-forgotten emotions that have been pushed deep within as a result of many kinds of conditioning. These forgotten emotions may even include love, joy, or happiness, as well as more difficult ones, such as fear, anger, and grief.

Roselle works in two phases. In the first phase, it stirs suppressed emotions, allowing you to acknowledge, understand, and then feel them. In the second phase, it encourages you to express these feelings, resolve and let go of them, and then move on. As long as you wear therapeutic Roselle, it releases more and more deeply embedded collections of suppressed emotions. Roselle also initiates an energetic stability in your physical body to help prepare it for this emotional outflow.

Roselle can help people with many kinds of emotional conditions—from those with only slight emotional problems to those whose emotional state is so disharmonious that, by society's standards, they are considered emotionally ill. Roselle can help the emotionally ill regain some strength and hope.

Although its action is subtle, Roselle is very effective and should not be overlooked, especially if you are experiencing any emotional disharmony whatsoever. Because Roselle can show people so much about themselves, it is a helpful addition to any counseling or self-help program.

Using Roselle with Consciousness

Roselle's effects can be made stronger and more significant if it is used consciously as a therapeutic tool. Roselle is best utilized when worn or applied with the clear intention of moving beyond the particular emotional limitations that keep one from taking the next step in one's personal growth.

Even if you don't feel you have an emotional problem, it can be an interesting experience in self-awareness and self-understanding to wear Roselle and observe which emotions start coming up and which emotions you try to suppress. This experience might also help you recognize which mental attitudes are causing you to suppress particular emotions.

When Releasing Emotions

When you are releasing painful emotions, you may find it comforting to remove your Roselle necklace, hold it in your hands, and cry. You may also find that you want to hold the Roselle over one of four chakras, depending on where the Roselle feels most comforting: the stomach, the heart, the throat, or near your eyes over your brow. The chakra to which you are naturally drawn will probably be the one that is calling most strongly for the Roselle energy to help complete its release.

Roselle and Ruby

When you wear therapeutic Roselle and Ruby together, Ruby gives additional light and life to Roselle's effects. If you are having trouble expressing or letting go of your emotions, Ruby's powerful love will give you the confidence you need to do so. It will help you realize that you will still have love and be loved if you express the feelings you have been suppressing.

Roselle and Rhodochrosite

Wearing Roselle for several weeks can prepare you to wear Rhodochrosite, which can strongly break up emotional patterns and cleanse and rebuild your entire emotional being.

How to Use + Therapies

Wear It Around Your Neck

One of the most powerful and convenient ways to use a Roselle necklace is to wear it around your neck. There the gems will silently work for you as you go about your day. At night while you are sleeping, you can wear the necklace or keep it within three feet of your body to maintain your connection with the gems. 

Special Therapies

You can use a Roselle necklace for more focused treatments. The simplest treatment is to place it on a specific area of your body to focus its healing energies there. For example, you can curl up the necklace and place it on an ailing, injured, or painful area to accelerate the area's recovery. Here are additional therapies you can perform with this necklace:

Chakra Door Therapy

This Roselle therapy helps heal and restore harmony to a chakra's front and back "doors" and re-establishes a proper relationship between them. Because this therapy improves a chakra's ability to accept the benefits of another therapy, it should be performed as a pre-treatment before receiving any other chakra therapy. It also serves as an excellent primary treatment. View instructions.

Chakra Clearing Treatment

Roselle is placed on one or all seven of the chakras to help clear trapped or suppressed emotional energy from them. This balances and strengthens the treated chakras so that they can more efficiently handle the flow and expression of emotional energy. View instructions.

Organ Cleanse

Roselle is used in combination with creative visualization to metabolize negative-emotion residues that may be contributing to a disharmonious condition in an organ or other localized area of the body. View instructions.

Releasing Stress in the Heart

This technique restores the heart chakra's natural flexibility by releasing the energetic knots that have collected there. A Roselle necklace is held in the palm of each hand to promote a rhythmic "unwinding" of the heart chakra. View instructions.

Contraindication: Roselle and Gold

Roselle should never be worn touching gold. The combination of Roselle and gold is disharmonious. Although gold can be beneficial in many situations, its energy tends to lock in one's state of consciousness and close the heart. These effects are in direct conflict with the action of Roselle. Roselle's energy also enlivens and strengthens gold and makes its effects more erratic and unstable.

If you wear gold with Roselle, your emotions will be stimulated and grow out of proportion. For example, if the amount of your suppressed anger could be compared to the size of a sparrow, the combination of Roselle and gold will expand your anger to the size of an elephant. Such over-stimulated emotions will surround you like a bubble in which you can become lost.

Time Guidelines

Roselle can be worn continuously. However, it is always wise to be sensitive to your body's responses. If you start to feel a headache or significant discomfort, take the necklace off for a while. Then allow your body time to adjust to the changes initiated by the gems by wearing them for only an hour or two a day. Gradually increase this time until you can comfortably wear the gems for as long and often as you wish.

Cleanse Roselle Regularly

To maintain their effectiveness, therapeutic gemstones need regular care. As the gems help us release energetic impurities, some of these energies cling to the gems' surface and inhibit their ability to work at their peak capacity. A simple energetic cleansing will clear these energies and restore the gems to their naturally vibrant state. You can use any of following methods to cleanse your Roselle necklace. Learn more about these methods.

Plant Rejuvenation: 2 – 3 times a week, wrap the necklace around the base of a healthy houseplant or lay the necklace in its branches.

Salt Bed: 2 – 3 times a week, lay the gems in a half-inch of salt for at least an hour or overnight.

Water Rinse: Rinse the gems daily for the first two weeks, then 2 – 3 times a week.

Sunbath: Every 1 - 2 weeks, lay the gems in sunlight for a maximum of 5 minutes at a time.

Clay Cleanse: For deeper cleansing, occasionally perform a bentonite clay bath or pack.

When Your Necklace First Arrives

When you put on a new necklace or one you haven't worn for a while, bring it into your aura with consciousness and a clear intent. We call this "practicing presence." By opening yourself to the gems' energies and consciously cooperating with the process of change, you can greatly enhance the gemstones' benefits.

Learn more about how to use your new gems here.

What Makes Our Roselle (Rose Quartz) Special?

Nearly all Roselle (Rose Quartz) available today has been dyed, severely inhibiting the gems' therapeutic action. Gemisphere's Roselle is 100% free of all treatments and displays the natural translucency and delicate pink color that give this gem its therapeutic potency.

Therapeutic Quality Roselle 

Therapeutic quality Roselle is translucent but not to the point of being optical in quality. It is neither cloudy nor clear. Its consistency and color resemble a rose mist that permeates the entire sphere. Very minor inclusions within Roselle are part of its nature and do not diminish its therapeutic effects. However, any dullness, cloudiness, uncharacteristic color, dark inclusions, surface fissures, gouges, or poor drill holes hamper Roselle's effectiveness. Large drill holes diminish the strength of Roselle's radiance. Smaller drill holes allow Roselle's energy to penetrate the aura more quickly.

Non-dyed vs. Dyed Roselle: Only natural, fine pink, gem-quality Roselle should be used therapeutically. Roselle is by nature a delicate light pink. To the untrained eye, this natural pink color may appear somewhat pale, especially when compared to dyed Roselle. Nearly all the Roselle spheres available today have been dyed in an attempt to make them look like gem-quality Roselle. Natural Roselle of a fine pink color is rare.

Although dye might make the Roselle appear higher in quality, it is a harmful irritant, which inhibits Roselle's action. Natural Roselle calms and soothes the emotions; the soothing, massaging motion of its energy allows hidden feelings to emerge. Dyed Roselle, on the other hand, expresses an irritating energy. This energy can be so strong that, when worn, dyed Roselle can make you feel like crying or expressing anger. You may think that the Roselle is helping you to release suppressed emotions. On the contrary, the interaction of the dye with the Roselle energy creates an irritation that causes unnecessary upset. Dyed Roselle can also place stress on the chakras, which will brace themselves in self-protection against the energy of the dyed Roselle.

To guarantee that a Roselle necklace is free of dye, it must be examined under a microscope.

Therapeutic vs. Optical Quality: Optical-quality Roselle has slightly different effects from optimal therapeutic quality Roselle. Optical Roselle's energy is more abrupt, even harsh. It can tear into the wearer's energetic fabric, ripping open pockets of suppressed emotion.

For this reason, optical Roselle can be used for short periods when someone has an immediate need to understand his feelings about an issue. This may be the case when someone must make an important decision, or when finding clarity has become difficult because a situation has become emotionally overwhelming. Optical-quality Roselle will cut through the grief, anger, frustration, or other emotion so that the person can examine his true feelings.

Optical Roselle should not be worn for more than one or two days at a time, and often five to 15 minutes are sufficient. It is best applied under the care of a professional gem therapist or a well-trained layperson.
Roselle (Rose Quartz) Video

Read Roselle (Rose Quartz) Chapter

Excerpted from Wisdom of the Gemstone Guardians, by Michael Katz. Order the book here.

Chapter 6

Roselle (Rose Quartz): Purifying the Emotional Body 

Four individuals stood waiting for Michael and me beside a thick, pale pink fog. We joined them and acknowledged one another silently. Then we all joined hands and walked into the mist. 

The fog quickly turned into a light pink rain. This gentle rain did not wet us but seemed to cleanse and soothe our emotions. Through the rain we saw a figure veiled in a swirling mist of pink light approaching us. Although the misty light made her features hard to see, I knew she was female by the quality of her energy. When she arrived, she placed her palms together and bowed her head in greeting. 

I walked up to her and asked permission to enter her aura. She shook her head and stepped back. The rain seemed to stop in mid-air, and the swirling mist of pink light surrounding her became absolutely still. She stepped away from it and stood before us.

The Guardian had long, dark blonde hair. Her eyes were brown. Her simple clothes appeared loose-fitting and comfortable, and her shirt revealed muscular arms. She seemed as ordinary as anyone, yet the light in her eyes and the radiance of her body made her seem like no one from the Earth planet. The pink shell of misty light she had once occupied came alive again, and its energy began to swirl like a whirlpool. 

The Guardian looked at us and smiled. Then she invited me to stand next to her and connect my consciousness with hers so that I could relay her words. 

In many ways I am just like you. I have a family and I have children. But I also have a spiritual responsibility: I am the Guardian for Rose Quartz. 

My name is Roselle. I would be grateful if you also called the spherical form of Rose Quartz "Roselle." This will help distinguish the properties of the spherical form from those of the crystalline form, commonly known as Rose Quartz.

I do not live on the Earth planet. I live on a plane with a vibratory rate higher than that of the physical plane. My world is unseen by physical eyes, yet it is as real to me and its inhabitants as your world is to you. Many people who see me every day have no inkling of my spiritual responsibility as the Guardian of Rose Quartz, nor do I advertise it. I only speak of this to help you understand the possibilities of who and what a Gemstone Guardian might be. 

Before I give you an overview of my purpose for the Earth planet and for the human beings who live there, why don't we all sit down? The rain has stopped, and the sunshine is warm. 

Emotional Evolution 

When I am in crystalline form, my focus is on the planet. I act like a magnet, drawing the Earth's vibratory rate upward toward the emotional plane. My magnetic influence pulls the Earth to a higher state of consciousness. This movement toward greater consciousness is part of the Earth's evolution.  

You see, the planet's first life forms--single-celled plants and other organisms and, later, fish, reptiles, and animals--were physically oriented. Any thinking or feeling experienced by these life forms was directly related to the physical functioning of their brains and was mostly a product of habit and instinct. As human beings evolved, they could not grow beyond this purely instinctual state of consciousness until there was enough emotional energy on the Earth to allow this growth to occur. 

So, when people became ready to grow beyond this state, the light ray that gives life to the emotional plane was directed toward the Earth in a great beacon. It enveloped the planet and began filling its aura. This light ray from the emotional plane was the pink color ray.

Once enough pink ray had accumulated in the Earth's aura, its vibratory rate collected at the planet's power points. Quartz then directed this vibratory rate along the Earth's supra-physical veins and arteries to many places where Quartz was forming and growing. When this pink energy was accepted by certain Quartz crystals, it took hold and began to spread through them. 

In this way, Rose Quartz was born. My birth allowed both the Earth and the human beings living there to experience the emotional level of life. This gave the evolving human beings a conscious awareness of their emotions the animals did not possess.

By the way, today most animals still react, feel, and think only on an instinctual level. However, those animals who have been touched and loved by human beings are given a special gift which most pet owners are unaware of. Because the pets' owners are in touch with their emotions, these pets become more in touch with their own emotions. Pets tend to encourage their owners to open their hearts and love them, thereby directing a stream of love and emotion toward the pets. This love raises the pets' consciousness and provides them with the gift of being more in tune with their own emotions. 

A tremendous amount of Rose Quartz has been born since the time of Atlantis, and it is still spreading throughout the planet. This growth is preparing the planet for greater consciousness. As the planet's Rose Quartz increases, the magnetic pull toward the emotional plane and the momentum of the upward spiral of energy in the planet will increase. The spread of Rose Quartz also serves to balance the downward spiral this planet is currently experiencing. We see this opposing spiral expressed as increased crime, corruption, and negativity. 

Since the Age of Atlantis, the positive and negative forces--the upward and downward spirals--have been struggling with each other. This opposition is the reason that most Rose Quartz has become so cloudy. The constant struggle between these two forces creates a conflict within the crystalline matrix and causes this cloudiness.

Today, Rose Quartz in crystalline form can do little for human beings other than remind them of their emotions. Of course, if you have an affinity for a Rose Quartz crystal, if you like the way it feels and it has become a friend for you, I encourage you to enjoy it. 

Releasing Suppressed Emotions

When I am in spherical form, my mission is to help people move beyond their emotional limitations. I do this by helping people to express, release, and resolve suppressed emotions. These emotions--be they repressed, hidden, or simply unacknowledged--impede emotional health. They also block the experience of greater spirituality, self-awareness, and self-understanding. Indeed, they can act as great stumbling blocks to one's positive changes and growth. 

To accomplish my mission, I bring the attention of my wearers to their emotions. Specifically, I stir suppressed emotions, helping the individual to become aware of them. These suppressed or blocked emotions are like locked doors within one's being. I help the person open these doors. Then I gently stimulate the heart to open so the individual can express these feelings. In this way, I help my wearer resolve and let go of suppressed emotions.  

Be aware that the heart will open only if the physical body is ready to accept the feelings I have stirred; I will not force it to open. In other words, I help the individual's true nature to be stirred and felt; then, if the body allows, the door will open and this true nature will be expressed. 

I do not heal emotions. I simply help an individual resolve suppressed and other unexpressed emotions. These emotions include long-forgotten feelings that have been pushed deep within as a result of many kinds of conditioning. People often suppress feelings that are not in harmony with the religious, social, or cultural values they were taught as children or if they fear there will be negative consequences if they express such feelings. These suppressed emotions may even be positive ones, like love, joy, or happiness.

I accomplish my mission in two phases: In the first phase, I stir suppressed emotions, allowing the individual to acknowledge, understand, and then feel these emotions; in the second phase, I encourage the individual to express these emotions, resolve and let go of them, and move on.

Did you notice the numbers in this formula? There are two phases and four steps to each phase. The energies of numbers have great power and significance. The number two represents the emotional level, and the number four represents the physical. That these two numbers intertwine in this formula means that the emotions are provided with a greater connection to the physical body. This gives them an easier path for expression.

In general, you will find that I can assist women through these two phases more effectively than men. This is only because men have a more difficult time letting go of suppressed emotions. Naturally, most men easily express and let go of spontaneous emotions they don't want to suppress. A man who wishes to be helped by Roselle must be deeply willing to acknowledge and re-experience his suppressed emotions.  

Women generally have stronger emotional constitutions than men. This means they can wear greater amounts of Roselle without feeling imbalanced. One might think that women are emotionally weak, since stereotypically they cry more often than men. But, on the contrary, it takes great emotional strength to let go and cry. 

Often people need to use their minds to understand certain emotions before they can resolve them, let them go, and move on. Roselle can help people better understand their emotions. Not only do I act like a magnet to draw the energy of the physical plane upward, I also pull mental-plane energy downward. As mental energy is drawn to the emotional level, a greater understanding of the emotions is gained. 

Some say I remind people of positive emotional qualities and that I promote feelings of goodwill, friendship, and love. This is the effect of my color. However, judging a gemstone's properties by its color alone can be misleading. A gemstone is not simply its color; it has other energies as well. I have a clear and specific purpose not defined by the vibratory rate of my color. It just so happens that the pink color ray is the most effective vehicle for my mission.

I can assist people with many kinds of emotional conditions--from people with only slight emotional problems to those whose emotional state is so disharmonious that they are considered emotionally ill by society's standards. I can help the emotionally ill regain some emotional strength. I can also prepare them--or anyone else--to wear a gemstone such as Rhodochrosite, which has a strong ability to break up emotional patterns and to cleanse and rebuild the emotional body.

Even if you don't feel that you have an emotional problem, imagine how enlightening it would be to discover what emotions you may be suppressing. It can be an interesting experience in self-awareness and self-understanding to wear Roselle and observe the emotions that start coming up and the ones that you try to suppress. The experience may also help you recognize which of your attitudes are causing you to suppress certain emotions. Because it can show people so much about themselves, Roselle is a helpful addition to any counseling or self-help program.

Roselle is not a particularly strong gemstone, especially when you compare its strength with that of the color ray bearers. However, Roselle is a tool that should not be overlooked, especially if one has any emotional disharmony whatsoever--for although my action is subtle, it is effective. 

You will find that some gemstones are more powerful than others. That is why some Gemstone Guardians must be Guardians full-time and always immersed in their work. Perhaps this is why I, as Roselle, am able to take the responsibility of being a Guardian and yet still have a family and lead a somewhat normal life.

You may never know whether your next-door neighbor is a master of the life force or adept in the teachings of Spirit. Yet, as you ponder this possibility, you may experience a sense of wonder and curiosity and perhaps even a certain humility.

Gemstone Sphere Size and Cleansing

It is probably best to begin by wearing a strand of either 8-mm or 10-mm Roselle spheres. People will be attracted to the size that is most comfortable for them. After several months--or when you feel that you have resolved certain emotional blocks and issues but still have more to work on--move on to the next larger size. In other words, when you are ready for even deeper work on your emotions, move on to either 10-mm or 12-mm spheres.  

In general, quality being equal, the larger gemstone spheres are, the more powerful are their effects. Nonetheless, one should not use spheres larger than 16 mm in diameter for medicinal purposes. Such large spheres do not resonate with human beings the way smaller spheres do. Single spheres larger than 16 mm, however, can be used for contemplation and to uplift the atmosphere of any indoor environment, such as your home or workspace.     

When people wear gemstones and start moving toward a healthier state of being, they release old, limiting, or other disharmonious energies. These released energies often become attached to the surface of the gemstones or collect in the gems' energetic field. These collections of negative vibrations hinder the gemstones' effectiveness by impeding their ability to radiate their own vibrations into the aura. For this and other reasons, therapeutic gemstones must be regularly cleansed of released negative energies. 

Tomorrow I will introduce you to a special friend. I do not get to see her often myself. She is the Guardian of Ruby. The gemstones she and I care for can do wonderful things for the human being when they are worn together. 

If you are having trouble expressing and/or letting go of your emotions, it will be helpful to wear Ruby along with Roselle. Ruby's powerful love will give you the confidence you need. Ruby will help you know that you will still have love and be loved if you express the feelings you have been suppressing. 

Do not hesitate to wear Ruby with Roselle, for Ruby will give light and life to my effects. Ruby can help uplift the individual more than Roselle alone ever can.

Roselle smiled briefly. Then she stood up and re-entered the shell of pink swirling energy. We watched, amazed at her ability to do this. Then she placed the palms of her hands together, bowed her head to the group, and walked away.

© 1997 Michael Katz. All rights reserved.
Regular price
Sale price
$295.00
Unit price
/
per
Sale
Sold out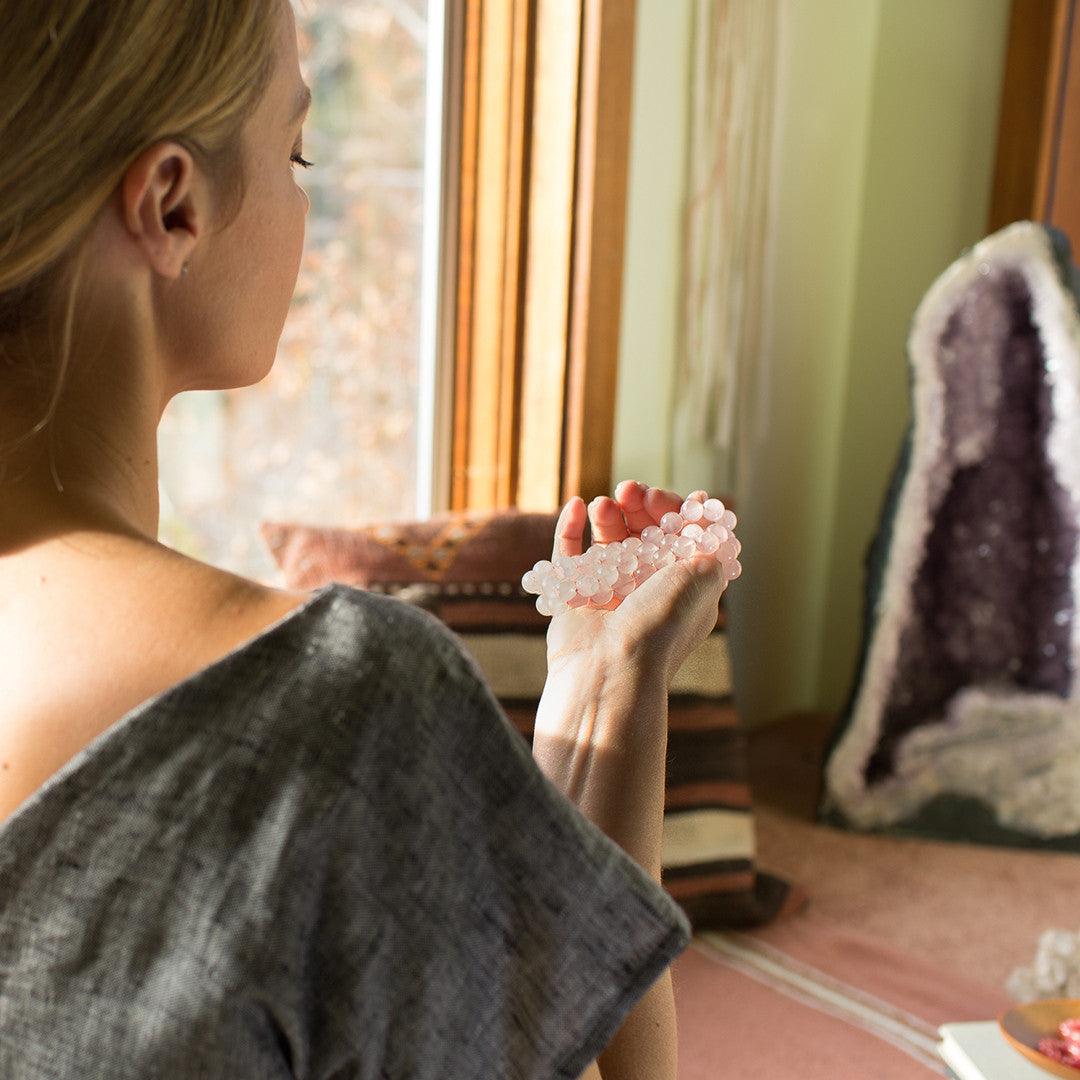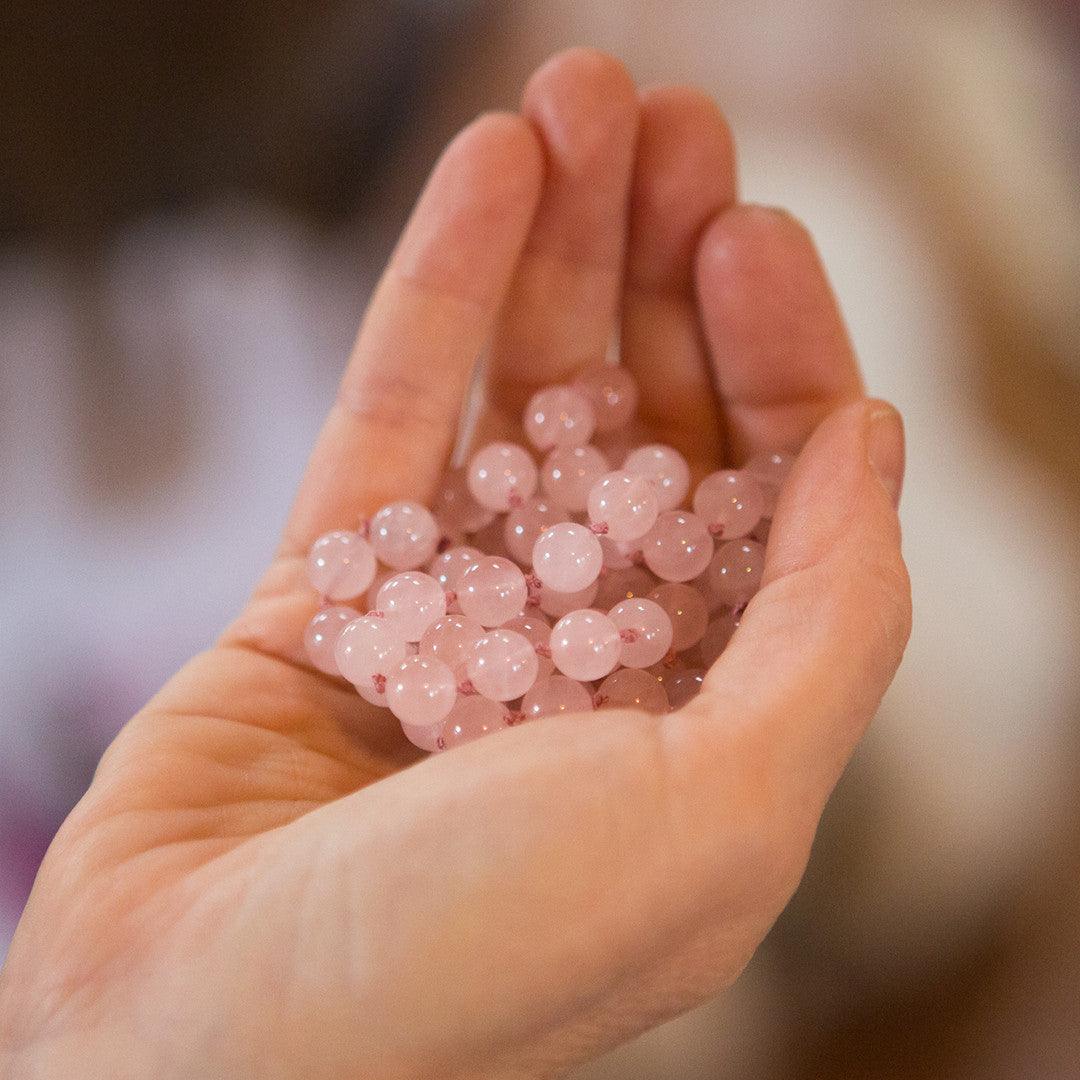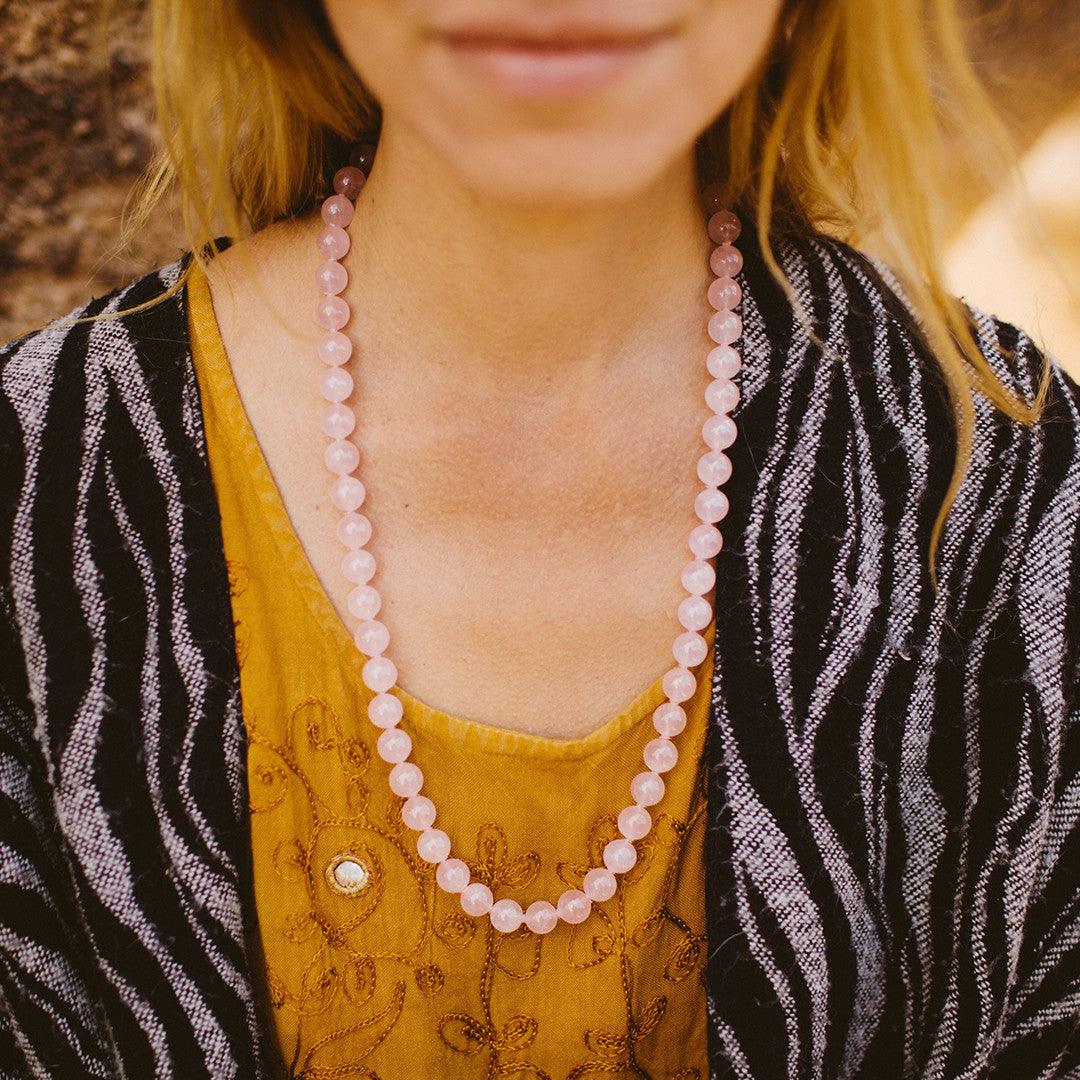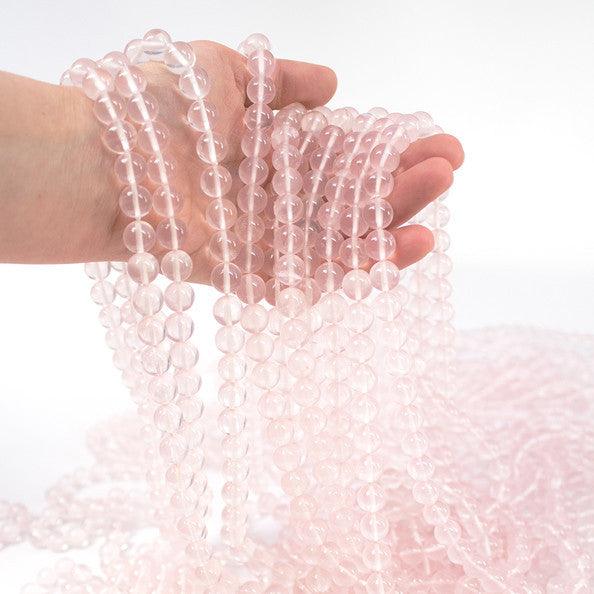 When Roselle (Rose Quartz) Can Help
When you are experiencing— 
Difficulty expressing your emotions
Feeling emotionally flat, closed, or shut down
Feeling emotionally burdened
A physical condition that is being exacerbated by an emotional issue
When you want to—
Release, express, and resolve suppressed emotions
Acknowledge and understand any suppressed or hidden feelings
Promote the healthy expression of your emotions
Become more in touch with your feelings
Let go of emotional burdens or heaviness